After Gammy, International Community Examines 'Rent-A-Womb' Industry
After heavily publicized abuses, Thailand is moving to ban commercial surrogacy, the process where women are paid to carry children of couples who can't conceive or don't want to carry their own child.
This article is from the archive of our partner
.
After heavily publicized abuses, Thailand is moving to ban commercial surrogacy, the process where women are paid to carry children of couples who can't conceive or don't want to carry their own child.
The move comes after Thai authorities raided a condominium in Bangkok on Wednesday where police found nine infants living under the care of seven hired nannies. The children reportedly belong to a wealthy Japanese businessman who lives in Tokyo. Police Colonel Panthana Nujchanart told CNN that the man wanted a "big family."
Earlier in the week  Pattaramon Chanbua, a 21-year old Thai street food vendor, claimed that the Australian couple who paid her to carry their twins left one of the children behind after learning the boy, "Gammy," was born with Down Syndrome.
A friend of the the couple refuted the claims, telling The Bunbury Mail  that David and Wendy Farnell left Thailand because they were worried about losing their second child, a girl, after the surrogate tried to keep her by mounting a legal battle. 
The biological parents were heartbroken that they couldn't take their boy with them and never wanted to give him up, but to stay would risk them losing their daughter also."
Boonreung Trireungworawat, the head of Thailand's Health Department, said that while surrogacy isn't illegal in the country, one must first receive authorization. Boonreung told The Associated Press  that most cases of illegal surrogacy had been carried out by a clinic in central Bangkok that was discovered earlier this week.
The assisted reproductive technology has existed in Thailand for a long time but now it's become an issue because there are stricter regulations in other countries... The parents have migrated to Thailand because Thailand does not actively go after the issue. They will now understand that the Thai law will be stricter."
According to the The Sydney Morning Herald, Australian officials have asked that the dozens of Australian parents who have already begun the surrogacy process at illegal clinics be able to leave Thailand with their children.
Traveling to places where surrogacy is under-regulated has become increasingly common for parents living in countries where the practice is banned or controlled.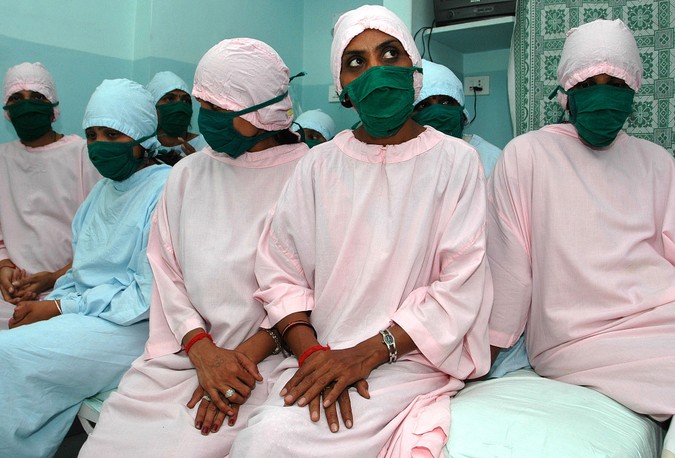 In India, commercial surrogacy is estimated to be a $445-million-a-year business with surrogates earning the equivalent of ten to fifteen years of income per birth. According to reporting by The Daily Beast, the Australian Broadcasting Service estimated that surrogacy rates in Thailand increased by 500 percent last year. 
Commercial surrogacy, which is illegal across much of Europe including Sweden, Spain, France, and Germany, remains controversial as many rights activists claim women in developing countries are often lured into it for financial reasons. 
Director of the Centre for Social Research Ranjana Kumari spoke about the human rights violations associated with surrogacy in India with The Asian Age in June.
There is no proper law to regulate the billion dollar rent-a-womb industry... There are many occasions when the surrogate mothers have delivered twins or triplets. But even then they are paid the same amount as they are promised for one baby. And in case of any complication, the pregnancy is terminated without taking her consent."
Kumari told the AP that women are financially exploited by the system as well. 
Women who miscarry are not paid anything at all in many cases... Instead, the agents try to shift the blame to the woman and tell her it is her fault that she has miscarried."
Some women are forced to undergo caesarian sections without their consent. Operations are often done in hospitals or clinics without adequate sanitation. 
In May 2012, Premila Vaghela, 30, died while giving birth for an American couple in India. The child survived and her death was later ruled "accidental" by the government.
Others praise surrogacy for its ability to give a child to couples who can't conceive.
In the U.S., surrogacy is legal on a state by state basis and is strictly regulated to make sure contracts between the prospective parents and the surrogate are upheld. Surrogates in the U.S. are typically paid roughly $30,000, which doesn't include tens of thousands of dollars more for agency fees, prenatal costs and delivery services. Last year The Telegraph reported that Chinese surrogacy agencies charge up to $200,000 for arranging and coordinating a surrogates inside of the United States. 
Surrogacy in India and Thailand is cheaper, and often less regulated, than the U.S. with women being paid between $5,000 and $7,000 for carrying a couple's baby.  
Chanbua, who carried Gammy, says she has not received all of her $9,300 payment. 
Thailand has 42 clinics and medical institutes and 240 doctors licensed to carry out the process, which involves implanting an embryo containing the sperm and egg of the intended parents into the uterus of a surrogate,  
The Associated Press
reported.
This article is from the archive of our partner The Wire.