Where the World's Young People Live
Mapping which countries have the most and least youthful populations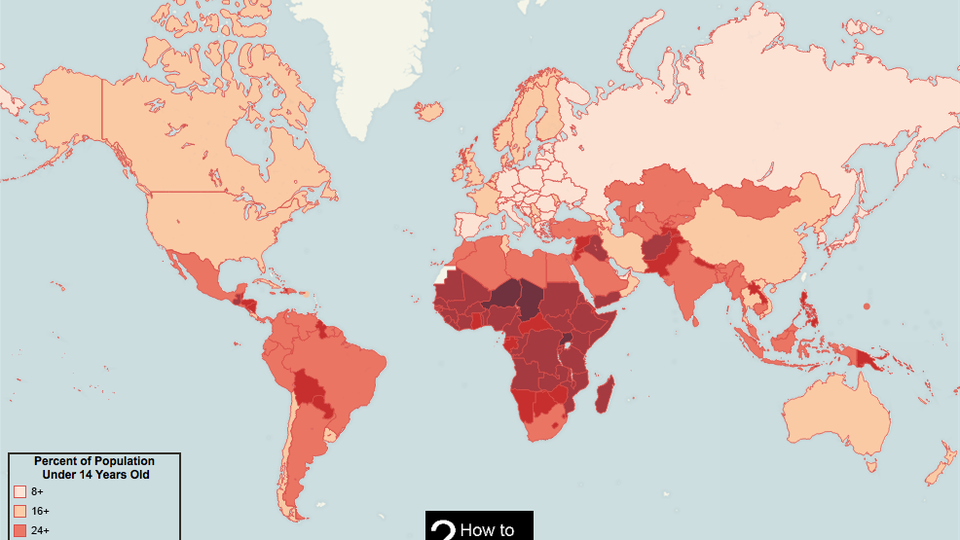 It's World Population Day—a UN holiday, like International Day of Friendship and World Toilet Day, that pretty much all of us can get behind. To mark the occasion, Radio Free Europe/Radio Liberty has developed an infographic that dramatically captures the global geography of age these days, first in a map, then in a mesmerizing series of boxes, and then in a bar chart.
The visualizations below show the percentage of each country's population that is younger than 14. And they illustrate a phenomenon I wrote about in June: Youth populations, at least as a percentage of total population, are shriveling in the United States and many European and Asian nations, while ballooning in regions such as South Asia and Sub-Saharan Africa. Consider two extremes that appear in the graphics below: Fifty percent of Niger's population is under 14, while 13 percent of Japan's is.
There's good reason to feel ambivalent about these developments. Aging populations are usually a product of longer life expectancy and lower birth rates, which in turn result from improvements in health care and family planning. But in these countries, fewer working-age people can translate into slower economic growth and severe strain on social-welfare services (think Social Security in the U.S.).
Countries with young populations face dilemmas of a different nature. So-called "youth bulges" can fuel instability (especially when so many of today's youth are unemployed and economically marginalized), even as they inject much-needed dynamism into societies. In her recent book on modern Africa, The Bright Continent, the Nigerian-American journalist Dayo Olopade articulated these dynamics well:
[S]ub-Saharan Africa has the biggest gap between the median age of the public and the age of its leaders—a whopping forty-three years. By contrast, Europe and North America have an average age gap of sixteen years. Twenty of the top thirty such gaps worldwide are in sub-Saharan Africa. ... The effect is to exclude youth from state decisions and planning that will affect them long after [their aged leaders] are gone. ...

Some leaders like Obiageli Ezekwesili, the one-time education minister of Nigeria, are keenly aware of the gulf between a generation stumbling along with old habits and a new one poised to take power. Generally, she says, "[youth] does not carry the albatross of failure. They don't. The youthful population in Africa today had no idea of colonialism—it's story to them. They didn't know military rule—it's strange to them. They are intolerant of poor performance—they don't understand why that should be their lot."

At the same time, the International Labor Organization reported in 2010 the highest global youth unemployment rate since it began collecting statistics. In sub-Saharan Africa, young people make up 37 percent of the working-age population, but 60 percent of the unemployed—at least in the formal sector. Rote memorization is still the preferred pedagogy in public high schools and universities. Few institutions help young people navigate career choices, and labor markets offer no clear staircase to income security.

While the booming GDP growth rates for African economies this decade are certainly cause for celebration, the youth of Africa have remained mostly untouched.
RFE's infographic is below: