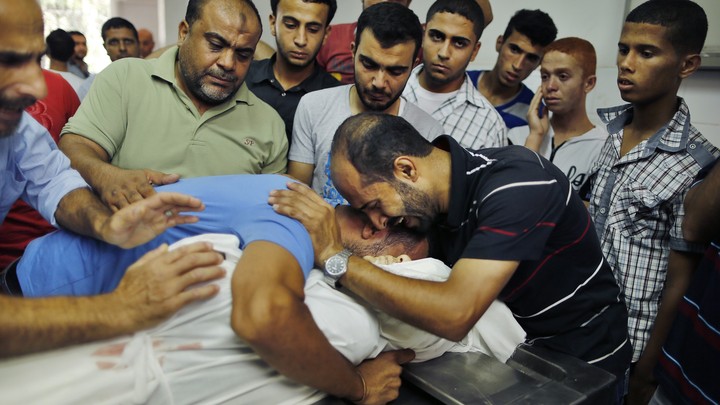 One Israeli soldier, age 20, has died; his name was Eitan Barak. Four Palestinian boys, all cousins, have died; their names were Mohammad Bakr, Ismail Bakr, Zakariya Bakr, and Ahed Bakr. They are among the more than 40 children who have died since exchanges of fire between Israel and Hamas began 10 days ago, including a five-month-old: Fares al-Mahmoum. But the side-by-side body count unintentionally creates the effect of a score, which is now roughly 260 dead Palestinians to 2 dead Israelis. It's easy to interpret this comparison as clarity, because it uses numbers—a clean measure of fault, or moral culpability, or military strength, ostensibly.
Even the tallies of rockets fired and shelling exchanged aren't simple: The numbers themselves are imbued with meaning. The New York Times has a running count of "the toll in Gaza and Israel, day by day"; aggression from Hamas is measured in "X rockets launched from Gaza," while aggression from Israel is measured in "X targets struck by Israel." The units of measurement are telling: Palestinian firepower is measured as discrete weapons, rockets that Hamas is intentionally hurling at Israeli civilians. Israeli firepower is measured in hits, which are called "targets" (not people, or houses, or "militants"). This graphic is just one way of reporting the story—the Times and other outlets have written many pieces about the latest chapter in this conflict. But in this one graphic, the numbers speak powerfully.
Twenty-one people are estimated to have been killed in Gaza since yesterday; 298 people were killed in Ukraine on a passenger flight over contested territory. And so, as The New York Times observed, the 21 people are relegated to "second place."
We want to hear what you think about this article. Submit a letter to the editor or write to letters@theatlantic.com.
Emma Green
is a staff writer at ​
The Atlantic
, where she covers politics, policy, and religion.