Martin Indyk Explains the Collapse of the Middle East Peace Process
There is a "deep loathing" between the Israeli and Palestinian leaders, America's Mideast envoy said in his first interview since stepping down.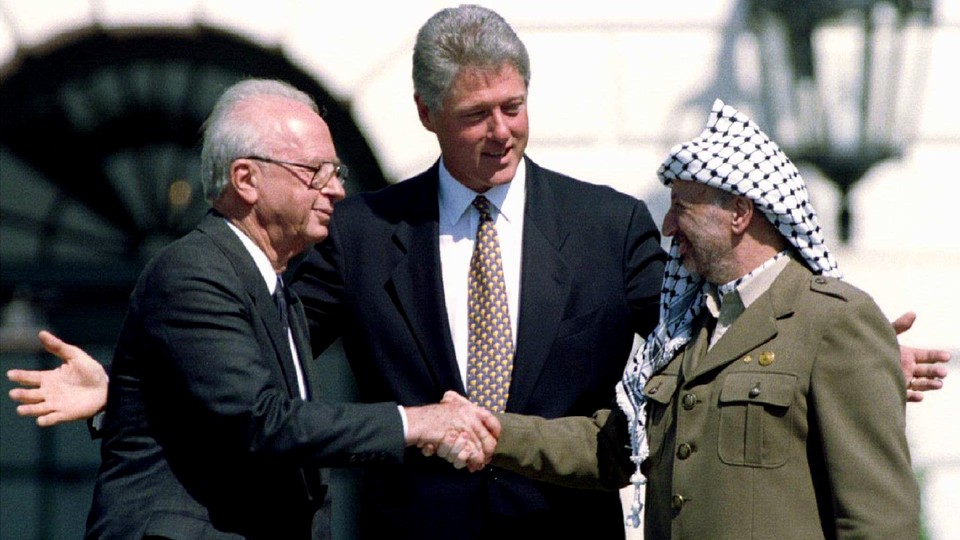 ASPEN, Colo.—Take a good look at the image above. That now-iconic handshake took place 20 years ago, when Israeli Prime Minister Yitzhak Rabin and PLO Chairman Yasser Arafat met on the White House lawn to sign the Oslo Accords.
The moment represented the last major breakthrough in the Israeli-Palestinian peace process, Martin Indyk told The Atlantic's Jeffrey Goldberg in his first interview since stepping down last week as the Obama administration's Mideast peace envoy. And that process is now dead, he added, at least for now.
In the two decades since the Oslo Accords, a "a deep, deep skepticism" about negotiations has taken root among Israelis and Palestinians, particularly among younger generations for whom Oslo is a distant memory, if a memory at all. In particular, young Palestinians, who have "grown up under Israeli occupation" and "seen [Jewish] settlements grow," have jettisoned hope "that the Israelis will ever grant them their rights." The majorities on both sides that once supported a two-state solution are no more.
Crucially, this corrosive mistrust extends to Israeli Prime Minister Benjamin Netanyahu and Palestinian President Mahmoud Abbas (also known as Abu Mazen).
"There is a deep loathing of each leader for the other that has built up over the years," Indyk told Goldberg at the Aspen Ideas Festival, which is organized by the Aspen Institute and The Atlantic. "'Loathing' may be too strong [a word] for how Netanyahu feels about Abu Mazen," he later clarified, "but it's certainly the way Abu Mazen feels about Netanyahu. He refers to him as 'that man.'"
It is these fundamental divisions that just torpedoed the latest U.S. effort to broker an Israeli-Palestinian peace deal, which Indyk and Secretary of State John Kerry have spent the past nine months trying to midwife. And they're what make Indyk so nervous about the current bout of violence between the two sides, following the murder of three kidnapped Israeli teenagers in the West Bank and the apparent revenge killing of a Palestinian teenager in Jerusalem.
"I fear the worst here," Indyk said. "What you've got now is ... a more rapidly deteriorating situation in which all of the worst fears and worst assumptions about the other side are being confirmed."
Indyk rejected the notion that the Obama administration frittered away precious diplomatic energy on a long-elusive Mideast peace agreement while Syria and Iraq imploded, arguing that Kerry and others didn't forsake those other regional issues.
Instead he delivered a frank postmortem on the process, detailing how excruciatingly close negotiators were to a deal and why they ultimately fell short of one. Initially, Israel agreed to release more than 100 Palestinian prisoners in four stages in return for the Palestinians not signing international conventions or attempting to join UN agencies. After six months of direct negotiations between the parties, he explained, Netanyahu "moved into the zone of a possible agreement" and was prepared to make substantial concessions.
But then, beginning in mid-February, Abbas suddenly "shut down." By the time the Palestinian leader visited Obama in Washington in March, he "had checked out of the negotiations," repeatedly telling U.S. officials that he would "study" their proposals, Indyk said. Abbas later signed 15 international conventions and struck a unity deal with the Gaza-based militant group Hamas. These moves deflated the peace process.
What accounts for Abbas's about-face? The explanation, Indyk says, lies in Jewish settlement activity during the talks. The U.S. had anticipated limited activity in so-called settlement "blocks" near Israel's 1967 borders, where roughly 80 percent of Jewish settlers live.
What caught Washington off guard was the Israeli government's announcements, with each release of Palestinian prisoners, of plans for settlement units, many of which were outside the blocks. "The Israeli attitude is that's just planning," Indyk noted. "But for the Palestinians, everything that gets planned gets built. ... And the fact that the announcements were made when the prisoners were released created the impression that Abu Mazen had paid for the prisoners by accepting these settlement announcements." Netanyahu may have simply been playing domestic politics and trying to placate the Israeli right-wing, but these announcements effectively humiliated Abbas.
Indyk's implicit message appeared to be that Israel's settlement policy inflicted the most harm on the peace process: The settlement announcements undermined Abbas, who in turn walked away from the talks. At one point in the discussion, Indyk observed that Israelis who are moving to settlements for religious and nationalist reasons, especially outside the settlement blocks, "are doing great damage to Israel's future."
The former envoy said the chasm between the two leaders was most evident in their standoff over Netanyahu's demand that the Palestinians not only recognize Israel's right to exist, but also "recognize Israel as a Jewish state or as the nation-state of the Jewish people."
"What was foundational for Netanyahu became for Abu Mazen some kind of trick designed to take away Palestinian rights—to get them to accept the Zionist narrative," Indyk explained. "The more that Netanyahu pushed on this, the more that [Abbas] resisted it, until what was foundational [for Netanyahu] became unacceptable [for Abbas]."
Abbas is "now at the point where he feels the Israelis are not serious, they're not going to give him a state," Indyk continued. "And I think he's also at the point where he doesn't believe that [the U.S.] can deliver concessions from the Israelis. He's coming to the end of his life, 79 years old, he's tired, and he doesn't believe he has a path" to peace.
Still, Indyk somehow retains hope for a peace deal. For all the stasis and backsliding over the past two decades, he argues that the Palestinians have made some strides over the years. Instead of rejecting Israel, they've accepted its right to exist. Instead of practicing terrorism, Abbas's Fatah party has embraced non-violence. Palestinian officials have come to terms with acquiring a demilitarized state encompassing only 22 percent of historic Palestine as part of a two-state solution.
On the Israeli side, Indyk added, annexing the West Bank and its 2.5 million Palestinian Arabs, as some Israelis on the right are calling for, is antithetical to Israel functioning as a democratic, Jewish state. If it remains democratic under this scenario, then the Palestinians will constitute a majority of the population. If it remains Jewish, then the Palestinians will be stripped of their rights.
"There is no solution other than a two-state solution," a not-yet-defeated Indyk said. Or there's what we have now, which is no solution at all.