How Not to Design a World Without Borders
Ecuador tried to rewrite the rules of human migration—only to recoil at the results.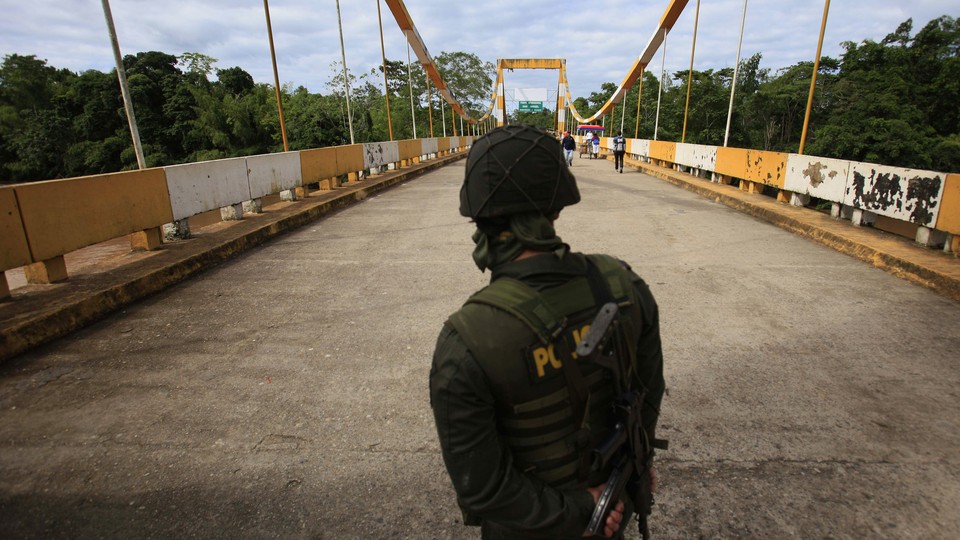 LAGO AGRIO, Ecuador—Hitler was behind the wheel, racing through a blur of jungle toward Ecuador's border with Colombia. Only when an immigration officer in green fatigues hurried out from a checkpoint, yelling, did Hitler pump the brakes. The policeman asked if we wanted our passports stamped, and all four of us in the truck—an American, a Dane, a Colombian, and an Ecuadorian—declined. With that, the official waved goodbye and we lurched onward to Colombia.
The river that marks the border between the countries is anything but an impassable boundary. Along its length are dozens of illicit crossings, and the movement of people—and problems—from one bank to the other is a fact of daily life. From a bridge, I could see, on the Colombian side, a black plume of smoke rising from an oil pipeline that FARC rebels had reportedly bombed the previous day. On the Ecuadorian side was a ghost town of ramshackle sheds that those same guerrillas were known to rent for a few hours of partying.
Like the nearby Andes, this stretch of the Amazon has long been a location where reality does not correspond to political geography. When Hitler, a driver by trade and one of 12 sons named (apparently at random) after leaders from the Bible and world history, moved to the nearby city of Lago Agrio as a child, his father knew the area as a place where the authorities sent convicts from the country's overcrowded jails to be released downriver into the jungle. In the 1950s, missionaries had come to 'civilize' Indians who had long lived in the region, and the oilmen followed soon after. As William Langewiesche wrote in Vanity Fair, Ecuador's government at the time was "an incompetent military regime in a corrupt country so dysfunctional that in the Amazon it existed purely as fiction—a cartographic boast without viable airports or roads, enclosed by unmarked boundaries that were in dispute, where the indigenous people were not even recognized as full citizens."
Ecuador is a very different place today. But in recent years, inspired by a vision of a pre-modern world with more freedom to wander, the country has been experimenting with making political boundaries more flexible. It's one of the world's boldest contemporary efforts to reinvent human migration. Is it working?
In 2008, Ecuador's National Assembly approved a new constitution that recognizes unfettered mobility across borders as a basic human right, advocating "the principle of universal citizenship, the free movement of all inhabitants of the planet, and the progressive extinction of the status of alien or foreigner as an element to transform the unequal relations between countries, especially those between North and South."
Blanca Vega, of the government's Ombudsman's office, described the underlying principle as a return to an indigenous notion of well-being that recognizes the rights of people (regardless of immigration status) and the environment, not just the value of material progress. "We have to return to this indigenous concept in order to survive," she told me in her office in the capital, Quito, last summer. Just as the international community has come to recognize the need for environmental preservation, she explained, so too will it inevitably see the wisdom of a world without borders. "It will happen in the future," she said. "It has to happen."
When the constitution came into force in 2008, Ecuador's newly elected president, Rafael Correa, celebrated the measure in bold terms, declaring "a campaign to dismantle that 20th-century invention of passports and visas." It was an idea with political currency in a country of 15 million where roughly 10 percent of its citizens had departed, many since the beginning of a 1999 financial crisis, and were living abroad, often without documents. The next step was supposed to be a law on "human mobility" that would establish refugee and immigration policies, bringing legal realities in line with the language of the new constitution.
This has yet to materialize. But in its place, Correa did oversee a raft of changes that dramatically loosened immigration standards. First, in June of 2008, he announced the abolition of visa requirements so that anyone could enter Ecuador for up to 90 days. But rather than encourage reciprocity from other countries, as expected, the measure unintentionally benefited human smugglers. By December of that year, almost 12,000 Chinese had entered Ecuador—roughly six times the volume during the first half of the year. Many were headed to the U.S. via human-smuggling networks.
"Ecuador is causing instability for all America," Costa Rica's immigration chief told a U.S. official at the time, according to a diplomatic cable released by WikiLeaks. In addition to the Chinese migrants, the country witnessed an increase in immigrants from Africa, the Middle East, and Asia. As a result, Ecuador eventually reinstated visa requirements for citizens from 10 countries who were "abusing the system," Vega said.
The visa measure made "it easier for human trafficking because it didn't come accompanied with adequate policies about security, internal controls, and the like," said Daniela Salazar, a law professor at the University of San Francisco in the Ecuadorian capital of Quito.
But Salazar is quick to praise the government's next move. In 2009, teams were dispatched across northern border regions to register Colombians who had overstayed their 90-day window in the country. The five-decade-long conflict in their home country, which began as a political struggle but is today driven by spoils from the drug trade, has internally displaced more than 3 million people. Although the Colombian government is currently engaged in peace talks with the largest rebel group, peace remains a long way off for the civilians trapped in between the sides. A number of those who made it to Ecuador—estimates range from 135,000 to half a million—had fled violence and extortion from leftist guerrillas and former right-wing paramilitary fighters. Many had never come into contact with refugee authorities, while others had waited years for a decision on their asylum request. Suddenly, the government was processing and deciding cases the same day, and refugees were granted asylum in record numbers. Over the course of one year, the total number of recognized refugees ballooned from 20,000 to 45,000, making Ecuador the largest refugee haven in Latin America.
"They did wonderful things way beyond their obligations under human rights or refugee law," said Salazar. Refugee advocate Karina Sarmiento remembered the period as "a paradise." By mid-2010, however, the registration drive was abandoned and the rate of acceptance plummeted.
Not everyone applauds these experiments. Some hawkish analysts in the United States, for instance, claim Correa's policies have made Ecuador a conduit for terrorists and a security threat for the entire Western Hemisphere. In 2012, after Correa eased the requirements for becoming a citizen after two years of residency, former U.S. ambassador to Venezuela Otto Reich argued that the administration had gone too far. "The disarray created in Ecuador's immigration policy has permitted transnational criminal organizations and terrorist groups—possibly including al Qaeda—to potentially use the country as a base of operations with the ultimate objective of harming the United States," he wrote. These nefarious actors, he maintained, could reach the U.S. with a new Ecuadorian passport; a passport issued by Cuba, Iran, or Venezuela (countries from which Ecuador does not require a visa); or black-market documents. Reich sees financial, commercial, and energy agreements between Ecuador, Iran, Cuba, and Venezuela as "'government-authorized illicit tunnels' through which anything and anyone can pass, from terrorists and drugs to money and arms."
Nancy Hiemstra, a professor at Stony Brook University who studies global migration, takes issue with Reich and his camp. She argues that it was the expansion of U.S. border enforcement—first during the war on drugs, then the war on terror—that fueled the rise of human smugglers. Since the mid-1980s, she explains in a recent study, Washington has been pressuring Latin American countries to tighten their borders and impose special visa restrictions to stem the flow of undocumented migrants and illegal drugs across the U.S.-Mexico border. But these efforts have only spawned an industry devoted to getting around borders. More enforcement has stoked demand for international networks of "coyotes." "U.S. hysteria about Ecuador" reflects a "stubborn ignorance regarding the desperation behind circuitous migration paths," she writes.
"We haven't identified Ecuador's immigration policy as being a particular conduit for either terrorism or crime. Unlike, for example, Panama," adds InSight Crime Director Jeremy McDermott, whose website tracks organized crime in the Americas. "Criminals like to meet in areas where they can get girls and casinos and decent hotels. And Quito is not as cosmopolitan as Panama City. Nor is it as strategically located." He instead attributes the growth of foreign drug cartels and criminal syndicates in Ecuador to the fact that Ecuador has used the U.S. dollar since 2000, making it easier to launder money. "Anything that a guerrilla army needs can be got in Ecuador and it can be bought with narco-dollars," McDermott says.
On the ground in the northeastern border region, many trace the deterioration of local security to the early 2000s, when, as part of the U.S.-backed Plan Colombia, the Colombian army began fumigating coca crops and squeezing the FARC rebels, whose main source of funding is cocaine production. The guerillas increasingly resorted to extortion to make up for lost revenue. Hitler described thousands of Colombians, many whose non-coca crops were also wiped out, fleeing to Lago Agrio.
But if Ecuador's immigration policy has become a soapbox issue for American hawks, it is all the more so for Correa, who has adroitly tapped into widespread exasperation over American intrusiveness in Ecuador's border affairs. The diplomatic tussle between the U.S. and Ecuador over immigration issues made headlines in 2012, when Correa snubbed Washington by granting asylum to WikiLeaks founder Julian Assange in the Ecuadorian embassy in London. Then, last June, NSA analyst Edward Snowden made it out of Hong Kong on a safe-conduct pass issued by an Ecuadorian official. Snowden was reportedly en route to Ecuador (via Cuba) when he was stranded at the Moscow airport. Ecuador's Foreign Minister Ricardo Patiño chided the United States for pursuing a whistleblower. In Ecuador, he said, "We take care of the human rights of the people." But after receiving a "very cordial" phone call from U.S. Vice President Joe Biden warning that relations would "strongly deteriorate" if his government granted Snowden asylum, Correa subsequently announced that he would not consider Snowden's asylum request unless Snowden made it to an Ecuadorian embassy or the country itself—a de-facto rejection.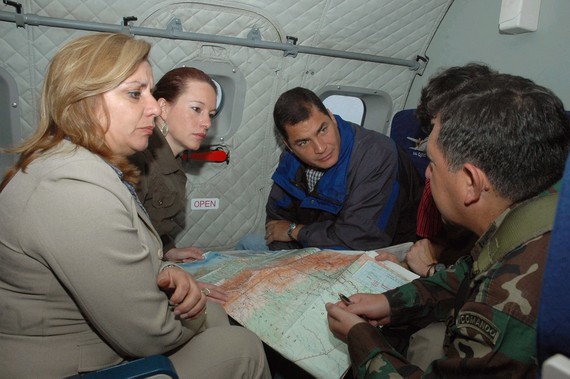 Yet while the Snowden and Assange affairs generated international publicity for Ecuador as a haven for political refugees, the Correa government's treatment of these famous whistleblowers stands in stark contrast to a larger clampdown on refugees who are already inside the country.
Take the case of Alexander Barankov, also known as the "Belarusian Assange." Barankov was a police captain who fled Belarus in 2009 out of fear, he says, that he would be arrested on trumped-up corruption charges after uncovering evidence implicating Belarusian President Alexander Lukashenko's inner circle in an oil-smuggling racket. Barankov made his way to Ecuador—one of the few countries in the world that didn't require him to get a visa—and was granted political asylum.
But then, in advance of a visit to Ecuador by Lukashenko in 2012, Barankov was suddenly imprisoned and put on track to be deported to his country—in a clear breach of refugee law governing the revocation of refugee status, says Fernando Lara, the Quito lawyer who represented him. At Barankov's court proceedings, Lara says he spoke with two Belarusian "diplomats" wearing combat boots whom he strongly suspects were intelligence agents tasked with applying political pressure for Barankov's extradition.
Lara worked to stall the case so it would coincide with Julian Assange's. According to the attorney, his client was ultimately released, and his refugee status secured, as a result of media attention, which spotlighted the incongruity of sheltering Assange in Ecuador's embassy in London while sending Barankov back to Belarus, where he could face the death penalty.
In the last two years, Correa has issued a pair of decrees—his preferred style of policymaking, since it heads off a public debate in the National Congress—that have quietly but dramatically reversed his administration's position on refugees.
Ecuador has long applied a generous standard for who qualifies as a refugee. The common international definition is an outgrowth of the world wars in Europe, and is limited to people who face a specific threat of persecution because of their race, religion, nationality, social group, or political opinion. But in 1984, several Latin American nations, including Ecuador, agreed on a new standard in the Cartagena Declaration, which applies to those threatened by generalized violence, internal conflicts, mass human-rights violations, and disturbances of public order (in other words, the conditions faced by many of those fleeing repressive governments and domestic conflicts across the region).
Ecuador's embrace of these principles remains a point of rhetorical pride. Last month, at a regional conference on migration marking the 30th anniversary of the Cartagena Declaration, Patiño, Ecuador's foreign minister, boasted that his country's constitution "is one of the most advanced in terms of equal rights and human mobility, which enshrines the rights of asylum and refuge."
But Correa's new decrees have eliminated the Cartagena definition in favor of new mechanisms—in violation of international standards, according to Human Rights Watch—to dismiss asylum-seekers before the appropriate authorities hear their cases. Among other troublesome elements, the decrees include provisions that narrow the definition of who can be considered a refugee, establish a procedure to toss out cases as "manifestly unfounded," and grant officials powers to revoke refugee status and reject asylum applications before reviewing them.
Blanca Vega, from the Ombudsman's office, defended the measures on the grounds that Ecuador had been overwhelmed by extending the broad terms of the Cartagena Declaration to so many Colombians, and that neither Colombia nor the international community has done enough to help shoulder the burden placed on Ecuador by the influx of refugees.
But others believe the changes mark a shift in Correa's political calculations. His government appears to have been caught unprepared by the social consequences of its immigration experiment, and observers note that xenophobia has increased in Ecuador, where the media often links crime to Colombian immigrants. Under the left-wing presidency of Colombia's Juan Manuel Santos, relations between the two countries have also improved in recent years, reducing the incentive for Correa to poke his finger in the eye of his neighbor by touting his open-door policy for Colombian refugees.
In Lago Agrio, Maria Lorena Suares Ostos, UNHCR's regional director, showed me a pin-covered map of Ecuador's border regions. We were in the biggest city of a province that covers 60 percent of the border, she explained. A few hours to the north, the Colombian side is rife with armed groups and landmines. As a result, those fleeing violence have to travel lengthwise along the border before they can cross the Putumayo River and flood into small, overwhelmed border towns. One of Correa's recent decrees disqualifies asylum-seekers who don't request the status within 15 days of entering Ecuador. But by the time most refugees reach Lago Agrio, where they can officially apply for asylum, it is often well past the deadline. Ostos estimates that 85 percent of the migrants fleeing Colombia are poor farmers escaping generalized violence, and adds that they often aren't even aware that they can apply for asylum.
Since the Ecuadorian government does not disclose how many asylum applications it receives—officials at the Interior Ministry repeatedly dodged my calls, emails, and visits—it's tough to know how acceptance rates have changed since Correa's decrees. But at the peak of the country's open-borders immigration policy, in 2009, Ecuador recognized 25,021 refugees in one year. According to the latest available figures (from the third quarter of 2013), the government was on track to grant asylum to fewer than 700 people last year. And because the state is now reviewing the cases of thousands of people previously granted asylum and revoking many of these decisions, the total number of refugees in the country is actually falling. Official statistics show that the number dropped to 54,865 by last September—a decrease of nearly 2,000 over the previous 18 months.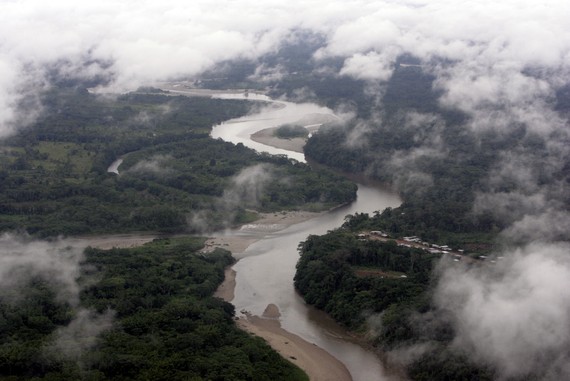 As a result, between 2012 and 2013, the United Nations doubled the number of cases in which it tried to resettle Colombian refugees in countries other than Ecuador. The U.S., the largest recipient of resettled refugees, has increased its quotas to take in an additional 300 to 400 Colombians in Ecuador over the last two years, according to UNHCR's Vincent Briard. But resettlement cases always represent a minority of the need, and they have to adhere to the increasingly restrictive requirements of each host country. The legal systems in the U.S. and Canada, for example, disqualify most of the Colombians streaming into Lago Agrio because they are farmers who grew coca in areas controlled by armed groups (and were thus contributing to a criminal or terrorist group, albeit at the lowest level). Argentina takes in 100 Colombian refugees in Ecuador each year, but it wants mostly single men with construction experience.
In the Quito office of Asylum Access Ecuador, an NGO that provides legal help to asylum-seekers, I met with a young father of two whom I'll call José Miguel. His family owned a successful meat and seed store in Colombia, he said. One day, two men with 9mm handguns showed up at the shop, identified themselves as FARC guerrillas, and began extorting him for protection money. Even after he left the store and found a new job, the extortion continued, with a dozen or so men eventually turning up at the restaurant where he was working.
He broke down crying as he recalled how one of the men put a pistol to his head while his comrade egged him on to pull the trigger. José Miguel fell to his knees and begged for his life. Finally, the men strip-searched him and took all the money he was carrying. The next day, he and his family decided to flee to Ecuador.
When they arrived, they learned they could apply for asylum. Officials split him and his wife up and interviewed them separately for about four hours. Eventually, his case was rejected. The authorities told him they considered him an economic migrant, not a refugee.
José Miguel's family has since appealed for resettlement in the United States. While he waits in Quito, he works in the black market—selling candy in the street, mowing lawns, working in a bakery. Employers promise him $40 a week, but then pay him only half of that. For a time, his family had to live in a homeless shelter, where another Colombian pulled a knife on them. Even when he saved enough for an apartment, he said, landlords would often turn him away because he is Colombian.
His case is symptomatic of a larger trend—a "regression," says Salazar, in which Ecuador went from a regional paragon of immigration innovation to a cautionary tale in designing a world without borders.
She's learned two lessons from the experience. First, she cites the European Union as an example of the international agreements that must be forged to expand international mobility: It takes more than one country to remake migration. Second, if she were in charge, she would address the yawning gap between rhetoric and reality in her country. In Ecuador, she explains, "There's no coherence here between the public discourse and what's actually in the law."
---
Reporting for this post was supported by the French-American Foundation. Anna-Katarina Gravgaard contributed reporting.