Gaza, by Way of NASA
An astronaut takes a photograph that captures both wonder and war.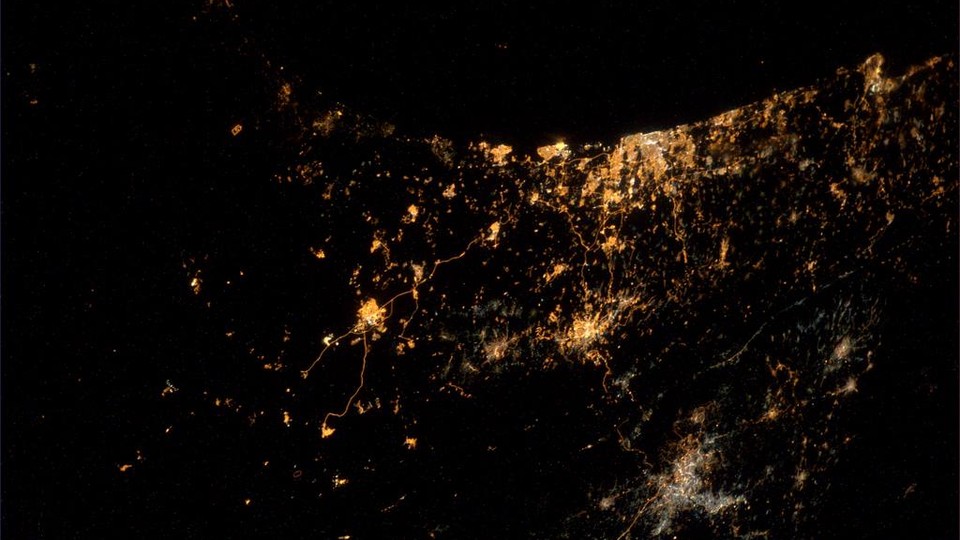 Astronauts, when they first see the Earth from space, tend to share a complicated, but common, reaction: a sense of wonder. Mixed with a sense of peace. Mixed with a sense of appreciation of all that we share by virtue of sharing a planet. This encounter with the space-based sublime has, courtesy of the International Space Station astronaut
Ron Garan
, a name: "orbital perspective." It's that closeness humans seem to feel with Earth when they find themselves, against so many odds, outside of it. It's 
that Bette Midler song
, brought to life.
But "orbital perspective" also involves, as Garan described it in 2011,
"a sobering contradiction." On the one hand, the astronaut said of his own experience of the phenomenon, "I saw this incredibly beautiful, fragile oasis—the Earth. On the other, I was faced with the unfortunate realities of life on our planet for many of its inhabitants."
That contradiction is captured perfectly
 in a photo shared yesterday by one of Garan's successors,
Alexander Gerst, who is a current resident of the ISS. The orbiting space station—itself a symbol of international cooperation and, in that, global unity—passed over Israel and Palestine as it orbited Earth's surface yesterday. It was nighttime on that side of the planet, as one human habitat passed over another; everything was dark save for the man-made lights studding the land. 
And save for one other thing, too: explosions. The flashes of bright light—brighter than the other ones—that are distantly visible evidence of human bloodshed. "
From
#ISS
we can actually see explosions and rockets flying over
#Gaza
&
#Israel
," Gerst
tweeted
. He then shared the image above.
He noted, as he did so, that it was his "saddest photo yet."