From Inside the Iron Dome
"I am very grateful for the Israeli 'know how' that created it, the effective AIPAC lobbying that ensured its funding, and the Congressional and Presidential support that made it available to the citizens of Israel." So writes an American rabbi from a bomb shelter in Jerusalem.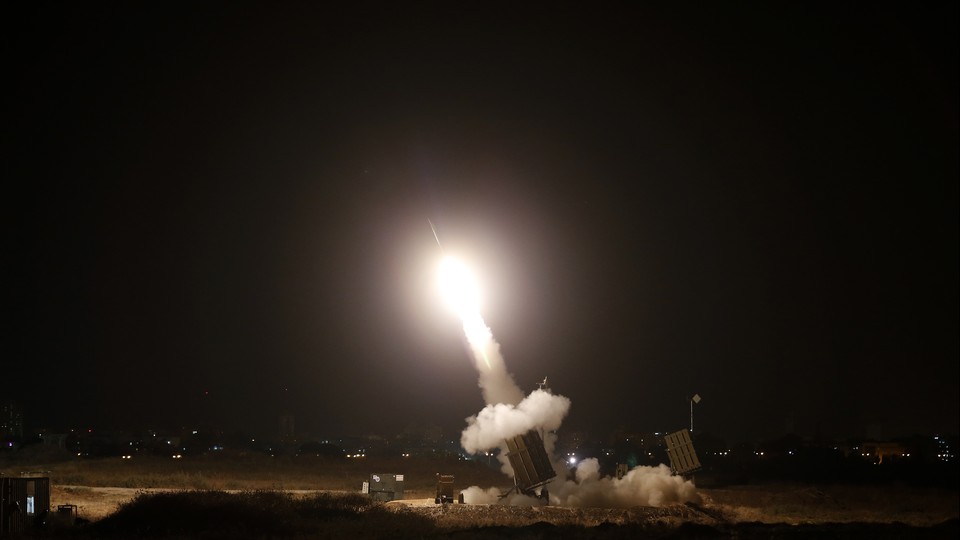 On Wednsday I contrasted The Washington Post's front-page story about Israel's "Iron Dome" protective system—"Highly Effective Missile Defense," as the headline put it—with much more skeptical coverage from tech-oriented publications like Bulletin of the Atomic Scientists and Technology Review. 
I said that I didn't know which view was right, but that there was a very long record of high-tech military systems being hailed in immediate reports that were later deflated or debunked. One famous illustration involves the Patriot anti-missile system during the first Gulf War. While the fighting was underway, the Patriots were said to have knocked as many as 80 percent of Iraqi Scud missiles out of the sky. A careful congressional investigation after the war lowered the "strongest evidence" kill rate down to 9 percent. (More info here, from Frontline.)
So perhaps Iron Dome will end up seeming as impenetrably effective as immediate heat-of-battle reports have claimed it to be. Perhaps not. For the moment, a range of reader reactions from Israel and elsewhere.
1) "If you save one life, it is as if you have saved an entire world." From an American rabbi now in Israel:
I have been in Israel since before the Hamas terror offensive began. I was caught outside when the first azaka (Red Alert siren) went off in Jerusalem. And I have also made a run for the miklat (bomb shelter) in the apartment building where I am living when the siren sounded on a Sabbath afternoon.

On one occasion, I was walking to the Shalom Hartman Institute for a meeting when the siren sounded while I was just  a few feet from the Institute's gated entrance. A father walking with his very young son on the street panicked as the siren went off. I called and waved to him to follow me into the Institute. I ran, along with faculty, administrators, and participants in a Hillel Directors program to the bomb shelter located underneath the Institute's Beit Midrash (study hall where over the years thousands of Rabbis, Jewish educators and lay people from around the world have studied). All the while, I could hear the breath of that father as he ran behind me holding his son in his arms.

Within the bowels of the bomb shelter we could hear the Iron Dome missiles intercepting the Hamas rockets overhead. The scene was reminiscent of what you might recall from motion pictures about life in a WWII U-boat or submarine when depth charges are dropped from a above and the booms of their explosions sound like they could rattle the teeth out of your head. We counted with our lips and fingers . . . One .  . Two . . . Three.

In all, five rockets where fired into densely populated Jerusalem. Three were destroyed over our neighborhood and within half a mile of where we were (when we emerged topside we could see the white wisps that remained from the Iron Dome missiles). Two more Hamas rockets were allowed to fall in an empty field adjacent to the neighborhood of Arnona. Had there been no Iron Dome those rockets would have landed in the midst of apartments buildings, houses, schools, and parks.

My religious tradition claims that if you save one life, it is as if you have saved an entire world. So, as one of thousands who are now living with the threat of terror from the skies, I am interested little in the academic/ theoretical musings related to the so-called ineffectiveness of the system. I am very grateful for the Israeli "know how" that created it, the effective AIPAC lobbying that ensured its funding, and the Congressional and Presidential support that made it available to the citizens of Israel.

Best wishes from Jerusalem,
The rabbi sent this note before the horrific recent episode of four little boys, ages 9 through 11, being killed by Israeli shelling as they played on a Gaza beach. I have corresponded often enough with this reader over the years to know that he means his "if you save one life" thoughts to be universal rather than sectarian. So I am sure he understands that there are also fathers and mothers in Gaza holding their little children in their arms—and that because of differences in offensive weaponry, defensive systems (including Iron Dome), and other factors, vastly more of those Palestinian families have been killed through the rocket exchanges. (According to the NYT as I write, so far 214 deaths in Gaza during the recent violence, and 1 in Israel.)
2) Proximity fuse does the job. From another person in Jerusalem, who starts out with an exchange I quoted between Ted Postol and Robert Siegel on All Things Considered.
"SIEGEL: As I understand it, for it to work it actually has to hit an oncoming rocket head on.

POSTOL: That's correct. "

Actually, I strongly suspect that Siegel - and Postol for that matter - are incorrect, quite incorrect.

To the best of my knowledge the Tamir interceptor uses a proximity fuse such that it only has to get "close enough" (and I don't know how that is defined) for it to detonate and destroy the incoming rocket.  As to its overall effectiveness, a crude, but useful measure is how much damage from Hamas rockets is actually occurring on the ground. 

In this campaign Hamas has fired far more rockets, and more powerful rockets, than in the previous two, and more critically, more rockets into areas of greater population and building density, most notably metro Tel Aviv.  In addition, Hamas has been firing many more simultaneous salvos which increase the likelihood of a hit in a dense region like Metro Tel Aviv.  Nonetheless, there has been far less damage than in the previous two Hamas campaigns.  One would not expect this result if the Iron Dome effectiveness were in the 5% or even 20% or even 50% range.

The original allegations that Iron Dome is a sham or near-sham came from an Israeli anti-missile systems expert (or perhaps "expert") who, in the aftermath of "Pillar of Defense", dreamed up all kinds of criteria of marginal relevance (I don't recall the details) to demonstrate the ineffectiveness of the Iron Dome system.  He was responded-to by the developers of Iron Dome, within the limits of the understandable secrecy surrounding the details of the system's performance (any defensive system has its weak points and you don't want to inform your enemy what are those weak points).  In addition, there is a "sour grapes" aspect to this.  Way back when, this original Israeli critic had submitted his own proposal for developing an anti-rocket interception system but his proposal was turned down.

Finally, with all due respect to the experts cited in the various sources you cited, they are judging the system from a great distance, with a lot of assumptions and missing a lot of info, unless they are privy to secret IDF Iron Dome performance data.  And somehow or another, I am skeptical that they are on the distribution list for those memos.
3) "I was skeptical. Until last week." From one more reader in Jerusalem:
I live in Israel and was very skeptical of the ability of the Iron Dome system. Like you write, the military establishment likes to tout and over rate themselves to impress the possible enemy. That was until last week.

I live in Jerusalem and was going to check for mail when I heard the sirens, so instead of going to a shelter like an intelligent person, I went to see if anything was flying. I looked up and saw two rocket coming towards my location. So instead of running I took out my camera and before I could take a picture, I saw two poofs, no sound, just poofs like a pillow opening up in midair. (I heard the booms about 20 seconds later.)

I was totally amazed by the ability of the Iron Dome to take out the rockets, there were actually 4 not the two that I originally thought I saw.
4) "All about convincing Israelis that their government is doing the job." On the other hand, from a reader not in Jerusalem:
I'm probably super-cynical about anything I read in the mainstream media about Israel, but the Iron Dome stuff is, in my view, all about convincing Israelis that their government is in fact doing the job they desire. 

I'm sure you know, this, but in the past 75 or so years the success of most military campaigns (and often new technologies) has, with careful retrospective study, proved to have been grossly overstated. [JF note: Agreed.]

I can't recall the details perfectly, but the Serbian-Bosnian turmoil was supposedly brought to a conclusion by the introduction of a USAF?NATO bombing campaign. Post-conflict NATO expended considerable effort to quantify the accuracy and impact of the bombing campaign, and they in fact concluded that the bombing campaign had been almost entirely ineffective. This conclusion flew in the face of what USAF wished to believe, and not surprisingly it worked long and hard to ensure the NATO conclusions were discredited and/or buried.

As a country that enjoys such a tight, emotionally-inflammable relationship with the US, Israel and its American affiliates (for lack of a better word) will paint whatever picture most effectively advances its cause, facts be damned. It's interesting that the US just committed another $500 million to Israel's Iron Dome program. How we reconcile that whilst simultaneously working hard to erode social programs escapes me.