The Shame of Shuhada Street
In Hebron, Palestinians are subjected to daily indignities—large and small.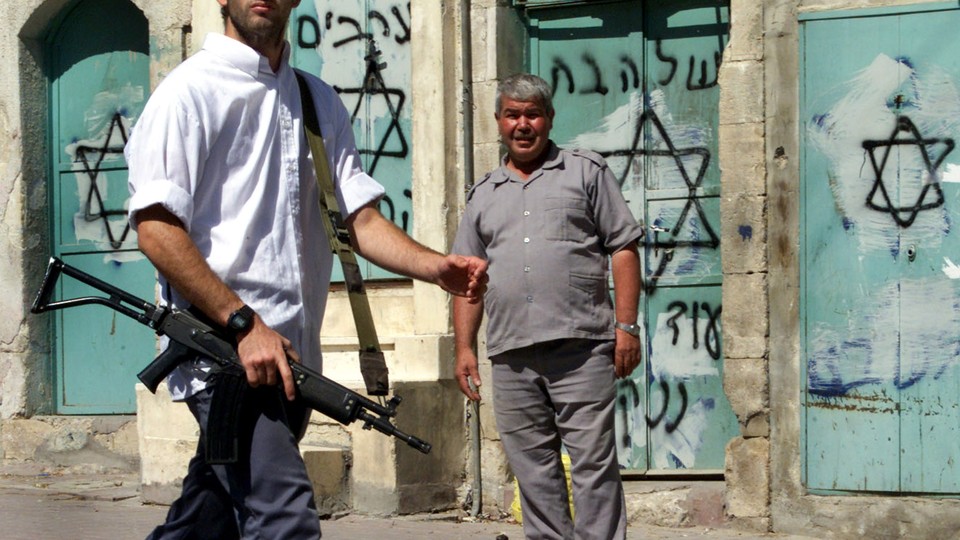 HEBRON, West Bank—I first saw the boys through the rearview mirror of the car I was riding in, as they approached Shuhada Street. One of them was about the age of my daughter, who became a bat mitzvah last week. The other might have been 16 or so, like my older son. The boys hesitated at the top of the street and seemed to take a breath. Then they stepped into the void.
Shuhada Street, lined with small shops whose owners typically lived upstairs, was once among the busiest market streets in this ancient city. But in 1994, in response to a horrific massacre that left 29 people dead and 125 injured, the Israel Defense Forces began clamping down on Shuhada Street. They welded shut the street-facing doors of all the homes and shops, and by the time of the Second Intifada in 2000, had turned the bustling thoroughfare into a ghost street on which no one was permitted to set foot. No one, that is, who is Palestinian. Israeli Jews and foreign visitors are free to come and go along the road—to snap photos and make their way to Hebron's three Jewish settler outposts, Beit Hadassah, Beit Romano, and Avraham Avinu. But there is nothing to buy, nothing to see, no reason to tarry. The stores are all closed. The few Palestinians who remain have been barred from the street where they live. If they want to enter their homes, they must do so through back doors, which in many cases involves clambering over rooftops.
One might be tempted to view Shuhada Street as just another casualty in an endless cycle of violent retribution. A Palestinian kills dozens of Hebron's Jews, so Israel punishes the Palestinians of Hebron by closing Shuhada Street. But that is not, in fact, what happened. The victims of the massacre that impelled the Israeli government to shutter Shuhada were not Jews. They were Palestinians—unarmed Palestinians gunned down as they prayed at the nearby Cave of the Patriarchs by Baruch Goldstein, an American-born Jewish zealot with Israeli military training and a Galil assault rifle, who stopped firing only when he was overcome and killed by survivors of his attack. You can add Shuhada Street, and the vibrant urban life it once sustained and embodied, to the list of Goldstein's victims.
My visit to Hebron had begun at Goldstein's tomb, in a small park in the Jewish settlement of Kiryat Arba on the city's outskirts. The grave has become a site of pilgrimage and ecstatic veneration for some religious Israelis and sympathetic foreigners despite the Israeli government's prohibition on monuments to terrorists. The massive slab of marble is inscribed with the words, "He gave his life for the people of Israel, its Torah and land." On the day I visited, the gravestone was littered with small stones, placed there in homage in accordance with Jewish tradition.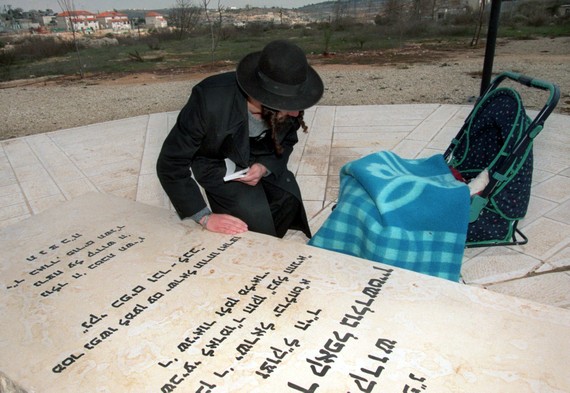 After puzzling over the epitaph (I was born in Jerusalem but my family emigrated to Canada before I learned to read), I brushed away the commemorative stones. A mass-murderer deserves no such honor. An Israeli army jeep rumbled alongside the park and I stepped back, nervous that I would be harassed for my action. The Israeli military presence in Hebron is intense—between 600 and 650 soldiers, military police, and commanders, or at least one for every settler—and its role is very clear: The security forces are there to protect the settlers, regardless of how brutal or inflammatory the latter's actions may be, and regardless of the fact that, as Goldstein's homicidal cowardice makes clear, it is the Palestinians who often need protection against settlers who, sure of support from the Netanyahu government, seek to make permanent their incursion into the city.
My companions and I then made our way to Shuhada Street, where an Israeli soldier checked our passports to ensure both that we were not Palestinian and that we understood the omnipotence of Israeli military authority. We passed the new Beit Hadassah museum, an exhibit of curated propaganda dedicated to legitimizing the presence of Jewish settlers in the city. Then we came to the end of the street, and I happened to glance in the rearview mirror, where I saw the two boys. I didn't need to be the mother of children their age to fear for their lives and safety. I only needed to have been following the news.
Less than a week before, on Nakba Day, when Palestinians commemorate the displacement that preceded and followed Israel's declaration of independence, there had been a protest in front of Ofer military prison in the West Bank town of Beitunia. After the protest was dispersed, two Palestinian teenagers had been shot and killed by the Israeli army. Video of the killings had surfaced on the Internet, and in my hotel room in Jerusalem I had watched as another Arab boy my son's age, carrying the kind of backpack my son carries, doing nothing more than crossing a street—crumpled and pitched forward, motionless.
Now, several days later, I watched these Shuhada Street boys risk death for the sake of a liberty so rudimentary and fundamental that my own children are not even aware of its existence, or its importance, or its simple human beauty: the right to walk down the street.
I should have gotten out of the car and joined them. I should have taken out my cell phone and started filming. But I just sat in the car and fretted. Thankfully, the Israeli soldiers on duty that day did nothing more than lift their weapons and motion the boys back to permitted ground, and the boys obeyed. It was one of many such interactions—petty indignities and tiny acts of courage. It was nothing as dramatic as an incident, viewable on YouTube, in which settler girls take advantage of a school holiday to lie in wait for Palestinian children on their way home from school, then curse the other children and throw rocks at them while Israeli soldiers look on, periodically urging the rock-throwers to stop but doing little to protect the victims of the violence. Nothing as dramatic as another encounter, also captured on video, in which a female settler, flanked by soldiers, lobs curses at a Palestinian woman who had the temerity to walk out the front gate of her own house. "Whore! Whore!" the settler hisses.
I ended my visit to Hebron at a small community center run by Palestinian peace activists, where we shared plates of hummus and fresh vegetables and tried to find inspiration in the tiny outpost of hope. But the bright murals painted by Palestinian activists had been disfigured by Jewish settlers with splashes of gray paint, and we ate under the stony gaze of soldiers assigned to guard settlers whose vandalism is among the least of their offenses.
The litany of Hebron's many immiserations is long. I could write paragraphs about the racially differentiated access to water, and about how settlers sometimes spray the ground with their hoses, taunting Palestinians who have severely limited access to water for drinking or cooking or bathing. I could describe the ugly anti-Arab graffiti I saw, the bumper stickers plastered onto walls with messages like, "Arab! Don't even dare to think about a Jewish woman!" I could describe the achingly torturous journey an elderly resident of Shuhada Street must make just to leave her house, with its front door welded shut, because one day in 1994 a hate-filled fanatic massacred her townspeople.
But out of respect for the people who escorted me down the tragic length of Shuhada Street, I will try to close on a note of hopefulness. My guides were a couple of Jewish Israelis, raised in religious homes, who had served as soldiers in the West Bank and who, as a result of what they saw and what they did, now devote their lives to raising awareness about the injustices of the Occupation. My guides described in painful detail the structural inequality of a land where one ethnic group lives under oppressive military rule, and another under democratic, civilian authority. They described receiving explicit instruction to make Palestinians feel as if they were constantly under surveillance, constantly pursued, constantly harassed. They said their role, as described by Moshe Ya'alon, the current defense minister and former army chief of staff, was to "sear the hearts and minds of the Palestinians."* My guides told me of instances in which they were involved in "Straw Widow" actions, where they invaded a Palestinian home, shut the family into a single room, and then made free use of the house. Ostensibly these home invasions were conducted for security reasons, but just as often they were simple training exercises. Sometimes the homes were chosen because they had a satellite dish, and an important soccer match was on TV. "What hope is there?" I asked them, in response. They replied that they named their organization Breaking the Silence because they fervently believe that once people know what is happening in Hebron and the rest of the Palestinian territories, change is inevitable.
I'm not sure that I share their faith in the power of knowledge to create justice, but I want to. And that's why, as Bibi Netanyahu's right-wing government broadcasts its contempt for the U.S. State Department's commitment to working with the new Palestinian unity government, and announces the construction of 1,500 new settlement housing units in the West Bank, I, a Jewish American born in Israel, who believes in Israel's right to exist within its own borders, am breaking my own silence.
---
* Moshe Ya'alon's comments came in a 2006 interview with the Israeli journalist Ari Shavit, which followed a 2002 interview in which they discussed the same topic. The extended English translation of his remarks in that 2006 exchange is as follows: "When the present confrontation began, in 2000, I argued that if we did no wake up in terms of understanding it, and if we continued with the withdrawal and delay, an existential threat to Israel's future would be created. That was why I said we had to sear the Palestinian consciousness. That was why I said that the war of terrorism must end with terrorism defeated, with the Palestinians understanding that terrorism does not produce gains."