'There Will Be No World Cup': What's at Stake in Brazil
I witnessed protests before South Africa's tournament, too. But something bigger is happening in the land of soccer.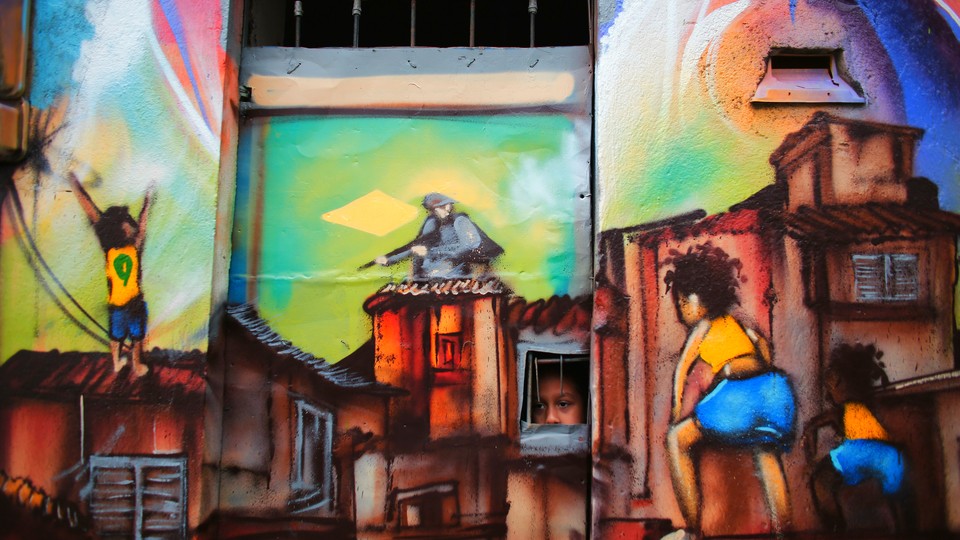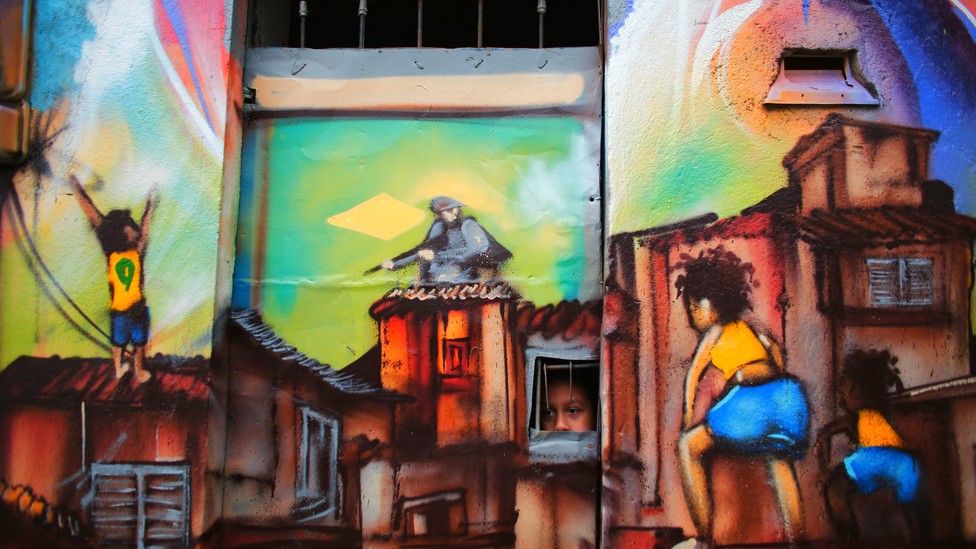 If histrionic warnings about impending catastrophe at the 2014 World Cup sound familiar, that's because prophecies of doom on (and off) the pitch surface every four years. Search for the words "World Cup" and "disaster," and 46 million entries pop up. Replace the year and dateline—to 2010 and South Africa, for instance—and prepare for déjà vu. Even the headlines look the same: unfinished stadiums, unruly protests, unready teams, fixed games, runaway public costs, concerns about crime and sex trafficking.
And yet the last World Cup ultimately proved, on balance, to be a glitch-free and inspiring affair. When the competition was over, political leaders across the spectrum credited the event as a nation-building exercise that had stitched South Africans together across racial and class lines.
This time around, however, the upheaval surrounding the World Cup could have a far more profound impact on the host of the games. Back when South Africa was wrapping up its tournament, officials at FIFA, the world soccer federation, had high hopes for this year's contest. Brazil had hosted its first World Cup back in 1950, after all, and its national team had won the games five times since then. The country was already an emerging power with one of the world's largest economies. Its population, four times larger than South Africa's, is one of the most soccer-obsessed on the planet. (Ask a child on the street in Rio de Janeiro to explain the Maracanaço—the national team's crushing loss to Uruguay when Brazil last hosted the Cup, 64 years ago—and you'll receive an earful about the wounds inflicted by that blow to national pride and his certainty that the country will redeem itself in 2014.)
But the mass anti-government protests that erupted in Brazil last year have stung the nation's leaders and stunned FIFA officials. The World Cup is getting underway at a time when the country's long economic boom has given way to a skid, fueling demonstrations against government corruption and shoddy public services. Protest organizers have managed to shift the country's political discourse, while demanding that the $11 billion-plus budgeted for the games be spent instead on the nation's highly stressed schools, infrastructure, and health-care systems. In a country where a majority of the populace now opposes the government's decision to host the competition, a chant has emerged among demonstrators: "There will be no World Cup!" There will be, of course, but Brazilian politics may emerge from it transformed.
A decade ago, when I was a journalist working in South Africa, there were plenty of misgivings about holding the World Cup in the country, given its HIV/AIDS epidemic, persistent poverty, and high rates of unemployment and violent crime. But the critics were largely drowned out through a well-orchestrated campaign by business, labor, pop-culture, and even religious leaders—and spearheaded by then-President Thabo Mbeki and Nelson Mandela. At his inauguration in 1994, Mandela had expressed hope that South Africa would shed its reputation as "the skunk of the world." For him, the World Cup represented another step in his quest to dignify the country's international reputation.
On the day in May 2004 when FIFA designated the host for the 2010 World Cup, massive screens were set up in parks and plazas across the country so people could watch the announcement live. I drove south from my house in Johannesburg to Soweto, and wedged myself between children, grannies, and workers on a patch of grass at Mofolo Cultural Bowl, an outdoor performance space. The crowd whooped and cheered at the sight of Mandela arriving at FIFA headquarters in Zurich, and positively exploded when FIFA President Sepp Blatter awarded the games to South Africa—in a roar that seemed to me equal parts triumph and relief.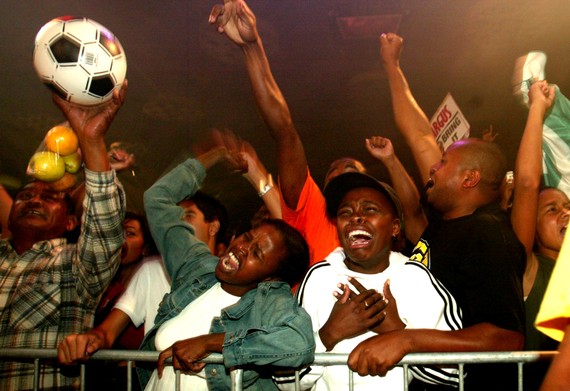 Doubts about the decision soon cropped up, though, as officials repeatedly missed deadlines to refurbish and build stadiums. Turmoil within the governing African National Congress led to President Mbeki's resignation and replacement by Jacob Zuma in 2009. Protests erupted over the government's failure to deliver water, housing, and electricity, while strikes produced violent confrontations between police and low-paid security guards hired to protect fans in the soccer stadiums. Mandela's victory in securing the World Cup, it seemed, could turn into a global humiliation.
Once the games began, however, the power of spectacle took over. Besides strikes by security guards, there were few logistical hiccups. Even when the South African team was knocked out of competition early, fans simply shifted their loyalties, in pan-African solidarity, to Ghana. Public schools were let out for the duration of the games, college dormitories were turned over for the use of athletes, and a sense of collective mission prevailed.
This surge of good feeling stemmed from massive public spending on roads, airports, and stadiums in the years leading up to the Cup, which created many construction jobs and helped shield the South African economy from the post-2008 global recession. But the good will also had psychological roots: predicted catastrophe had been averted. Much like the period after Mandela's election in 1994, the country was in the midst of a cross-racial swoon. South Africa is a sports-crazed society where athletics, like everything else, has always reflected racial divides (cricket was traditionally for English-speaking whites; rugby for Afrikaans-speaking whites and coloureds; soccer for blacks). "The games created a sense that we have gotten over the hill" of racial divisions, the premier of KwaZulu Natal province, Zweli Mkhize, told me at the time. "There's a huge degree of mutual acceptance, a sense of unity, a very strong sense of national pride."
A year later, though, reality set in. FIFA officials headed back to Europe with billions in untaxed earnings as South African officials scrambled to cover high maintenance costs for stadiums the country couldn't use, and struggled to minimize the economic shock of government investment suddenly drying up. In the end, the promised post-World Cup tourism boom never materialized, and South Africa only earned back an estimated $1 billion of the $4 billion that it spent on the games. As the South African writer and soccer fan Fikile-Ntsikelelo Moya wrote in a Facebook post last week, "Honest South Africans will accept that spending the amounts of money on a month-long festival that only the wealthy can afford is unjustifiable in a country with huge and immediate social needs."
Many Brazilians seem to agree—and they've arrived at this conclusion before the tournament rather than afterward. In their bid for the World Cup, "South Africans needed more self-esteem," Marcio Aith, a top advisor to the governor of São Paulo, recently told me. "Here, we're drunk with self-esteem."
Earlier this year, shortly after I arrived in São Paulo on a reporting trip to Brazil, a mass demonstration broke out a block from where I was staying, near Praça da República. Based on the images I'd seen on the news of grimacing, bandana-wearing teenagers opposite club-happy military police, I had the mistaken impression that young Brazilians were behind much of the country's unrest. Here, though, were parents with young kids, an aged Asian couple hoisting a poster about the country's tattered public health-care system, and middle-aged professionals complaining about lack of access to higher education for their children. They were surrounded (and outnumbered) by layers of tense, heavily armed security forces, and they also glanced warily at a phalanx of masked, anti-government Black Bloc militants. Protesters held signs that read, "Não à ditadura!" (No to dictatorship!), in reference not only to decades of military rule but also to proposed legislation for controlling crowds under the guise of anti-terrorism measures.
For a political demonstration, the atmosphere was remarkably nonpartisan. There were no party slogans or banners, no buttons in support of candidates, no mention of the presidential election this fall. What was clear, from interviews and surveys, was that Brazilians had turned sharply against their own political elite. Four years ago, 75 percent of them credited national government as a force for good, according to a Pew Research Center study. Now only 47 percent do.
What happened next at the demonstration has become something of a ritual in the country's mass protests over the past year. Winding their way through downtown streets, marchers neared the baroque Theatro Municipal. In the middle of the block, a tussle broke out between police and Black Bloc members. Soon, rubber bullets were flying and tear-gas canisters exploding.
Jetting around the corner of the nearest building to stay out of the line of fire, I hustled down a long, stone staircase. At the bottom, I found a large crowd, about the size of the one on the streets above. People were gathered under an overpass to samba and celebrate the beginning of Carnival, oblivious to the bloodshed taking place directly above them. The percussive sound of explosions and gunshots blended into the music—a backbeat for the drums. It seemed like a preview of how things will unfold over the next month, as fans from around the world, including millions of Brazilians, celebrate soccer at its finest while their neighbors and relatives, occupants of a parallel universe of protest, shout slogans behind barriers outside the stadiums.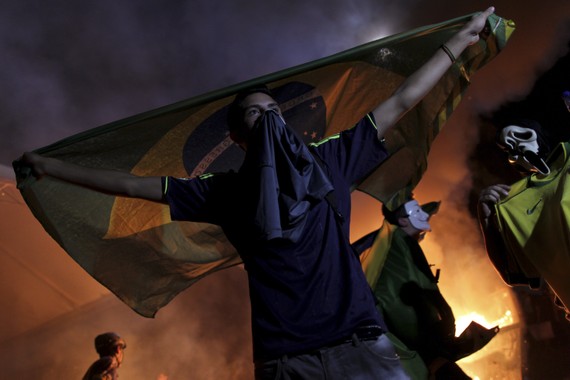 After the fracas, I returned to the plaza to speak with a key organizer of the demonstration, a health worker in his twenties who asked not to be identified for fear of losing his public-sector job. "This is not about the World Cup at all," he murmured. "It's about democracy, and participation." By that, he didn't mean the upcoming election but rather the kind of decentralized, broad-based, bottom-up politics of the fledgling movement he had helped initiate. The Partido dos Trabalhadores (Workers' Party) of former President Luiz Inácio Lula da Silva and his successor, Dilma Rousseff, had tried to buy people's loyalty by turning the population into a nation of consumers, he argued. "But we want to be full citizens."
Glancing in the direction of a friend with an eyepatch who'd lost his eye to a rubber bullet in an earlier demonstration, he expressed concern that outbreaks of violence would intimidate Brazilians from expressing their views. "My mother told me what it was like living under a dictatorship," the organizer went on. "If we stay at home now, nothing will ever change. So, our hope is that these protests just get bigger and bigger and bigger."
On the streets, in newsrooms, and in the offices of powerful government officials, there wasn't much argument about the underlying cause of the protests. Sérgio Dávila, executive editor of the newspaper Folha de São Paulo, called them "an uprising by those on the outskirts"—meaning millions of bus drivers, nurses, teachers, and construction workers who'd moved into the middle class until economic growth slowed beginning in 2009, and who now worried about falling back into poverty.
At first "the protests seemed like a paradox, because Brazil is the land of soccer," Marco Aurélio Garcia told me when I paid him a visit in March. He's a white-haired, white-bearded radical—a former university professor and longtime foreign-policy advisor to Lula who now serves Rousseff. We met one rainy afternoon in a conference room at the Palácio do Planalto, a sprawling complex of executive-branch offices on the edge of the capital, Brasília.
When the first demonstrations broke out a year ago, over a public-transport fare increase in São Paulo, he figured they were growing because of the way protesters were "absurdly repressed" by the military police. "But there's only fire when there is something to burn," he continued. It was a long way from the president's office in Brasília to the tiled praça in São Paulo, but his analysis aligned closely with that of the protest organizers. "The problem is that people's wages have improved, and they can buy more things. But transportation is still really bad, public health is still really bad, too, education is highly unsatisfactory, and there is clearly a lack of faith in the country's political system," Garcia noted.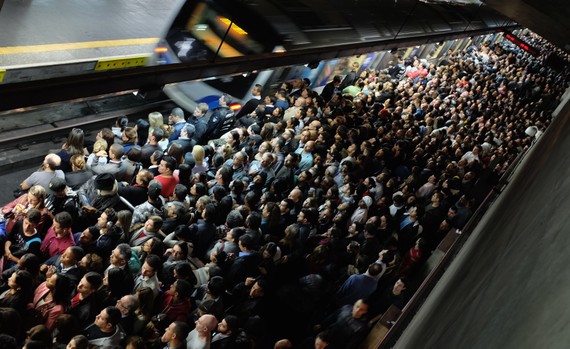 When I mentioned that protest organizers had explicitly prohibited partisan expressions at their rallies, he seemed perplexed, and a little worried. "The problem with the demonstrations is that they must seek an institutional form because if they don't they'll keep circling themselves," he said. "They'll either wear out the political system, or dissipate energy and fade away."
Across town, I met with Marina Silva, a former environment minister in Lula's administration who'd since broken with the Workers' Party. "This moment is creating a new form of leadership in the country" that could determine the outcome of the elections, Silva told me. She'd lost to Rousseff in the 2010 presidential election, and is currently campaigning as a vice-presidential candidate on an opposition ticket.
Silva had decided not to join the demonstrations herself because she thought her presence would seem opportunistic, and also because she "did not feel represented by violence." Still, she believed that something fundamental had changed in Brazilian political culture because of the protests. "There is a plasticity in the ways to lead," she said. "Sometimes you lead, sometimes you are led. It's like an arrow: Sometimes you are the bow that pushes the arrow, and other times you are the arrow being launched."
In an address to the nation on Tuesday, President Rousseff attempted to counter allegations that the government had neglected its duties to its people in pursuing the World Cup. She claimed that the government had spent hundreds of times more money on education and health than on building stadiums. The protests that the country had witnessed, she said, were the fruits of free expression in a young, dynamic democracy shadowed by the history of dictatorship. "A World Cup lasts only for a month," she added, but "the benefits remain for a lifetime." One of those benefits? Brazilians are now deeply engaged in a furious debate about social justice—and the whole world is watching.