Israel's Former Ambassador: Militant Shias Are More Dangerous Than Sunnis
Michael Oren made the provocative claim that "the lesser evil is the Sunnis over the Shias," while insisting that the U.S. should never ally with Iran, even against Sunni terrorists.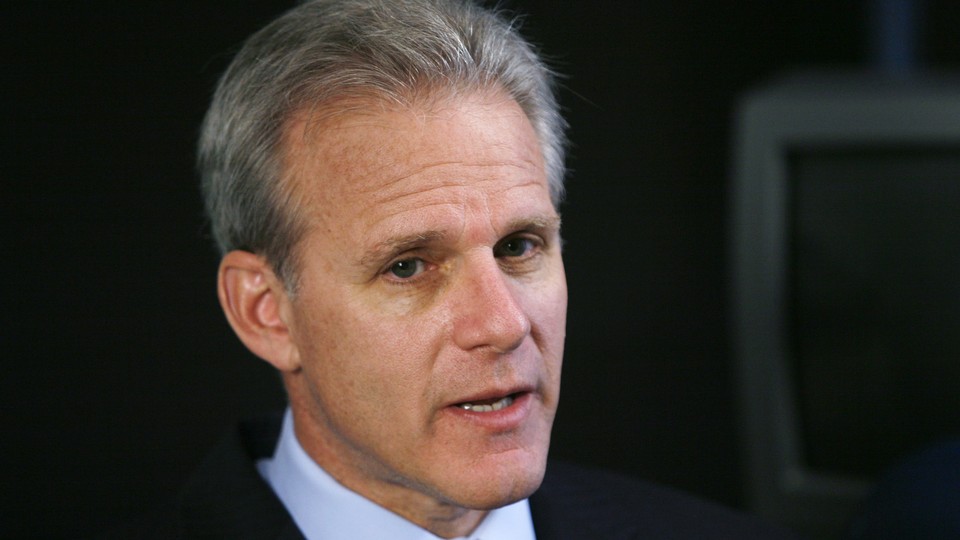 ASPEN, Colo.—Michael Oren, an American-born diplomat who served as Israel's ambassador to the United States, joked at the beginning of a Friday interview at the Aspen Ideas Festival that an ambassador isn't, as some would have it, an official sent abroad to lie for his country—an ambassador is someone sent abroad to lie for two countries.
His interviewer, Jeffrey Goldberg, quipped that now that he's a private citizen, he can level with us, and then pressed him on a range of subjects, including Israeli construction projects in disputed territory, the danger of Israel losing the support of American Jews, how Israel thinks about the Iranian nuclear program, and more. His responses were at times more provocative than any made by acting diplomats.
Most notably, he responded to a question about whether America should ally with Iran to fight Sunni terrorists in Iraq by insisting that, when it comes to militant Islam in the Middle East, even after the rise of ISIS, "the lesser evil is the Sunnis over the Shias." Sunnis may carry out suicide bombings and international terrorist attacks (as America learned on 9/11), but Shias from Tehran to Beirut wield far more hard military power and pose a much larger threat to Israel. "It's of a different magnitude entirely," he argued. "Do not make a pact with Iran."
With respect to Iraq, he argued that we saw the end of the Iraq-Syria border this week, and that the Sykes-Picot system of nation-states may be unraveling in the Middle East.
On Israel's dispute with Palestine, Oren declared that his country was correct to unilaterally draw borders because Palestine was not yet ready to sign onto a "two-state solution." What I found more interesting was his account of what the unilaterally drawn border must achieve to be effective. In his view, Israel must be able to tell the Europeans, you may not like this, but it isn't worth imposing sanctions. Israel must be able to tell its own citizens, these are lines that we can send our kids out to defend. And the borders should, in his view, be disliked by Palestinians. "I think we have to draw a line that the Palestinians don't like. Because we want to leave the door open to a two-state solution. It may take a generation." Put another way, he believes Israel must build in concessions it can make during future negotiations, and (implicitly) that there is a tension between the fairness of present arrangements and game theory that maximizes the chance of long-term fairness. Logic of that sort could lend itself to rationalizing unfair arrangements.
With respect to the U.S., Oren argued that just as America is indispensable to Israel, insofar as we act as its "diplomatic shield" and military protector, so too is Israel indispensable to the United States, because they're our only real ally in the region, with a bigger military than the French and British combined.  Unfortunately, he illustrated his point with a trite example: that only in Israel can an American president give a speech as the audience cheers and waves American flags. So what? Many people believe Israel's hard power in the region is essential for America. I'd like to hear the frank reasoning for that controversial position. An audience for friendly speeches is not essential. What is the U.S. getting that is essential?
Finally, Oren made the provocative claim that the U.S. is even now engaged in military action in Iraq, and that America ought to be fighting there even though we're unlikely to change the facts on the ground! "America's not going to impact the outcome," he said. "But the fact that America is involved sends a message to people in China and Russia that America is not withdrawing from the world." He regards sending that signal as important to long-term U.S. interests. I've long taken the less counterintuitive position: that countries shouldn't put the lives of their soldiers in mortal danger, spend billions, and kill people in a foreign land for purposes of signaling, especially when they know going in that fighting won't help.