When Regimes Ban Communication In the Name of Security
The Central African Republic has temporarily banned text messaging because authorities are concerned about the security "threat" they pose.
This article is from the archive of our partner
.
The Central African Republic has temporarily banned text messaging because authorities are concerned about the security "threat" they pose. According to Agence-France Presse, following another escalation of violence in the capital city of Bangui this week, text messages are considered a security threat as a call to strike was reportedly broadcast through mass text. Anyone attempting to send an SMS text message — including AFP journalists — reportedly receives a response in French that states: "SMS not allowed."
The country's telecommunications agency said that Prime Minister Andre Nzapayeke made the decision to suspend text messaging. The conflict in CAR, a majority Christian country, began last year after Muslim rebels took control during a coup, although they lost power in January. African Union and French troops have so far failed to quell the violence, which some say is approaching the level of a genocide.
But text messaging isn't the only thing governments have banned in times of conflict. All mass communications are in danger of being blocked when a regime is threatened. All in the name of keeping the peace.
China: Tiananmen Search Terms
Today marks the 25th anniversary of the Tiananmen Square protests in China; which the country is still trying to suppress even the memory of. No one knows how many people actually died when the army put down the protests — the figures range from several hundred to many thousands — and those trying to commemorate the anniversary have been met with silence, intimidation, and in some cases, pushing and shoving while trying to lay flowers.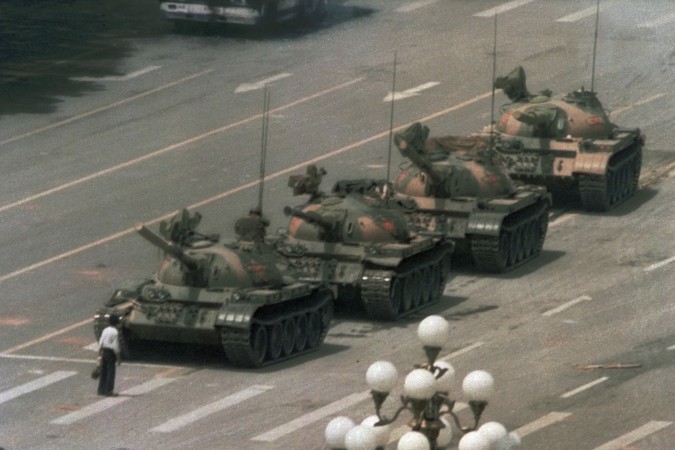 According to BBC reports, foreign journalists were "ushered away" from the square in Beijing today, and Chinese authorities have detained lawyers, journalists, and activists in the weeks leading up to the anniversary. The International Business Times has rounded up search terms that China bans around the time of the anniversary each year. They include Tank Man (a reference to the iconic photograph), Crush, Mourn, One-party dictatorship, and When spring becomes summer. According to Time's P. Nash Jenkins, the anonymous social-networking app Secret launched in China on Saturday, making it easier for people to commemorate the protests, and harder for authorities to crack down on them doing so.
Turkey: Twitter and YouTube
Turkey also commemorated their own anniversary recently: the Taksim Square protests were a year ago. Authorities tried to stifle dissent at a rally on Saturday, going so far as to detain CNN reporter Ivan Watson live on air.  Turkey also attempted to ban Twitter in March, following a promise by Prime Minister Recep Tayyip Erdoğan to "root out" the service. It was unblocked a few weeks later by the courts. The next Internet service to be censored was YouTube, but again, the ban was also lifted after a two-month block.
U.K.: BBM
Although it didn't get shut down in the end, there were talk of blocking BlackBerry's BlackBerry Messenger instant messaging service as it was being used en masse to coordinate the participants and movement of riots across parts of England in 2011. But as the Guardian's James Ball and Symeon Brown report , BBM was also used to broadcast safe routes home. As riots continued across the country, BBM use was mainly concentrated in London. A curfew was briefly floated, as was an outright block, but in the end users communicated as usual.
Serbia: Blogs and websites
A number of blogs and websites that are critical of the government's response to recently historically bad floods in the Balkans (that have caused disease and uncovered landmines) have been hacked into and shut down, according to a report from the Inter Press Service. Thirty people have been detained for allegedly spreading "false news and panic," and three people spent nine days in custody over Facebook posts that mentioned the hundreds of casualties from the floods. 
Thailand: Fingers
The military junta that overthrew the government last month has vowed to arrest anyone caught making The Hunger Games salute — three fingers raised in the air of defiance of an authoritarian regime. Even not talking is apparently a threat to security.
This article is from the archive of our partner The Wire.