What I Learned About the Indian Election at Kebab Stands
Explaining Narendra Modi's rise, over street food.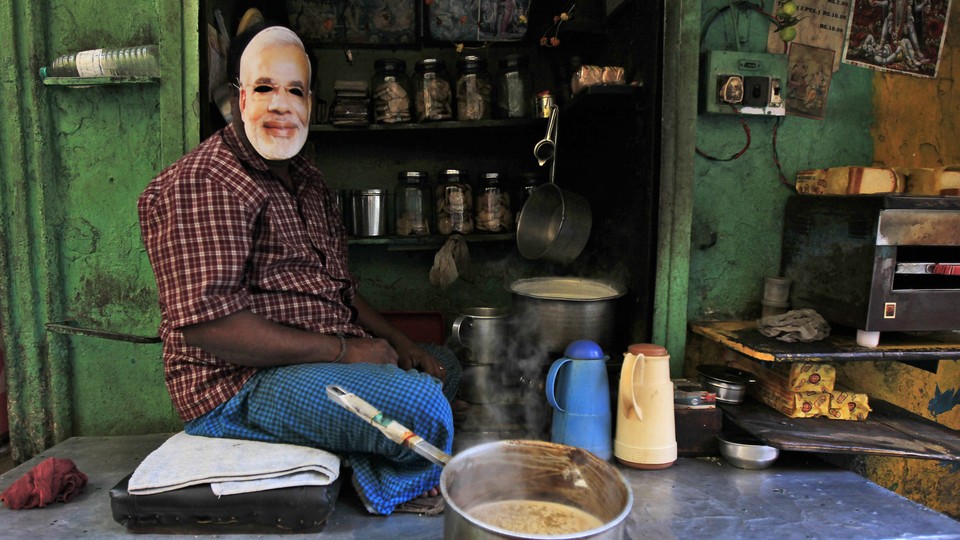 DELHI—I recently spent five weeks eating dinner at this city's food carts, with one goal: to better understand the Indian election and the man who will likely win it. I did so based on two assumptions: everyone (even the wealthy) eats street food, and people tend to speak their mind truthfully when queried over kebabs, dosas, or chai.
India's general election, which began on April 7 and runs through May 12, begets superlatives and hyperbole. The Largest Election Ever. It's true that the country's 815 million registered voters are casting more ballots over these five weeks than in any other single election in history. But superlatives and hyperbole distract from detail—from the nuance of the main issues in this race.
India is diverse, divided, and evolving. There are 22 official languages and hundreds of unofficial ones. Nearly every major world religion is represented here. There are Hindus, Muslims, Sikhs, Christians, animists, Jains, Parsis, Buddhists, even a handful of Keralan Jews. Here in Delhi, the country's wealth disparity—a product of globalization, economic liberalization, and history—is apparent. Range Rovers cruise alongside auto-rickshaws and mopeds, past barefoot pedestrians and beggars. New restaurants serve increasingly globalized cuisine at increasingly globalized prices.
But for every new upscale restaurant, there are a dozen street stalls offering affordable meals to the vast majority of India's population, the yet-to-be success stories. This urban street food blurs communal lines in surprising ways. Marathis eat Lucknowi food, Hindus eat traditionally Muslim food, North Indians eat South Indian food, and everyone eats Himalayan momos.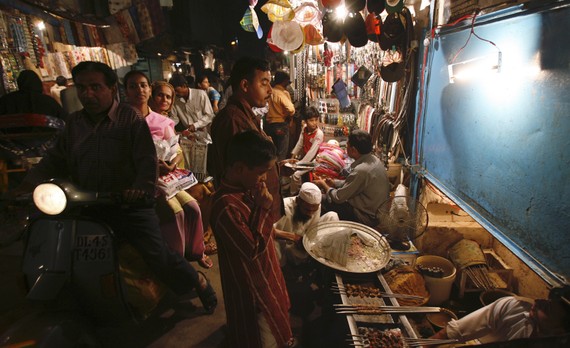 Appropriately for such a moment in its history, India's election is defined by contrasts. The United Progressive Alliance (UPA), with the Indian National Congress (INC) party at its helm, is the ostensibly secular, centrist incumbent—one ravaged by a series of embarrassing scandals and running on a platform of cleaning up the mess it helped create. It's a party disfigured by corruption, nepotism, and bureaucratic complacency. The Congress Party's standard-bearer is Rahul Gandhi, the lackluster, 43-year-old scion of the Nehru-Gandhi dynasty.
The ascendant challenger, meanwhile, is the right-wing, Hindu-nationalist Bharatiya Janata Party (BJP), which is pledging to improve a stagnating economy and offering the closest thing to a viable nationalism in the world's most diverse democracy, while seeking to reassure non-Hindu minorities (specifically Muslims, who make up 13 percent of the population) that it will govern inclusively. Its leader is Narendra Modi, the 63-year-old chief minister of the northwestern state of Gujarat—and the odds-on favorite to become India's next leader.
Ask Indians what they think of Modi, and you tend to hear three stories. The tales speak to the politician's Rorschachian, refractory genius. The BJP supporters I met on the streets of Delhi—which has long been dominated by the Congress party but more recently gravitated toward the young, anti-corruption Aam Aadmi Party—had different backgrounds and ideologies, but each had his own reason for believing Modi represented the country's future.
The first story people tell about Modi is the personal one—a rags-to-riches tale that Modi himself trumpets on the campaign trail to express solidarity with ordinary Indians. As a child in present-day Gujarat, he sold tea with his father at a railway station. As a teenager, he ran a tea stand near a bus station with his brother. (During this year's election cycle, the former chai wallah spoke to voters by telecast at 1,000 tea stalls across the country.) These humble beginnings not only contrast Modi with Rahul Gandhi, the privileged son of India's pre-eminent political dynasty, but they also cast him as a different breed of politician. He is, in phenomenological terms, a hope-and-change populist like Barack Obama—a career politician styled as a political outsider who can confront India's inefficient bureaucrats and corrupt party bosses. The BJP "is the only ray of hope for the common man and woman," Modi declared last fall. "It is the only party that can remove the nation from the atmosphere of gloom and unhappiness."
Even some of Modi's opponents acknowledge the power of this narrative. Bashar, the owner of a kebab stall in South Delhi, told me he didn't plan on voting for the BJP. But he still had grudging respect for Modi. A Muslim, Bashar hailed from a small village outside of Lucknow in the northern state of Uttar Pradesh. His grandfather sold fabrics in Lucknow until he lost his job during the hasty partition of British India along broad religious lines in 1947, resulting in the independent states of India and Pakistan, one of the largest and deadliest population transfers in history, and lingering animosity between the two states and between Hindus and Muslims.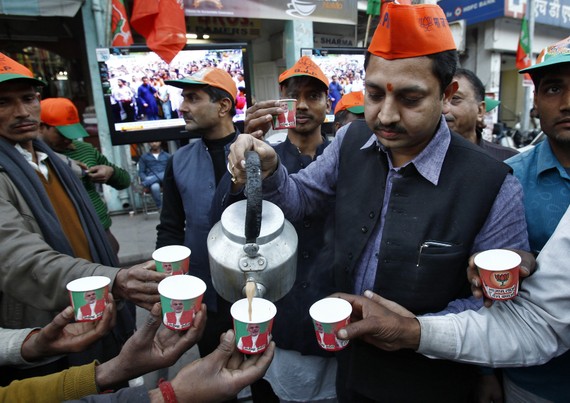 Bashar's father sold tea on trains but died young, and Bashar came to Delhi alone, as a teenager, to look for work. He eventually teamed up with a cousin who knew how to make kebabs. They launched the business with a cart and eventually purchased the storefront where I met him.
"What to do you think of Modi?" I asked.
"He will be bad for Muslims," responded Bashar. "But he has worked very hard. Rahul Gandhi's mother gave him everything. Modi worked."
The second story people tell about Modi is an economic one, and it's closely connected to the first: The man has achieved prosperity not only for himself but also for his home state of Gujarat. India, the logic goes, is next. In recent months, I've heard this repeatedly between bites of kebab. (Polls confirm that economic growth is the most important issue among potential voters, with corruption a close, related second.)
"India needs development. Modi will bring that," one customer told me. "Modi has done so much for Gujarat. He's a good businessman and that shows in how he runs his state," said another. "Development is the most important thing," a third explained, "Everything else will follow."
'Development' is a beautifully vague term that seems more understood here in its absence than presence. Many feel India hasn't yet become a great power because of the country's roadblocks to development, which range from the infrastructural (terrible roads, polluted water) to the social (slavery, casteism, high rates of violence against women), and everything in between.
After his early tea-selling days, Modi made a beeline for politics. In 1970, he began campaigning for the Rashtriya Swayamsevak Sangh (RSS), a Hindu-nationalist paramilitary organization, and soon became the head of its student wing, working with colleagues who would later found and run the BJP in his home state. By 1988, Modi had risen to general secretary of the BJP in Gujarat; by 1998, he was general secretary of the BJP nationwide. He was considered the electoral mastermind behind multiple BJP victories in state and federal elections—an Indian Karl Rove who deftly pushed the opposition out of office in Gujarat before attacking hostile members of his own party. In 2001, Modi returned home to replace an ailing BJP incumbent as chief minister of Gujarat.
As chief minister, Modi pushed privatization and small government—policies that are credited with driving investment and economic growth in Gujarat. The popular consensus, whether empirically or anecdotally supported, is that both corruption and government waste have appreciably diminished in the state, spurring growth. Whether by Modi's hand, the larger hand of market liberalization in India, or a combination of the two, Gujarat has clearly benefited economically in recent years.
The third story involving Modi is a religious one. The politician projects an air of religious devotion without the vitriol for which his affiliates in militant, extreme right-wing organizations like RSS and Shiv Sena have been criticized.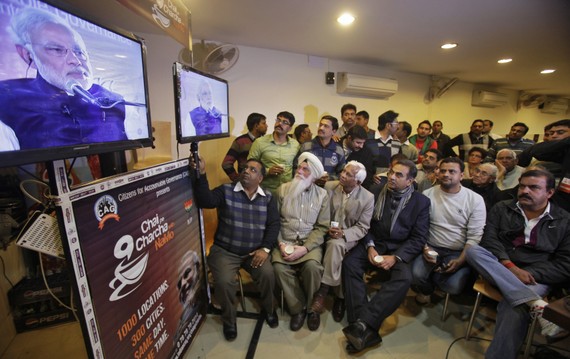 But while Modi has preached national unity, the BJP's brand of Hindu nationalism appears at odds with Indian independence leader Jawaharlal Nehru's notion of "unity in diversity." The BJP's election manifesto calls for abolishing the special status of Muslim-majority Jammu and Kashmir, implementing a "uniform civil code" that would prevent Muslims from following sharia law (Modi claims this would not entail the imposition of Hindu law), and constructing a Hindu temple, or mandir, at a bitterly contested site in the northern town of Ayodhya, where a mosque once stood. Nehru, India's first prime minister and a member of the Congress party that Rahul Gandhi's mother, Sonia, now leads, envisioned a secular, pluralistic India. As he wrote on the eve of independence:
Some Hindus talk of going back to the Vedas; some Muslims dream of an Islamic theocracy. Idle fancies, for there is no going back to the past; there is no turning back even if this was thought desirable. There is only one-way traffic in Time.

India must therefore lessen her religiosity and turn to science. She must get rid of the exclusiveness in thought and social habit which has become like a prison to her, stunting her spirit and preventing growth.
Does the 2014 election indicate that this Nehruvian vision is dying? Was it ever alive in the first place?
Hanging around Delhi's food stalls, I heard some of the less savory anti-Muslim talking points of BJP supporters. They ranged from the conciliatory ("Modi is a moderate. And the previous BJP government [between 1998 and 2004] did much to help Muslims."), to the historical ("We were slaves to the British for only 200 years. We were slaves to the Muslims for 1,000."), to the jingoistic ("India is a Hindu nation, Muslims are invaders, and they are outbreeding us." Besides, "Muslims had their chance. They chose Pakistan.")
Modi, for his part, has expressed his views much more carefully. "I am nationalist," he's said. "I'm patriotic. Nothing is wrong. I am born Hindu. Nothing is wrong. So I'm a Hindu nationalist." In speeches, he touches on nationalistic themes but often shifts the discussion to economic development. "I am known to be a Hindutva [Hindu-nationalist] leader," he explained at one point. "My real thought is … toilets first, temples later."
Modi has focused more attention on the family unit, which often acts as the primary moral, psychological, and financial support network in India when the state isn't up to the task. Modi's PR machine has portrayed him as a devoted, doting son to his aged mother (betrothed as a teenager, he is technically married but really a lifelong bachelor). Modi has used his bachelorhood to his advantage in a society anchored by the relationship between government, god, and family.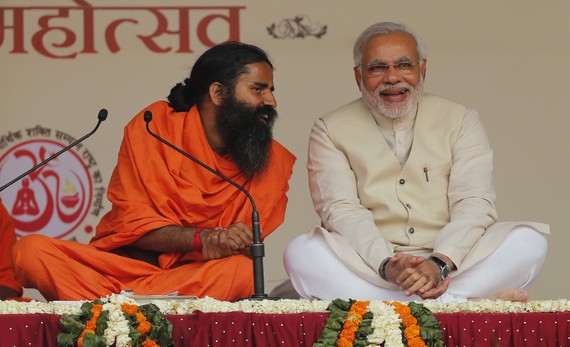 In Delhi, I received a lecture on the relationship between these three forces from Vijay, a middle-aged security guard at the University of Delhi.
"Families must be together," he explained while dipping momos into chili sauce. "India is the homeland of Hindus. Muslims look to Mecca. They are not at home here." Referring to a recent incident in which 66 Kashmiri Muslim students were expelled from their university in India for supporting a Pakistani cricket team, he added, "If you're cheering for Pakistan's cricket team, you should leave."
There are darker sides to Modi's nationalism as well. He has praised the late founder of Shiv Sena, Bal Thackeray, who promoted the idea of Hindu terrorism, praised Adolf Hitler (both for his art and his political vision), and said of Muslims, "They are spreading like a cancer and should be operated on like a cancer." And Modi will forever be associated with sectarian riots in Gujarat in 2002 that left as many as 2,000 people—most of them Muslim—dead. Modi has been criticized for failing to prevent—or, according to some critics, allowing or even facilitating—the violence.
In Delhi, I ate galouti rolls with a young MBA student as we watched kids play cricket across the road at a sixteenth-century Sufi shrine. He expressed his views pithily, with the confidence of someone set to enter the advertising world. "Muslim India is all past," he told me. "Hindu India is the future."
For those who believe in a secular, pluralistic India, the ascendancy of religious nationalism in this election cycle is a troubling development. The rise of Modi signals, above all else, the easy cohabitation of two seemingly contradictory narratives: broad-based economic development and narrow Hindu nationalism. If Modi wins this election—or forms a coalition government with enough leverage to work effectively—how will the various storylines underwriting his success play out? Of all the stories—the divide between the rickshaws and Range Rovers, the mosque and the mandir—the simplest one to tell, by far, is that of the tea seller from Gujarat who somehow became the next prime minister of India.
---
Reporting for this post was made possible by crowd funding through Inkshares.