The Bike-Helmet Law That Helped Trigger an Insurgency in Nigeria
On unintended consequences, and Boko Haram's murky origins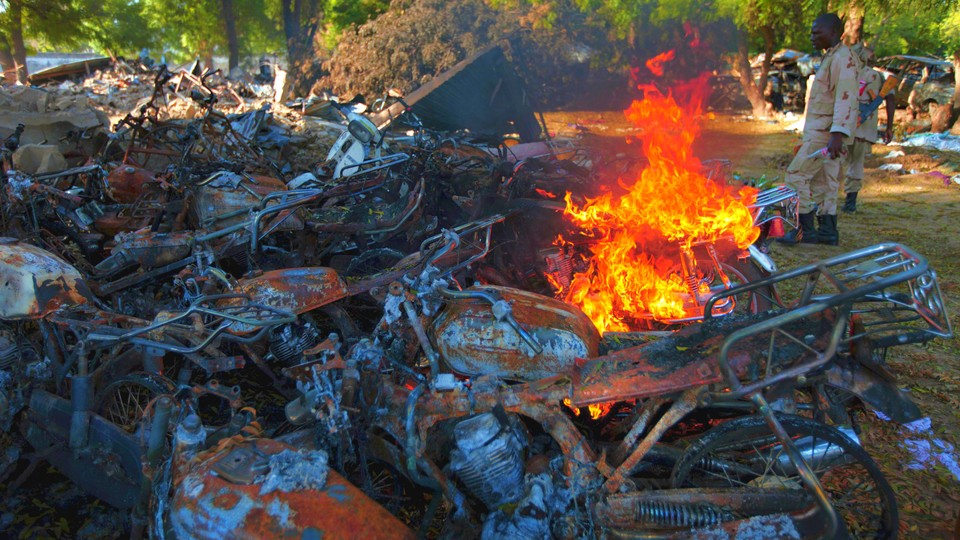 They came on motorbikes.
It seemed like a throwaway line in an Amnesty International report on Boko Haram's recent kidnapping of more than 200 schoolgirls in northeast Nigeria. One evening in mid-April, the NGO noted, a phalanx of shadowy, armed men on motorbikes arrived in the village of Gagilam, announcing their intention to target a girls' school in nearby Chibok.
But it wasn't just another detail in the investigation. Motorcycles have long been a trademark of the radical Islamist group—so much so that in 2011, the city of Maiduguri banned bikes to prevent militants from conducting drive-by assassinations.
And two years before that, a bike-helmet law, of all things, played a role in Boko Haram morphing into what we know it as today: an armed, al Qaeda-linked insurgency whose battles with security forces and violent operations have left thousands dead—including more than 100 just this week in a series of suspected Boko Haram attacks—and prompted the U.S. to dispatch troops to the region.
***
It's a largely forgotten episode: In January 2009, the Nigerian government began enforcing a law mandating that motorbike drivers and passengers—most controversially, operators of the country's freewheeling, ubiquitous motorcycle taxis—wear helmets. The authorities were responding to a serious public-health hazard; Nigeria's roads are among the least safe in the world, and by 2009 motorcycle crashes accounted for more than half of all road-traffic injuries.
Initially, news coverage of the regulation was lighthearted, and primarily focused on the advent of pumpkin helmets. Riders were worried about helmets casting magic spells over them or giving them lice, and some were taunting traffic police by covering their heads with dried pumpkin shells, painted pots, or rubber tires. "We are impounding their bikes and want to take them to court so they can explain why they think wearing a calabash is good enough for their safety," an exasperated Nigerian official told the BBC.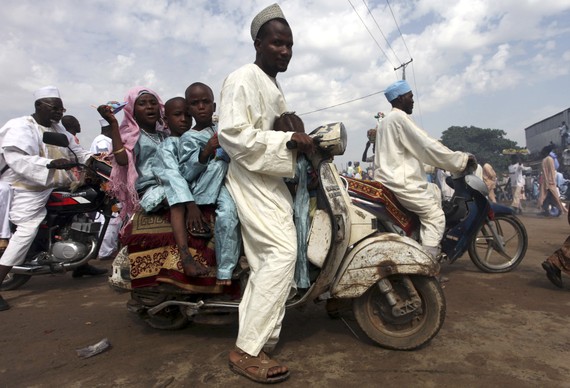 But the government's bike-helmet drive soon took a far darker turn. In Maiduguri, the capital of the northeastern state of Borno, a sect led by the Muslim cleric Mohammed Yusuf was agitating for an Islamic state and railing against secular education. The group wasn't yet calling for the violent overthrow of the Nigerian government, but it was increasingly at odds with local authorities. Its members were occasionally arrested and intermittently skirmished with police.
On Thursday, June 11, however, the fragile modus vivendi between the group and the government began to crumble. Officers in an anti-robbery security unit known as "Operation Flush" detained several of Yusuf's followers, who were riding on motorbikes in a convoy to bury sect members who had died in an earlier automobile accident, and asked them why they weren't wearing helmets. "The sect members did not take kindly to the enquiry, which they thought was a provocation given that they were in a funeral procession," Nigeria's Daily Trust reported at the time. For reasons that remain unclear, the confrontation quickly escalated. Nigerian security forces opened fire, injuring 17 people.
Here's how officials at the U.S. embassy in Abuja described the developments in a June 12 cable released by WikiLeaks (Yusuf's sect wasn't yet widely referred to as Boko Haram):
The Islamic group's leader, Mohammed Yusuf, was in Kaduna at the time of the incident, but [the Mohammed Yusuf Islamic Movement] members reportedly met at their headquarters, the Ibn Taimiyya Mosque. According to Guardian Newspaper the Muslim cleric's followers have vowed to fight back.....

Comment: Post will continue to monitor the situation as there is a risk of additional violence in Maiduguri following Friday prayers. Additionally, if any of the wounded MYIM members should die, we believe the risk of violence would increase significantly, as the sect will likely retaliate. The fact that an anti-robbery task force chose to stop motorcyclists during a funeral procession for traffic violations and riding without helmets is curious, and suggests the possibility that the officers of Operation Flush were deliberately seeking to provoke the group. Mallam Mohammed Yusuf is often referred to as the spiritual leader of the Jama'at Hijra Wa Taqfir, also known as the "Nigerian Taliban" (and we believe that the MYIM is another name of the same organization), which has long had very tense relations with [government of Nigeria] security forces in the northeast of the country. Whatever the origin of this incident, it illustrates the prevailing tensions in the North, which can become violent at short notice.
The additional violence that the U.S. embassy feared didn't materialize immediately—but it didn't take long to arrive, either. Just over a month after the bike-helmet incident, police raided the home of a Boko Haram member, seizing bomb-making materials. Five days after that, Boko Haram militants attacked a police station in Bauchi State. In a matter of days, more than 700 people had died across northern Nigeria in a welter of tit-for-tat exchanges between Boko Haram and security forces, climaxing in the killing of Yusuf in police custody. The handful of Boko Haram members who survived briefly went underground, reemerging as an armed insurgency in 2010 under current leader Abubakar Shekau, Yusuf's former deputy.
In charting Boko Haram's origins in early August 2009, just days after the previous month's bloodbath, Isa Umar Gusau, writing for Nigeria's Sunday Trust, reflected on the significance of the bike-helmet episode in the radicalization of the group. The Nigerian security forces "believed that the group refused to wear helmets because they did not recognise the government," he explained. "Government neither sympathised with the victims [of the shooting] nor paid for their medication while there was no apology from police or any investigation. In an interview a few days later, Yusuf threatened a reprisal attack. There were feelers that the sect members were getting prepared and residents were scared."
When I asked J. Peter Pham, an expert on African security issues at the Atlantic Council, about the bike-helmet incident, he took issue with the notion that the event "sparked" Boko Haram's insurrection.
"If it weren't for the bike-helmet law, it would have been a parading-without-a-permit law, or something else," he told me. "In essence it was just a pretext used. Things had already been building up to that point."
The larger insight here is that there is no "patient zero" in an armed insurgency. The factors behind Boko Haram's rise are diverse, complex, and interconnected, and the protean group has multiple origin stories.
***
The outlines of the organization we now know as Boko Haram first took shape around 1999 in Nigeria's isolated and marginalized northeast, Pham explained, as the country transitioned to civilian rule (many accounts peg the group's founding to a later date: 2002). But, Pham added, some trace its roots back further in time, to rebellions by syncretistic Islamic movements among the region's Kanuri ethnic group, such as the Maitatsine uprising of the 1980s.
In the late 1990s, he said, many politicians in northern Nigeria, which is predominantly Muslim, sought to shore up public support and shed their associations with the country's former military leaders by backing sharia law in their jurisdictions. One of these politicians, Ali Modu Sheriff, even worked with Yusuf and his followers to get out the vote when he ran for governor of Borno State in 2003, and appointed a Boko Haram member, Alhaji Buji Foi, as his religious-affairs commissioner when he won the election.
The group benefited from this relationship with the local government. Foi "lavished [government funds] on his own movement, including upon Mohammed Yusuf," Pham said. "Yusuf at this time acquired a large estate ... something like 200 motorcycles, including the ones that were stopped in 2009 for not having helmets, 20 cars—the inventory goes on and on."
In 2007, however, Sheriff was reelected and broke off his uneasy alliance with Boko Haram, amid low-intensity violence between the state's Christian and Muslim communities. Between 2007 and 2009, Boko Haram grew increasingly hostile not only to the federal government but also to state officials, and local authorities responded in kind.
These were some of the dynamics at play when Nigerian security forces pulled over Yusuf's followers for not wearing bike helmets.
"Clearly, some political decision had been made by the people around Governor Sheriff that they were going to crack down on this group that had now outlived its usefulness to them," Pham said. The bike-helmet law just happened to be on the books, waiting to be enforced. "Boko Haram intended the funeral to serve as a demonstration of strength, and the government was going to not let that go unreacted to."
Since 2009, Pham said, Boko Haram has undergone several transformations. After the violence in July of that year, its remaining members divided into two groups, with one faction heading to the Sahel and linking up with al-Qaeda in the Islamic Maghreb (AQIM), and the other migrating to southern Somalia and training with the militant group al-Shabab.
"This is where what I call 'version 2.0 of Boko Haram' was born," Pham said. "It once was a radical group, but working as a political actor in Nigeria." When it returned to the country, however, several things had changed. Ideologically, it "adopted a much more strict, orthodox, Salafist line in keeping with al-Qaeda. Its rhetoric included references to Iraq, to crusaders." Tactically, "they were much better trained—they brought to Nigeria the first suicide bombing, vehicle-born improvised explosive devices."
What we've seen since the start of 2013, he noted, has been "version 3.0"—a result of Boko Haram receiving training in AQIM-controlled northern Mali. The revamped group is now carrying out operations like kidnappings of Nigerians and Westerners.
Whatever the significance of the bike-helmet episode, Pham told me that Nigeria's bloody summer of 2009 offers several lessons for confronting Boko Haram today. For one thing, the Nigerian government didn't take its first major showdown with the group as seriously as it should have. Amid the violence in July 2009, Umaru Yar'Adua, the Nigerian president at the time, went ahead with a state visit to Brazil. "It was not viewed as a national-level threat," Pham noted. "It was viewed as a nuisance in one corner of the state."
The Nigerian government also relied heavily on the military to counter the Boko Haram threat in 2009, and it continues to do so, to the country's detriment, according to Pham.
The response "cannot be purely military," he said. The government also needs to fight poverty and provide basic security in Boko Haram's strongholds. "There is a reason why people in northern Nigeria in general, but northeastern Nigeria in particular, feel alienated politically, economically, socially," Pham explained. "Marginalized people don't necessarily make radical people, but they certainly provide a deep pool from which these radicals can be recruited. And the government has yet to adopt any strategy that deals with some of these very legitimate grievances."
"The Nigerian military is a blunt instrument," he added. "It has massive firepower, it has resources, but in many respects it's very hollow on the inside."