Thai Citizens Draw the Line at Coup Leaders' Choice of Music
This article is from the archive of our partner
.
Eyewitnesses in Thailand are saying that life is more or less going on as normal one day after the military declared that it had seized control of the government. The biggest conflict now is that people are speaking out against the army's somber choice of music that is being aired instead of normal television programs.
Thailand's television networks have been off the air since Thursday when they were seized by the army. Now, only military announcements and military-selected tunes are broadcast, explains the BBC:
In the first 16 hours of junta rule, military authorities have issued two orders and 19 announcements. Each is read several times over radio and TV stations, which otherwise are blacked out, and playing only traditional music used for junta takeovers. Periodically, army spokesmen appear in short segments reading out official announcements.
According to the Associated Press, the broadcasting of traditional music that prompted an outpouring of reaction on the Facebook page set up by the new military-led government:
"Since you're reforming politics, you might as well reform your music," said one of many postings on the page, which had over 210,000 likes by Friday afternoon, up exponentially from earlier in the day. Song requests poured in — for Justin Timberlake, Michael Jackson, the Disney hit "Let It Go," and for foot-tapping Thai folk music. "Please give us something more uplifting," said another comment on the page, which bears the junta's self-declared name: National Peace and Order Maintaining Council.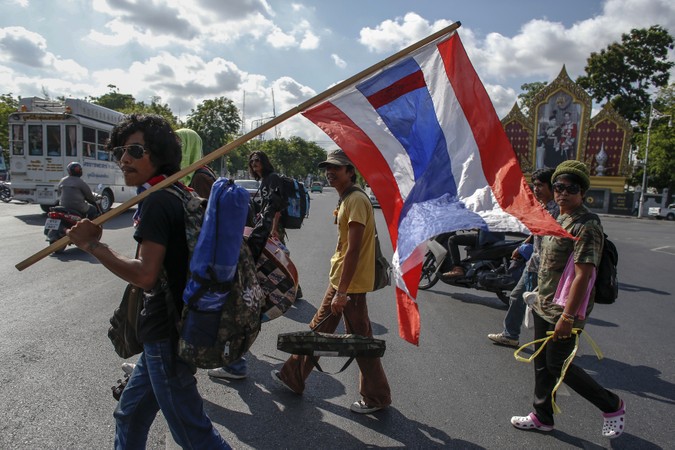 The coup leaders issued a number of new rules on Thursday, including a 10 p.m. to 5 a.m. curfew, a ban on protesting and a threat to block social media if it is used for incendiary purposes. So far, the military does not appear to have followed through on the latter provision — maybe they're also fans of "Let It Go."
Army Chief General Prayuth Chan-ocha is now serving as the country's leader, and reportedly called 100 former leaders, including the deposed prime minister Yingluck Shinawatra in for a meeting on Friday. The military detained a number of leaders overnight, who might still be held in the army's custody.
Although Thai citizens seem to have largely accepted the takeover calmly, so far, international leaders have all issued criticisms over the coup. Secretary of State John Kerry said "There is no justification for this military coup," adding, "the path forward for Thailand must include early elections that reflect the will of the people." Washington is now reconsidering military aid earmarked for the country. France, Britain, Germany, and Japan have also spoken out against the coup, among others.
This article is from the archive of our partner The Wire.