Protesters Focus Anger on Turkish PM as Death Toll from Mine Explosion Climbs
Angry protesters booed and jeered at Turkish Prime Minister Recep Tayyip Erdogan as he spoke yesterday about the country's worst-ever mine disaster, which has taken 282 lives so far.
This article is from the archive of our partner
.
Angry protesters booed and jeered Turkish Prime Minister Recep Tayyip Erdogan as he spoke yesterday about the country's worst-ever mine disaster, which has taken 282 lives so far, and may see the death toll go higher.
CNN reports that Erdogan spoke casually about the dangers of mining when discussing Tuesday's disaster, prompting listeners who had gathered at the site of the tragedy in Soma to hurl insults at the leader:
Erdogan glazed over mine safety when he spoke to relatives of dead and injured miners on Wednesday, describing the carnage they had suffered as par for the course in the the business of mining. He rattled off a string of horrible past accidents, even going back to examples from 19th century Britain. As he took a stroll through the city, onlookers showered him with deafening jeers as well as chants of "Resign Prime Minister!"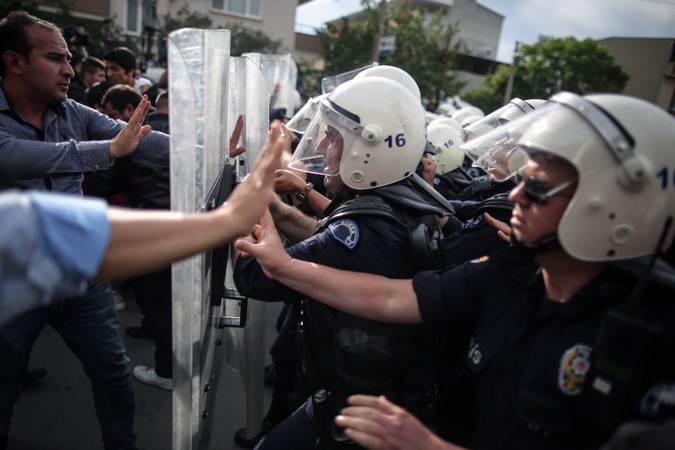 His remarks were contradicted by the local branch of the Chamber of Electrical Engineers, which issued a statement saying that "what happened in Soma is not fate, it is murder," adding that the official explanation for the explosion — that an electrical fault had prompted an explosion and power outage that left miners trapped in the mine with a blazing fire — was incorrect. According to the group, "The inspection revealed that the systems to sense poisonous and explosive gases in the mine and the systems to manage the air systems were insufficient and old." CNN reports that group includes mine experts and that its political affiliations are unknown. But the incident has also been used as an opportunity by Erdogan's political opponents to point out his flawed leadership ahead of elections this summer.
Not that it's very hard to point out Erdogan's shortcomings. Some are even pointing to corruption as the reason for the government's seemingly soft reaction to the incident:
Turkey's terrible crony capitalism. Seems owners of mine that killed 282 ppl close to ruling party. Explains PM's adviser kicking protester.

— Dr.Srijana Mitra Das (@srijanapiya17) May 15, 2014
A photograph of an advisor to the prime minister kicking a protester made the rounds online yesterday as a symbol of the government's callous reaction to the tragedy:
Some are even saying that the prime minister himself threw a punch:
Many alleging Erdogan threw a punch in Soma yesterday. Very hard to see but scene still remarkable. At 1:25 http://t.co/f5BjTLYvow

— Alexander Marquardt (@MarquardtA) May 15, 2014
Video footage shows police wearing riot gear clashing with citizens who broke out into impromptu protests in Ankara and Istanbul yesterday:
Erdogan is set to speak to the public again today as unions members take part in a national protest to demand better health and safety standards for workers. The protesters also want mine inspectors to be union members, who should not be employed by mining corporations. According to Umar Karatepe, a spokesman for the Confederation of Progressive Trade Unions of Turkey, "miners suffer long working hours, have no occupational safety or social security, and when most of them are unregistered, they are part of an unregistered economy."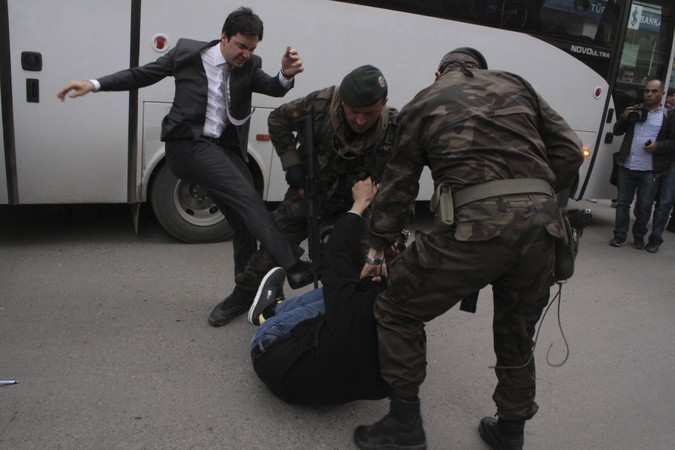 He added that an increase in accidents can be linked to the privatization of state-run mines. "Profit is always more valuable than miners' lives in the private sector," he said. 
The death toll from the incident was at 274 yesterday, officially making it the deadliest mining disaster in Turkish history, but has since risen to 282. Hope is fading that those still trapped in the mine will be saved, as an underground fire appears to be blocking rescue efforts. 
This article is from the archive of our partner The Wire.