The Blood-Stained Hunters of Boko Haram
In searching for Nigeria's missing schoolgirls, the U.S. finds itself working with security forces that it previously condemned.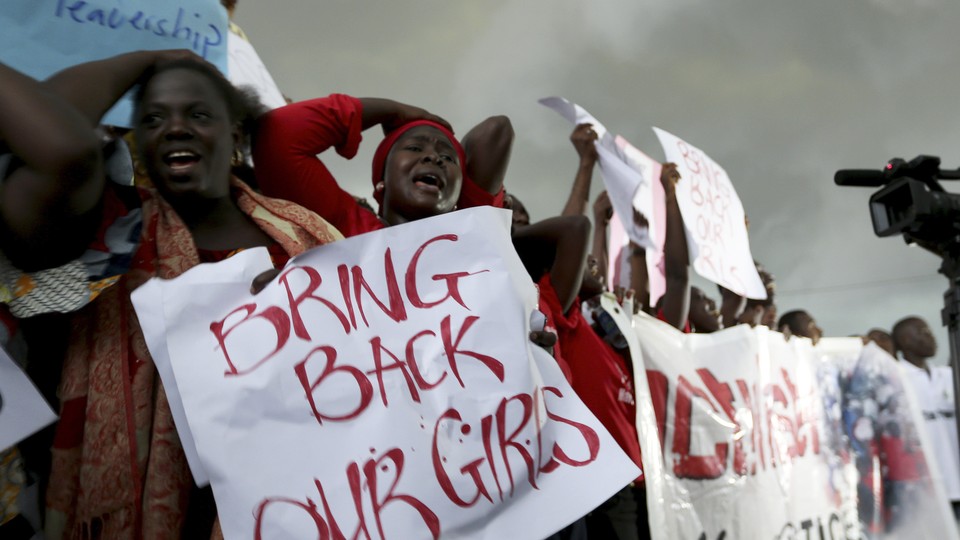 On Friday, Amnesty International leveled a serious accusation: the Nigerian military knew about Boko Haram's recent attack in Chibok four hours before it took place.
On the evening of April 14, unnamed Nigerian officials and military officers told the human-rights organization, local vigilantes warned army commanders in northeastern Nigeria about armed men who had cruised into their village on motorbikes, pledging to attack a girls' boarding school. But the military didn't deploy troops to Chibok, "due to poor resources and a reported fear of engaging with the often better-equipped armed groups." We now know all too well what happened next: A convoy of Boko Haram fighters overwhelmed the few Nigerian soldiers and police in town, spiriting away more than 200 girls from the Government Girls Secondary School. Their whereabouts remain unclear.
This is not the first time that international observers, including Amnesty, have challenged the Nigerian military's account of a terrorist attack. In March, for instance, Boko Haram gunmen launched an attack in Maiduguri, the capital of Nigeria's northeastern Borno state, and freed detainees held at the Giwa Barracks there. Shortly after the detainees were freed, the Nigerian military counterattacked and the attackers fled. Then the real killing began.
"The former detainees were in a classroom. They started screaming 'we are not Boko Haram. We are detainees!'" a witness told Amnesty at the time. "My neighbours and I saw the soldiers take the men to a place called 'no man's land,' behind the University of Maiduguri. We watched as the soldiers opened fire killing all 56. They were killed in front of us. All of them." A New York Times report, which expressed skepticism that Boko Haram had attacked the facility at all, claimed that Nigerian warplanes and ground forces also indiscriminately opened fire as detainees and other civilians streamed out of the base. Based on witness testimony and other evidence, Amnesty estimated that Nigerian security forces had extrajudicially murdered more than 600 people, most of them unarmed, escaped detainees, around Maiduguri. Nigerian government accounts gave far lower death tolls.
The Maiduguri episode is just one example—albeit a particularly gruesome one—of alleged atrocities committed by Nigerian security forces, who have been fighting Boko Haram insurgents for five years now. The Islamist militants hold sway over vast swaths of northern Nigeria and have killed thousands in a campaign of bombings and attacks since 2009. "There's a lot of frustration, exhaustion, and fatigue among officers and [troops] based in the hotspots," a Nigerian security official told Amnesty this week. "Many soldiers are afraid to go to the battle fronts." As the conflict drags on, international observers like Amnesty, Human Rights Watch, and the U.S. State Department have increasingly condemned the indiscriminate arrests, torture, and extrajudicial killings of civilians and suspected militants by Nigerian security forces.
Nigeria's 130,000 active military personnel—in a country of 177 million people—bear most of the burden of fighting Boko Haram. But by many assessments, these soldiers are underequipped, undertrained, and underfunded. Rampant corruption hinders the army's morale and effectiveness, with reports of desertions and even infiltration by Boko Haram itself. During a March visit to Nigeria, UN High Commissioner for Human Rights Navi Pillay warned that human-rights violations by security forces "created fertile ground for Boko Haram to cultivate new recruits."
These issues complicate international efforts to help Nigeria find and rescue the 276 missing girls of Chibok, which have intensified ever since Boko Haram leader Abubakar Shekau released a video proclaiming that "God instructed me to sell them"—presumably into sexual slavery. Social media also helped spotlight the crisis after Nigerians created the Twitter hashtag #BringBackOurGirls; on Wednesday, it received the support of U.S. First Lady Michelle Obama. Even members of al-Qaeda, with whom Boko Haram is nominally aligned, have expressed disgust with the attack.
U.S. officials had previously avoided directly confronting or even officially designating Boko Haram as a terrorist organization, fearing that doing so would only help the organization recruit members and attract foreign support. But the high-profile abductions in Chibok appear to have changed that calculus. Western countries have now pledged assistance in rescuing the girls and hunting down their abductors, including British special-forces liaisons and a team of U.S. military and law-enforcement experts. Nigerian-born writer Teju Cole summed up the U.S. policy shift in two tweets:
"Deeply concerned by credible allegations that Nigerian security forces are committing gross human rights violations."—John Kerry, May 2013

— Teju Cole (@tejucole) May 3, 2014
"We are working to strengthen Nigeria's institutions and its military to combat Boko Haram..."—John Kerry, May 2014

— Teju Cole (@tejucole) May 3, 2014
Nigerian security forces' misdeeds don't negate Boko Haram's own crimes, of course, which include targeted campaigns against young schoolchildren and the prolific use of child soldiers. A prosecutor at the International Criminal Court said last August that Boko Haram's actions likely constituted crimes against humanity. But omitting either side's actions in Nigeria's ongoing violence won't secure a lasting peace—and could actually fuel it.
"One person's atrocities do not excuse another's," U.S. Secretary of State John Kerry warned the Nigerian government in 2013. "Revenge is not the motive. It's good governance, it's ridding yourself of a terrorist organization so that you can establish a standard of law that people can respect."