Preliminary MH370 Report Answers Few Questions
Malaysia has released a surprisingly short preliminary report on missing Malaysia Airlines Flight 370 to the public.
This article is from the archive of our partner
.
Malaysia has released to the public a preliminary report on missing Malaysia Airlines Flight 370, prepared for and already submitted to the International Civil Aviation Organization. The report, marked confidential, can be found in full on the country's acting Transport Minister Hishammuddin Hussein's Facebook page.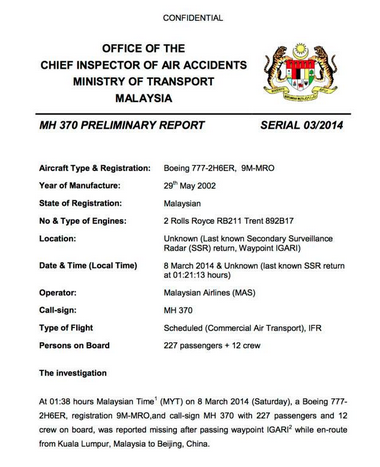 Only five pages long, the report provides a brief rundown of how officials tracked the flight on the day it disappeared and how they've been searching for it since. Per the timeline revealed in the document, it took officials 17 minutes to notice that the plane had gone off the radar, and four hours to send out an official rescue mission.
It's not clear why officials on the ground took so long to respond to the emergency, and the report does not assign blame to airline officials. Rather, it offers safety recommendations that suggest fault lies in a lack of technology on board MH370:
While commercial air transport spend considerable amounts of time operating over remote areas, there is currently no requirement for real time tracking of these aircraft. There have now been two occasions during the last five years when large commercial air transport aircraft have gone missing and their last position was not accurately known. This uncertainty resulted in significant difficulty in locating the aircraft in a timely manner. Therefore, the Malaysian Air Accident Investigation Bureau makes the following recommendation to ICAO :

It is recommended that the International Civil Aviation Organisation examine the safety benefits of introducing a standard for real time tracking of commercial air transport aircraft. 
Earlier this week, Australian Prime Minister Tony Abbott announced that the search for the plane has entered a new phase, which will focus mostly on scanning a larger part of the Indian Ocean floor. Reuters reports:
Given the amount of time that has elapsed, Abbott said that efforts would now shift away from the visual searches conducted by planes and ships and towards underwater equipment capable of scouring the ocean floor with sophisticated sensors.
Abbott added that it would likely take 6-8 months to search the new area, which measures 435 miles by 40 miles. So far, no trace of the plane — now missing for about seven weeks — has been found.
This article is from the archive of our partner The Wire.