Postcards From Venezuela
"The guardsmen beat them with their fists and the butts of their rifles, taking away their personal belongings before setting fire to the car."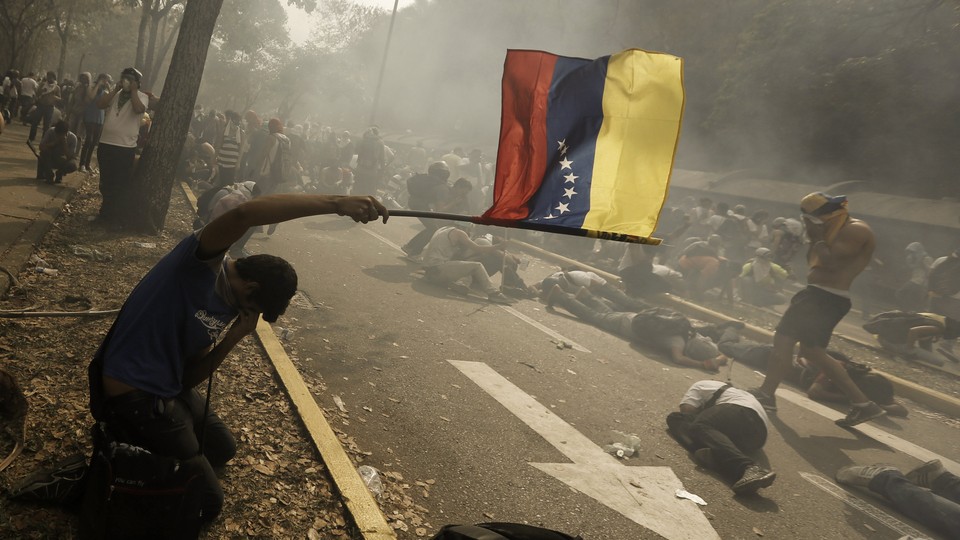 First postcard: "On March 5, when the restaurant where he worked on the outskirts of Caracas closed due to nearby protests, Moisés Guánchez, 19, left to go home. But he found himself trapped in an enclosed parking lot near the restaurant with around 40 other people, as members of the National Guard fired teargas canisters and rubber bullets in their direction. When Guánchez attempted to flee the lot, a guardsman blocked his way and shot toward his head with rubber bullets. The shot hit Guánchez's arm, which he had raised to protect his face, and he was knocked to the ground. Though Guánchez offered no resistance, two guardsmen picked him up and took turns punching him, until a third approached and shot him point blank with rubber bullets in his groin. He would need three blood transfusions and operations on his arm, leg, and one of his testicles."
Second postcard: "José Romero, 17, was stopped on March 18 by national guardsmen when he was coming out of a metro station in downtown Caracas. A guardsman asked to see his ID and, when Romero presented it, slapped him across the face. Romero was detained without explanation and taken to a non-descript building, where he was held incommunicado, threatened with death, beaten, and burned."
Third: "At approximately 12 p.m. on March 21, Daniela Rodríguez was filming a demonstration using her cell phone near her home in Valencia, when violence broke out between the police and the protesters. Rodríguez ran into her home and locked the gate. Approximately 30 police officers and members of the intelligence police entered her home and detained Daniela and her brother, Luis."
Fourth: "On February 13, Juan Manuel Carrasco, 21, and two friends were running away from a violent demonstration in Valencia. The three young men reached a car belonging to one of them and, as they got into it, they saw guardsmen drive up on approximately 15 motorcycles. They were forced to get out of the car, and the guardsmen beat them with their fists and the butts of their rifles, taking away their personal belongings before setting fire to the car.
The guardsmen took the detainees to a nearby park, where they were forced to lie down on the ground with nine others, while the guardsmen continued to kick and beat them, and stomp on their heads with their boots. One of the guardsmen placed a rifle on Carrasco's neck and moved it slowly down his back, pulling down his underwear and penetrating his rectum once, causing a hemorrhage. Three of the other detainees were told to lie down facing upwards, and a guardsman ran over their legs three times with a motorcycle."
These are only four episodes in a long inventory of horrors compiled by Human Rights Watch (HRW) after a visit to Venezuela in March. The report is as chilling as it is necessary to read. Each incident is supported by ample evidence that leaves no doubt as to the veracity of what it relates. The experts at HRW visited Caracas and three other states, and conducted more than 90 interviews with victims, the doctors that attended to them, witnesses, journalists, and human-rights organizations. They gathered hundreds of photographs, videos, medical reports, and legal documents. (Disclosure: I served as Venezuela's minister of trade and industry and director of its Central Bank from 1989-1990, and I recently testified before the U.S. Senate on the human-rights situation in the country.)
In the words of José Miguel Vivanco, the director of HRW for the Americas: "The scale of rights violations we found in Venezuela and the collaboration of security forces and justice officials in committing them shows these aren't isolated incidents or the excesses of a few rogue actors. Rather, they are the part of an alarming pattern of abuse that is the worst we have seen in Venezuela in years."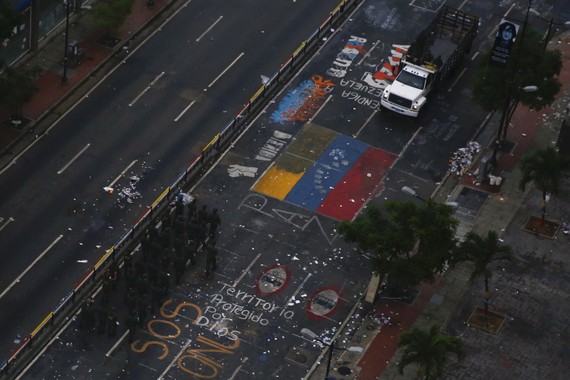 The HRW report proves that the government of Nicolás Maduro, which has been battling anti-government protests since February, routinely uses unlawful force against unarmed protesters, and even against bystanders or people just passing by demonstrations. Common practices include severe beatings, the indiscriminate use of bullets, rubber pellets, and teargas against civilians, and the shooting at close range with rubber bullets of people in custody. It also proves the continued and systematic mistreatment of detainees; in some cases, these abuses clearly qualify as torture.
The most important clash in today's Venezuela is not that of left versus right, rich versus poor, socialism versus capitalism, or those who sympathize with the United States versus those who repudiate it. It is between those who defend a government that violates human rights as a state-sanctioned policy and those who are willing to sacrifice themselves to stop it. Apologists and boosters in the U.S. and around the world for Hugo Chávez and his Bolivarian Revolution need to acknowledge they are defending a militarized government that routinely violates human rights. It is impossible to reconcile liberal values with support of the government now in power in Venezuela.