Why the Anti-Corruption Drive in China Is So Important, and So Potentially Destabilizing
Is the country moving from "efficient corruption" to something worse?
Here is a crude but effective classification scheme that I have used in distinguishing different economic systems. It is between "efficient" levels of corruption in government and business, and "inefficient" corruption.
Through its era of fastest post-war growth, Japan was highly corrupt. Twenty years ago, authorities raided the home of the party boss Shin Kanemaru—and found gold bars and other loot worth something like $50 million. Yet in Japan, and South Korea and Taiwan and even Malaysia, the corruption was efficient. Bridges cost too much and enriched local barons, but they got built. Factories jacked up prices thanks to cartel rules, but they ran and kept people at work. Anybody who has studied the economic/political history of Chicago or Los Angeles will recognize versions of this bargain.
On the other side were countries like Indonesia under Suharto, or the Philippines under Marcos, or North Korea under the Kims, or a lot of others you can think of, with inefficient corruption. The people who could, looted so much that there was not enough left over to keep the system running.
Either sort of corruption has a self-reinforcing nature. When an efficient system is running smoothly, officials have a stake in its long-term survival, which allows them to keep taking their cut. Thus they steal but don't loot. But when an inefficient one is deteriorating, all involved have an incentive to grab everything in sight while the grabbing is good.
Through its 30-plus years of economic modernization, China has seemed to stick to efficient levels of corruption. Connected families got very rich, but most families did better than they had before.
An increasingly important question for Xi Jinping's time in office, which bears on the even more urgent question of whether China can make progress against its environmental catastrophe, involves the levels and forms of Chinese corruption. Has it begun passing from tolerable to intolerable levels? If so, does Xi Jinping have the time, tools, or incentive to do anything about it? Will exposing high-level malfeasance—like the astonishing recent case of Zhou Yongkang, who appears to have taken more than $14 billion while he held powerful petroleum and internal-security roles—encourage the public? Or instead sour and shock them about how bad the problem really is? Is it even possible to run a government and command a party while simultaneously threatening the system that most current power-holders have relied on for power and wealth?
These are yet another set of Big Questions for and about China. Recent useful readings on the theme:
1) Timothy Garton Ash on "China's Gamble of the Century." Thirty-plus years ago, Deng Xiaoping tightened up politically but overall did so toward the end of enacting economic reforms. Xi Jinping is tightening up politically. This piece examines the possible ends.
2) The views of former President Jiang Zemin on the same topic, as reported by Jamil Anderlini and Simon Rabinovitch in the FT and as shown by the headline below: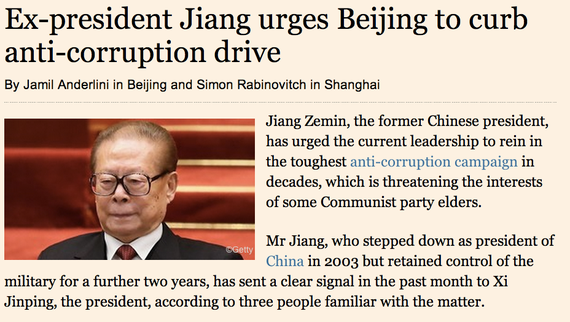 3) A big piece by Jonathan Ansfield on the front page of the NYT on Tuesday, about the drive against high-level corruption inside the People's Liberation Army, which itself is far more impressive as a business empire than as a fighting force. This is a detailed and enlightening story on an effort whose success or failure will be important in a variety of ways. As the story puts it:
[Xi's] goal, military analysts said, is to transform a service larded with pet projects and patronage networks into a leaner fighting force more adept at projecting power abroad and buttressing party rule at home, while strengthening his own authority over the army.
4) An op-ed in the WSJ by Desmond Tutu and Jared Genser about the ongoing struggles not simply of Liu Xiaobo, who won the Nobel Peace Prize in 2010 while serving a long prison term for "subversion," but also of his wife Liu Xia (below). Even as her health deteriorates, she too remains effectively imprisoned under a form of house arrest. E.g.:
Despite living in the middle of one of the busiest and most populous cities in the world, Liu Xia, a poet and a painter, is cut off and alone. Chinese security officials sit outside her front door and at the entrance to her apartment building.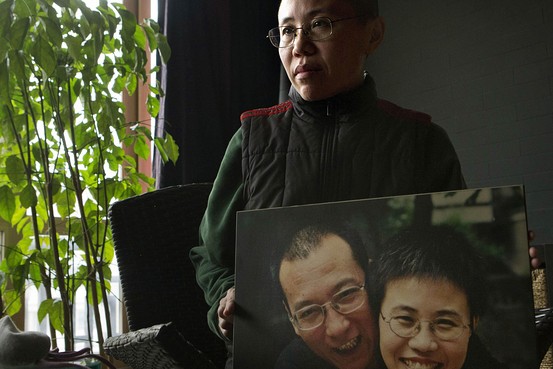 5) An essay by Perry Link in the NYRB called "China After Tiananmen: Money, Yes; Ideas, No." Sample:
At a deeper level, though, Chinese people (like any) do not feel secure in a system built on lies. The wealthy send their money abroad—and their children, too, for education. In 2013 several surveys and reports showed sharp increases in the plans of whole families, especially among the wealthy, to emigrate, and there is no reason to think that poorer people would not follow this trend if they had the means.
6) Reports like this one from Reuters on the ongoing protests in China against environmental hazards and despoliation. Christina Larson also has a (paywalled) article in Science about farmland in China rendered unusable by pollutants, especially heavy metals.
---
For now I am not trying to weave these into a larger prospects-for-China assessment. (I did attempt something like that in the second half of China Airborne.) But individually and as a group, items like these suggest the scale, complexity, and importance of the changes the Chinese leadership must undertake.
Exposing corruption without delegitimizing the very system that still runs the country; changing the military without alienating it; controlling disastrous pollution without too noticeably slowing the economy; allowing the growth of civil society quickly enough to satisfy the public but gradually enough not to frighten the party—the obligation to do all these things at once, and more, and fast—makes the challenges for European or U.S. leaders look like easy tasks.