'Who Am I to Judge': Will the Pope Condemn Homophobia in Uganda?
The country's leaders are invoking Africa's most prominent saints in their campaign against homosexuality.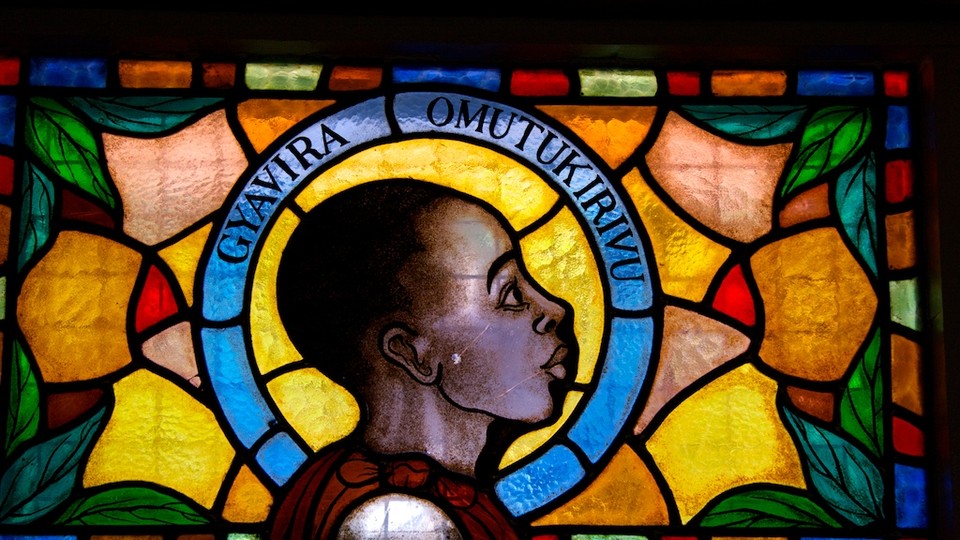 On Monday, thousands of Ugandans rallied in Kampala to celebrate the recent passage of the Anti-Homosexuality Act, a law targeting Uganda's LGBT community with harsh legal sanctions and possible life imprisonment. Ugandan President Yoweri Museveni, who signed the act into law in late February, spoke at the rally and denounced oral sex, "sodomy," and Western threats to withdraw aid from the East African country. He was joined by Catholic, Anglican, Muslim, and other religious leaders, who echoed Museveni's condemnations of homosexuality.
Archbishop Cyprian Lwanga of Kampala, the leader of Uganda's Catholic Church, delivered a closing prayer in which he exhorted the crowd to pray for those "who had been led astray by this vice of homosexuality." Last October, Lwanga invited Pope Francis, who has adopted a more compassionate tone toward the LGBT community, to visit the country and preside over this year's Martyrs Day celebrations on June 3, when Christian pilgrims from Uganda and neighboring countries flock to a shrine at Namugongo, just outside the Ugandan capital of Kampala, and mark the anniversary of the deaths of St. Charles Lwanga and his companions, known collectively as the Uganda Martyrs. In 2013, more than 3 million pilgrims trekked to the shrine for the occasion.
This year, Archbishop Lwanga, who is not related to the saint, launched a year-long golden jubilee to honor the Martyrs' 1964 canonization, and had hoped to cap off the festivities with a visit from Pope Francis. But a spokesman at the Apostolic Nunciature in Kampala confirmed to me that the pontiff would not be attending the events this year, and the Ugandan press reports that the jubilee has been postponed until further notice.
But sooner or later, the pope may have to confront growing homophobia in Uganda, whether or not he travels there. The country's religious and political leaders—including its high-ranking Catholic clergy—have used Martyrs Day to campaign against LGBT rights, and frequently invoke the Uganda Martyrs in their warnings about homosexuality. Pope Francis, meanwhile, has softened the Vatican's stance on homosexuality in words if not deeds, recently suggesting that the Church might support civil unions even as he reaffirmed its opposition to same-sex marriage. The pontiff's famous reply to a reporter's question about gay and lesbian Catholic priests—"If someone is gay and he searches for the Lord and has good will, who am I to judge?"—prompted a fierce debate about the Catholic Church's approach to LGBT rights.
Will that debate come to Uganda next?
* * *
The legend of the Uganda Martyrs begins in the Kingdom of Buganda, which held sway in East Africa's Great Lakes region in the late 19th century. By the 1880s, years of war and social upheaval brought about by the slave trade had thrown the realm into disarray. Many local chiefs had converted to Christianity or Islam, and received arms and other support from foreign missionaries' home countries. Their quarrels soon challenged the power of the king, Mwanga II.
Mwanga's father allowed Christian and Muslim missionaries into his royal court, and they began converting his inner circle of courtiers and royal pages. But Mwanga lacked his father's talent for playing factions against one another and came to perceive the converts as a threat to his rule. By most accounts, a clash with Christian converts over either the execution of a white Anglican missionary or the king's personal misdeeds (or perhaps both) soon led to bloodshed. The New York Times first published news of the Uganda Martyrs' deaths on October 27, 1886:
Details have been received of the massacre of native Christians of Uganda, Africa, by the order of King Mwanga. The massacre began in June, and was directly due to the refusal of a Christian lad acting as the King's page to commit an abominable crime. Many Christians were tortured, mutilated, and speared, and 32 were burned alive together. The appeals of the missionaries for a cessation of the atrocities were unavailing. The fate of these unfortunates did not serve to frighten candidates for baptism, and within a week after the massacre many natives were baptized at their own desire.
Other accounts are more explicit about King Mwanga's "abominable crime" against the pages. Andrew Kiwanuka, a Catholic who witnessed the martyrdoms, said that Mwanga "practiced the works of Sodom." The first Martyr to die, St. Joseph Mukasa Balikuddembe, "was killed because he had pleaded to King Mwanga to abandon the vice of homosexuality," according to the Namugongo shrine's official website. (Other sources ascribe this role to St. Charles Lwanga, and instead claim Balikuddembe was executed for urging the king not to kill a white Anglican missionary named Bishop James Hannington, who had secretly entered the kingdom.)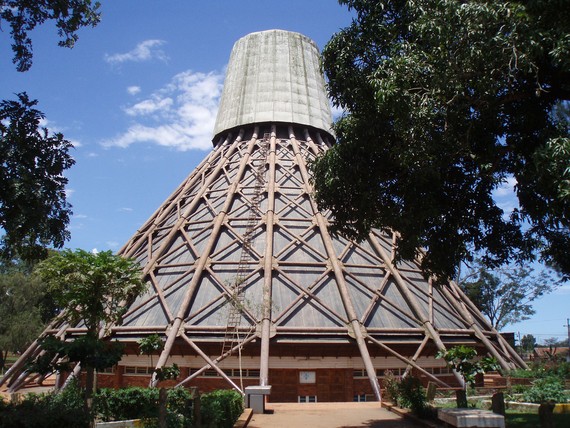 How accurate are reports of Mwanga's sexual advances toward the pages? "My own sense of history is that it might've been a detail that is accurate, but distorted what was important," Holly Hanson, an expert on pre-colonial Buganda at Mount Holyoke College, told me. Conceptions of sexuality are changing all the time, she said, and the king's behavior, in the context of Bugandan sexual norms, might have been viewed as an expression of power, not desire. It's worth noting that King Mwanga was a polygamist who fathered 11 children with his 16 wives.
Despite anti-gay activists' claims that homosexuality is a "Western import" to Uganda, ample evidence exists to the contrary. "It is simply untrue that homosexuality is un-African," wrote Frank Mugisha, one of Uganda's most prominent LGBT rights activists, in an op-ed for The Guardian. "Same-sex sexual conduct existed in various forms throughout Africa before the colonial period; same-sex relationships were known among several groups in Uganda, including the Bahima, the Banyoro and the Baganda." Mugisha also cites Mwanga to prove the existence of pre-colonial same-sex relationships.
At the apex of the killings, King Mwanga took St. Charles Lwanga and 14 young pages to Namugongo, a traditional execution spot in the kingdom. There, he bound them with reeds, placed them on a pyre, and set it aflame. In total, 45 Christians—23 Anglicans and 22 Catholics—and 16 Muslims died on King Mwanga's orders between 1885 and 1887. The public killings weakened his hold on power and destabilized Buganda even further, culminating in Mwanga's flight into exile and Britain's annexation of the kingdom in the 1890s.
"Their martyrdom produced a result entirely opposite of Mwanga's intentions," according to the official history of the Church of Uganda, the national Anglican church. "The example of these martyrs, who walked to their deaths singing hymns and praying for their enemies, so inspired many of the bystanders that they began to seek instruction from the remaining Christians. Within a few years the original handful of converts had multiplied many times and spread far beyond the court. The martyrs had left the indelible impression that Christianity was truly African, not simply a white man's religion." Today, Christianity is thriving in Uganda. More than 86 percent of Ugandans are Christians, according to 2010 data from the Pew Forum on Religion & Public Life, split almost evenly between Catholics and Protestants.
Over time, the story of Uganda's Martyrs became a cornerstone of national identity. Even Idi Amin, a Muslim and Uganda's brutal dictator from 1971 to 1979, embraced their legacy. At one Martyrs Day event in the 1970s, he reminded a disbelieving crowd that people of his faith had also been executed at Namugongo. Amin later had an Islamic shrine built near the Anglican and Catholic shrines to commemorate their deaths.
"The story of the Uganda Martyrs is, first and foremost, the founding narrative of Christianity in Africa," Rahul Rao, a professor of international relations at the University of London's School of Oriental and African Studies, told me. "Although most of the martyrs were Buganda Catholics, over time, the martyrs became a national, non-denominational symbol of resistance to tyranny—certainly they were appropriated this way by Museveni's [National Resistance Movement] when it came to power in 1986."
* * *
In recent years, the increasingly authoritarian Museveni, along with other Ugandan religious and political leaders, have appropriated the Uganda Martyrs' legend to legitimize their rejection of LGBT rights.
"The African Church is the only one that is still standing against homosexuality. The Europeans are finished," Museveni said in a speech to thousands of pilgrims on Martyrs Day in 2010. "If we follow them, we shall end up in Sodom and Gomorrah." Museveni did not hesitate to draw contemporary parallels with the Martyrs' story. "I hear there was homosexuality in Mwanga's palace. This was not part of our culture. I hear he learned it from the Arabs. But the martyrs refused these falsehoods and went for the truth, which is why we are honoring them today." Later that day, Anglican Archbishop Henry Luke Orombi compared Museveni to the Martyrs for his sacrifices on behalf of the country's development.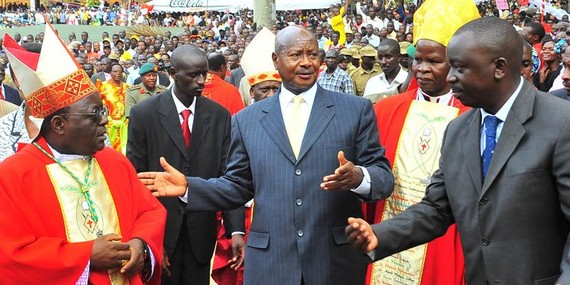 While Museveni has often expressed virulently anti-gay views, his embrace of the country's Anti-Homosexuality Act may be more political than ideological. Museveni defeated the bill twice before, first in 2009 and again in 2012, because he feared that countries would withdraw aid to his government in response. "Any major move towards indirect aid would have huge repercussions for Museveni himself, who is heavily dependent on direct foreign aid to fund his networks of political sponsorship," wrote Richard Vokes, a lecturer in anthropology at the University of Canterbury," in February. During the final push for the bill this winter, however, Museveni found himself outmaneuvered by both public opinion and a rising political star.
That star is parliamentary speaker Rebecca Kadaga, the vice chair of Museveni's ruling National Resistance Movement (NRM) party and a potential presidential candidate in 2016. Kadaga leads a group of young, rebel NRM lawmakers who have repeatedly challenged the president and who, according to Vokes, receive funding from several sources, including U.S.-based evangelical Christians. As speaker, Kadaga helped push the Anti-Homosexuality Act through the Ugandan parliament, thereby forcing Museveni's hand. In December 2012, Kadaga also led a delegation of Ugandan MPs that briefly met with Pope Benedict XVI. She received the pontiff's blessing, and in exchange gave him a framed picture of the Uganda Martyrs' shrine in Namugongo.
Museveni has also built close ties with Uganda's most prominent clerics. In October 2013, he addressed the Uganda Martyrs Conference, noting that "the significance of the Uganda Martyrs transcends even our borders, as is manifest by all the pilgrims from other countries" who participate in the annual pilgrimage to Namugongo. Museveni also praised the gathered clergy for their work in promoting public morality.
"It is in this era that Africa is faced with immoral invasions which are not originally African, but are proclaimed as human rights universal to all humanity," Museveni told the assembled conference, which included Cardinal Emmanuel Wamala, Archbishop Lwanga, and other high-ranking Catholic clergy. "Such influences like homosexuality [and] drug abuse ... are not only threats to the church and state, but the future of humanity in general. I wish to take this opportunity to thank religious leaders in Uganda who have stood firm in line with [the] Uganda Martyrs and vehemently rejected such foreign deviations."
This theme of "foreign deviations," and its anti-colonial subtext, is a common critique among Ugandans opposed to homosexuality. Western sex tourism, an increasingly common phenomenon in large cities like Kampala and a source of social anxiety among Ugandans, feeds into this criticism. U.S. evangelicals have played a crucial role in whipping up anti-gay fervor in Uganda by linking sex tourism to "homosexual recruitment"—the notion that gay men and shadowy Western groups are seducing and converting "normal" men and boys. Echoing these themes, Museveni listed recruitment as his top concern in a statement on his reasons for signing the Anti-Homosexuality Act.
* * *
When the Anti-Homosexuality Act was first proposed in 2009, Archbishop Lwanga said it was "at odds with the core values" of Christianity. Pope Benedict XVI spoke out against the legislation as well, stating that he was "opposed to 'unjust discrimination' against gay men and lesbians." Privately, Vatican officials told U.S. diplomats at the time that they opposed Uganda's bill and the criminalization of homosexuality in general.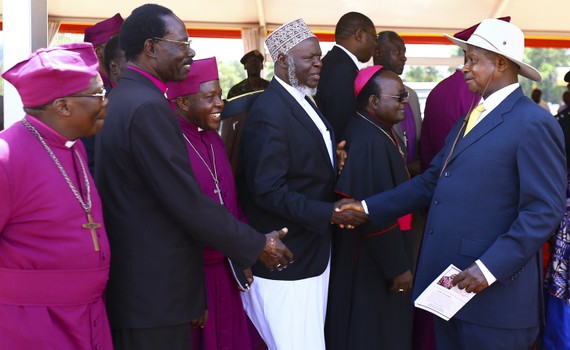 But when a similar bill came before parliament last year, Ugandan clerics came out forcefully in favor of it. Stanley Ntagali, the archbishop of Uganda's Anglican Church, and Metropolitan Jonah Lwanga, the archbishop of the country's Orthodox Church, both supported the final version of the Anti-Homosexuality Act. (Uganda's Anglican Church had pushed for the death penalty to be removed from the initial bill in 2009; the law signed by Museveni last month limited punishment to life imprisonment.) "The Lord has the power to help us Ugandans to overcome the battle against homosexuality," Ntagali told the crowd at Monday's rally in favor of the bill.
Uganda's Catholic conference of bishops, for its part, formally "reserved judgment" on the newest version of the Anti-Homosexuality Act, but emphasized its opposition to homosexuality nonetheless. A 2012 pastoral letter from the conference casts homosexuality, along with polygamy and witchcraft, as one of many forces that undermine the stability of Ugandan families:
Today, family life in Uganda is facing a lot of challenges. Some of these challenges are due to foreign influence and cultures undermining the cultural and Christian values which used to hold our families together. We can mention here individualism, consumerism, homosexuality, lesbianism, materialism, religious relativism, syncretism, and other tendencies. Other challenges are the heritage of our own traditional cultures, such as polygamy, cohabitation, elopement, excessive bridal wealth and witchcraft. These trends and tendencies undermine the dignity and purpose of the family.
Other Catholic clerics in Uganda are more direct. In his New Year's message to the faithful last December, Archbishop Lwanga railed against same-sex marriage and homosexuality in no uncertain terms. "The Church cannot and will not fail to defend these human values for the good of men and women [and] for the good of our society," he said pointedly. "This message is intended to give proper direction to both Christians and non-Christian politicians and members of Parliament by indicating the proper approach to the proposed legislation in this area."
Paul Bakyenga, the Catholic archbishop of Mbarara, in western Uganda, voiced support for the Anti-Homosexuality Act during Martyrs Day celebrations last June, telling the crowd, "As you seek to make laws, do not pass those that will contradict the will of God." Later in his speech, he turned to Uganda's apostolic nuncio—an ambassador of the Vatican—and extended an informal invitation for Pope Francis to visit Uganda for the 2014 Martyrs' Day celebrations.
* * *
Popes have long been drawn to the Uganda Martyrs' story. Pope Benedict XV beatified the Martyrs in 1920 in a ceremony in Rome, with two survivors of the killing in attendance. Pope Paul VI then canonized Charles Lwanga and his Catholic companions in 1964 as the first black African saints, at a time when the Church was seeking to build closer ties with its African flock. In 1969, Paul VI, as part of the first papal trip to Africa, visited the Anglican and Catholic shrines at Namugongo, and blessed the spot where Lwanga and the other saints died.
For both pontiffs and for John Paul II, who visited the shrine in 1993, the religious significance of the Martyrs extended beyond Uganda and encompassed the whole continent. "This was the place of darkness, Namugongo, where Christ's light shone bright in the great fire which consumed St. Charles Lwanga and his companions," said John Paul II in a homily at the site, in the presence of Museveni and many Ugandan bishops and cardinals. The pontiff elevated the Catholic shrine to the status of a minor basilica, Uganda's second such site and one of only a few in Africa at the time. "May the light of that holocaust never cease to shine in Africa!" he concluded.
This time around, it seems, Pope Francis is not taking Uganda's Catholic leaders up on their invitation to visit the shrine—at least not yet. But regardless of whether he travels to the country, will he take a public position on the debate over homosexuality in Uganda—and similar debates taking place elsewhere in the world?
The pontiff's tenure, now in its second year, has so far been characterized by two themes: greater compassion on social issues in the developed world, and greater outreach to and inclusion of the developing world. Until now, these goals have rarely clashed. How he bridges the divide between the two in Uganda, if he chooses to try, will be one of the great challenges of his papacy.