Is the Latest Round of North Korean Aggression Cause for Concern?
This article is from the archive of our partner
.
On Monday, North and South Korea exchanged fire over their disputed maritime border, a move that was not exactly surprising because Pyongyang warned Seoul of the launch in advance, via fax.
According to CNN, the exchanged was steady, but not deadly
About 100 of the 500 shells North Korea fired into the Yellow Sea strayed across the line separating the two rivals' territorial waters, the semiofficial South Korean news agency Yonhap reported. Yonhap quoted the South Korean Joint Chiefs of Staff as saying the South responded by firing about 300 shells into North Korean waters and dispatching fighter jets to the boundary, known as the Northern Limit Line.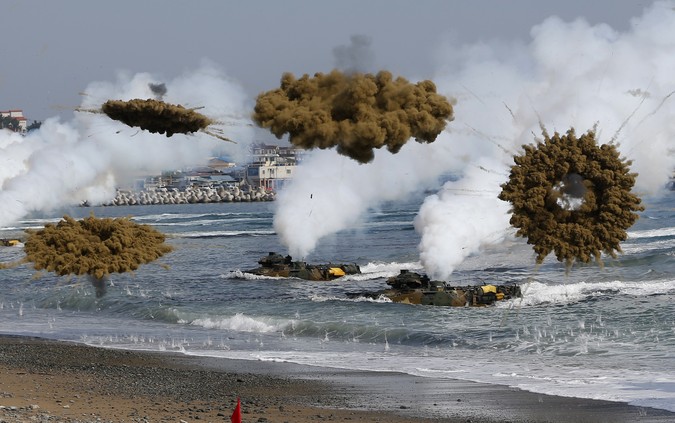 Though the act was more aggressive than usual, it's not uncommon for Pyongyang to lash out at Seoul and, symbolically, Washington around this time of year,
according to analysts
. North Korea, which issued a statement on the latest show of aggression, says 
the drills are performed
 "to cope with the grave situation created by the U.S. hostile policy." The statement continues:
[North Korea] is fully ready for next-stage steps which the enemy can hardly imagine in case the U.S. considers them as a "provocation" again. It would not rule out a new form of nuclear test for bolstering up its nuclear deterrence. The U.S. had better ponder over this and stop acting rashly.
The country didn't specify what this "new form of nuclear test" would entail. A spokesman for the South Korean foreign ministry
responded to the threat
by saying that, "North Korea should bear in mind that if it ignores the stern demand from the neighboring countries and the international community and carries out a nuclear test, it will have to pay a price for it." The missile tests violate previous Security Council resolutions.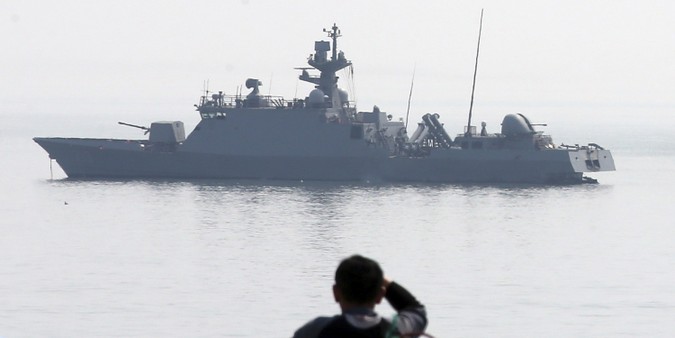 By Tuesday, the aggression had moprhed into a war of words. On Tuesday, South Korean President Park Geun-hye delivered a speech in which she promised to invest in North Korean infrastructure and offer it humanitarian aid if the country halted its nuclear program. In response,
North Korea's state-run newspaper Rodong Sinmun called her
an "eccentric old spinster" and a "frog in a well," which is not exactly diplomatic. She responded by saying that the
paper was using
 "expressions even street ruffians would refrain from," and the
South Korean government said
that "North Korea must realize that by the way it is behaving, it will attain nothing and will only deepen its isolation."
It's hard to tell when North Korean aggression should be taken seriously. Kim Jong-un, like his father before him, is already notorious for issuing random bluster, l
ike warning the U.S.
of an "unexpected horrible disaster," and sending out faxes.
One expert told CNN
that this latest round of rage could just be a cry for attention from Washington:
Victor Cha, a leading Korea analyst, told CNN that the North may be "posturing" for attention in hopes bringing Washington back to talks over its nuclear program -- or moving while the United States distracted by other global events. "They could be learning from Crimea that while the United States is distracted, the North Koreans can try to change the playing field and maybe slant it in their direction by pushing it back to talks while the United States is focused on other issues," Cha said.
On the other has, Kim leads one of the world's most oppressive regimes and has no qualms about ordering the 
murder of relatives
in cold blood. The regime's aggression toward its own people is not a joke. And, according to the
New York Times
, it's not impossible that Pyongyang is moving towards an enhanced nuclear capability:
In a paper published on the website 38 North this month, Jeffrey Lewis, a nuclear expert at the James Martin Center for Nonproliferation Studies at the Monterey Institute of International Studies, cited a "disquieting possibility": that recent excavation activities at the Punggye-ri nuclear test site in northeast North Korea might represent an effort to build a network of tunnels to conduct multiple tests or carry out tests on a much more regular basis using a steady supply of highly enriched uranium.
So for now, we should probably be paying attention to what North Korea is saying, even if we have to take it with a grain of salt.
This article is from the archive of our partner The Wire.