Ferry Carrying Hundreds of Passengers Sinks Off South Korean Coast
At least two people are dead as a rescue effort remains underway after a South Korean passenger ferry carrying nearly 460 people began sinking on Wednesday morning.
This article is from the archive of our partner
.
Original Post (see updates below): At least two people are dead as a rescue effort remains underway after a South Korean passenger ferry began sinking on Wednesday morning. The ship was carrying more than 470 passengers — many of them high school students — when it began to list badly and capsized. One unconfirmed local media outlet reported that the ferry hit a rock.
The rescue operation involving dozens of rescue boats and helicopters has recovered about 180 passengers so far. At least two passengers are confirmed dead and more than 290 are still missing.
Hypothermia is a main concern for passengers who had to jump into the water. CNN reports that the water is 55 degrees right now, a temperature cold enough that humans can only survive for about two hours.
The boat has a capacity of about 900 people and can also carry motor vehicles. It is 480 feet long and according to Reuters, was built in Japan in 1994. The ferry was headed from Incheon, on the Korean mainland, to Jeju, a resort island 60 miles offshore.
UPDATE 3:02 a.m.: An earlier version of this article stated that 368 people were rescued and more than 100 were still missing. Those numbers came from official sources, who later revised their tally to 290 still missing.
UPDATE 6:08 a.m.: Officials have again revised their numbers, saying there were 459 people aboard the ferry when it started sinking. So far, only 164 have been rescued. According to CNN an additional two passengers have been confirmed killed, raising the death toll from the accident to four. Other outlets are reporting that only three deaths have been confirmed so far, but officials fear many are still trapped on board the ship. This is the first major ferry disaster South Korea has seen in about twenty years.
Rescue teams, made up of several members of the coastguard, as well as civilian and military ships and aircraft, are still searching for survivors. Navy divers are scanning the water -- a difficult task, according to Lee Gyeong-og, a vice-minister of security and public administration, who said "There is so much mud in the sea water and the visibility is very low," adding "We are doing our best to try to rescue even one more survivor... We have 160 navy and coast guard divers working at the scene, but underwater visibility is not great."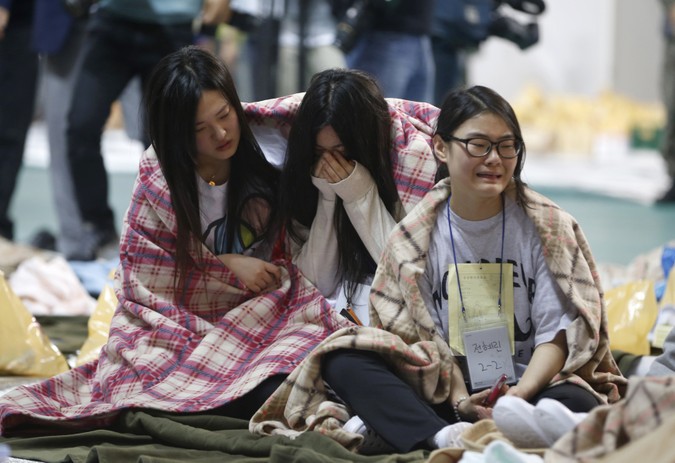 Lee also offered that the investigation into what happened will begin after the rescue mission has concluded, saying "We will try to determine the cause of the accident after rescue operations are over." Some on board reported hearing a "large impact" before the ship started to turn on its side, per Reuters:
"It was fine then the ship went 'boom' and there was a noise of cargo falling," said Cha Eun-ok, who said she was on deck of the ferry taking photographs when the disaster began. "The on-board announcement told people to stay put ... people who stayed are trapped," she said in Jindo, the nearest town from the scene of the accident.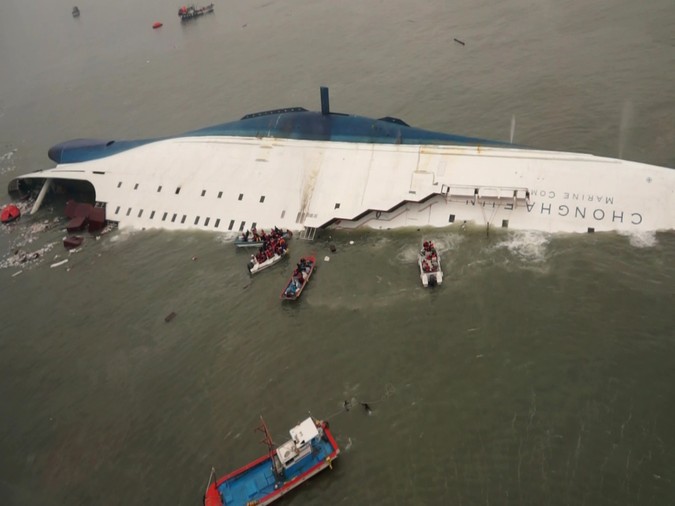 This would imply that the vessel hit an object that caused it to start sinking, but one member of a government crew searching for survivors told Reuters that the incident was likely caused by a mechanical malfunction, because the ship went down in an area free of reefs or rocks. The ship was reportedly (slightly) off-course when it sank.
Some of those rescued said those still on board were following the crew's instructions to stay put, suggesting problems with the the on-board safety protocol. The New York Times reports:
"The internal broadcast advised us to remain in our seats," the national news agency Yonhap quoted a 57-year-old passenger, identified only by his surname, Yoo, as saying. "But I could not stay put because the water was coming up. So I came outside with my life jacket on... I wonder why they didn't tell us to evacuate immediately," he added, according to Yonhap.
Parents of the high-school students on board the ship have collected at the Incheon school, seeking answers. 
This article is from the archive of our partner The Wire.