An Ex- Ex-Gay Lesbian Pastor Preaches Tolerance in Brazil
Years before starting her own church, Lanna Holder tried for religious reasons to quit being gay. She represents an unusual side of the Protestantism that's sweeping the world's largest Catholic country.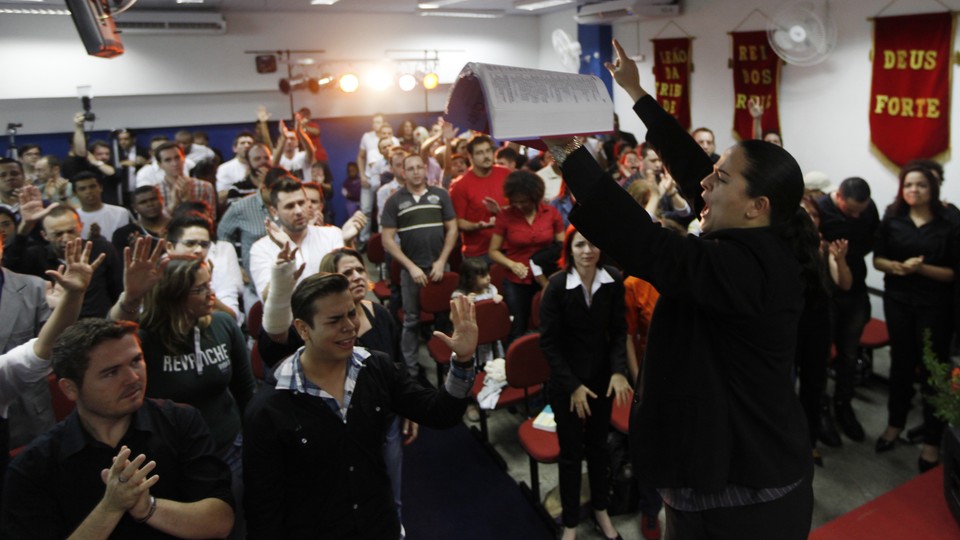 SÃO PAULO, Brazil—Many devout Christians believe the Bible condemns homosexuality, a fact that has prompted countless culture (and legal, and Twitter) wars worldwide. Leviticus 18:22 reads, "Thou shalt not lie with mankind, as with womankind: it is abomination." The word "sodomy" originated from the eponymous Old Testament city, which, as some interpretations have it, was destroyed by God in retribution for homosexual deeds.
But according to Lanna Holder, the lesbian pastor behind the Cidade de Refúgio evangelical church in São Paulo, this is all a big misunderstanding—the result of a shoddy translation eons ago.
"In the original version of the Bible, it didn't curse homosexuality, just immorality," she told me one recent afternoon. "The problem is in the translation. In Leviticus, the issue was that laying with man was against Jewish tradition … but that goes for eating pork, too."
Thus, "it is possible to live under God's will and be homosexual," as Cidade's website proclaims.
Tucked into a strip mall in São Paulo's Santa Cecilia neighborhood, the church building looks more like a 70s-era youth rec center than a traditional house of worship.
The upstairs of the technicolor space can fit 200 people, and there's an overflow room where hundreds more can follow Holder's teachings on a projector. The services, which run Wednesdays through Sundays, veer toward the dramatic: Worshipers close their eyes and stretch their hands toward the ceiling, and Holder asks newcomers to publicly declare their faith.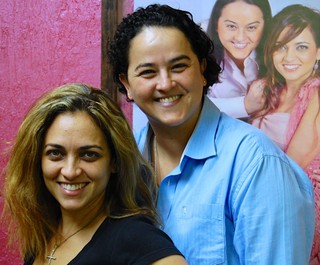 Holder and her wife, singer and co-pastor Rosania Rocha, welcome everyone, but the majority of the parishioners are gay. Many have been pushed out of other churches that view homosexuality as a grievous sin.
Holder knew from a young age that she was gay, but it wasn't until she was struggling to recover from alcohol and drug abuse at age 21 that she converted to Christianity. She convinced herself that she had not only kicked her substance habit, but also that she had turned straight. She traveled to proselytize the story of her apparent recovery from homosexuality, married a male pastor, and had a son.
But when she met Rocha on a trip to the U.S., it became clear that while, "Jesus had changed everything he could change in me," as she once told Vice, he hadn't changed everything.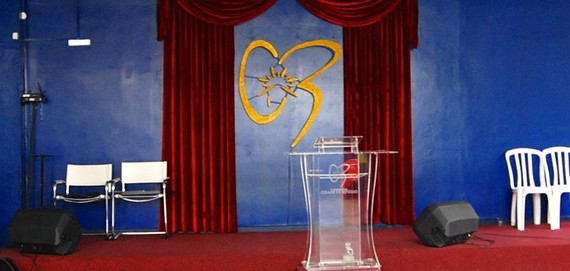 "Today, I'm not an alcoholic, do not do drugs, but my sexuality remains the same," she explained.
Rocha and Holder established the church in 2011, and they've been spreading their message of acceptance ever since. A small church library is packed with DVDs and books on Christian homosexuality, many emblazoned with Holder's and Rocha's grinning faces.
The couple now disavows their history with the ex-gay movement. The flip-flop has earned them some foes, who occasionally turn up at the church yelling, "I tried to be hetero because of you!" Rocha said.
"But you have to show them you cannot be what you're not," she added. "There's no such thing as a former gay. People who are truly gay stay gay."
Theirs is a small but crucial piece of Brazil's religious jigsaw puzzle, representing both the charismatic Protestantism that's gaining ground here and the country's historic progressiveness on gay rights.
Between 2000 and 2010, Catholics dipped from 74 percent of Brazil's population to 65 percent. Protestants, meanwhile, grew from 15 percent to 22 percent, propelled largely by the spread of Pentecostal churches in favelas and other working-class neighborhoods.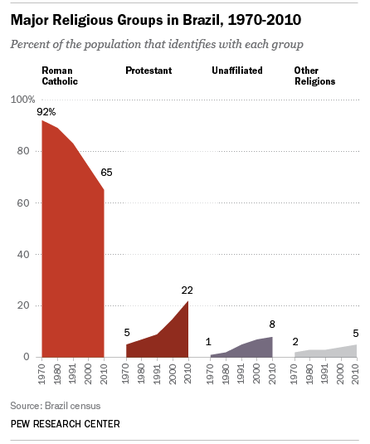 And though discrimination is still common in the country's rural areas, Brazilian gay couples have most of the same legal rights that straight couples do.
These societal forces are starting to meld: One study found that there are at least 10 gay-centric evangelical churches in Brazil, mostly concentrated in Rio de Janeiro and São Paulo.
But not all of the country's Protestant superstars are as open-minded as Holder and Rocha are. The Protestant contingent of Brazil's congress, the Evangelical Parliamentary Front, has pledged to expand its current 73 seats by 30 percent in elections this fall. In the past, the evangelical bloc has pushed to extend the country's ban on abortions—which are already all but illegal here—to include cases where the fetus is missing part of its skull. One prominent evangelical politician, Marco Feliciano, served as human rights commissioner in 2013, but his tenure was marred by racist and homophobic statements that he posted on Twitter, including that the "rot of homosexual feelings leads to hatred, crime, rejection," and that AIDS is "gay cancer." Silas Malafaia, a prominent televangelist, has in past elections mailed out hundreds of thousands of DVDs advocating against legalizing abortion or improving gay rights.
Holder and others at the Cidade church said policymakers like Feliciano don't reflect their version of Christianity, though.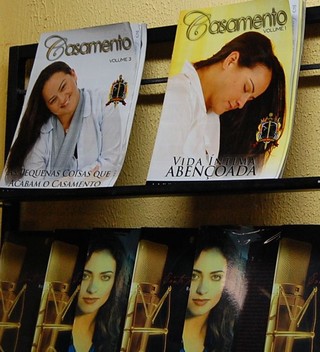 "Feliciano doesn't represent the Christian people," Fernanda Dias, 23, a Cidade press representative, told me. "The only person who could do that is Jesus."
Brazilian President Dilma Rousseff seems to be increasingly catering to evangelical powerbrokers as she runs for re-election this year. But Holder isn't worried that a rise of Protestants in government will roll back any of the gay rights she embraces from the pulpit.
The proliferation of evangelical churches in the world's largest Catholic country, to her, is only a rapturous sign.
"So what if every corner has a Protestant church?" Holder said. "Every corner also has a liquor store and a prostitute. The devil is working, so God is working too."
---
Olga Khazan is reporting from Brazil as a fellow with the International Reporting Project.