Why It's So Hard for Obama to Be Tough on Russia
The president needs Putin as his ally to accomplish his most ambitious second-term goals.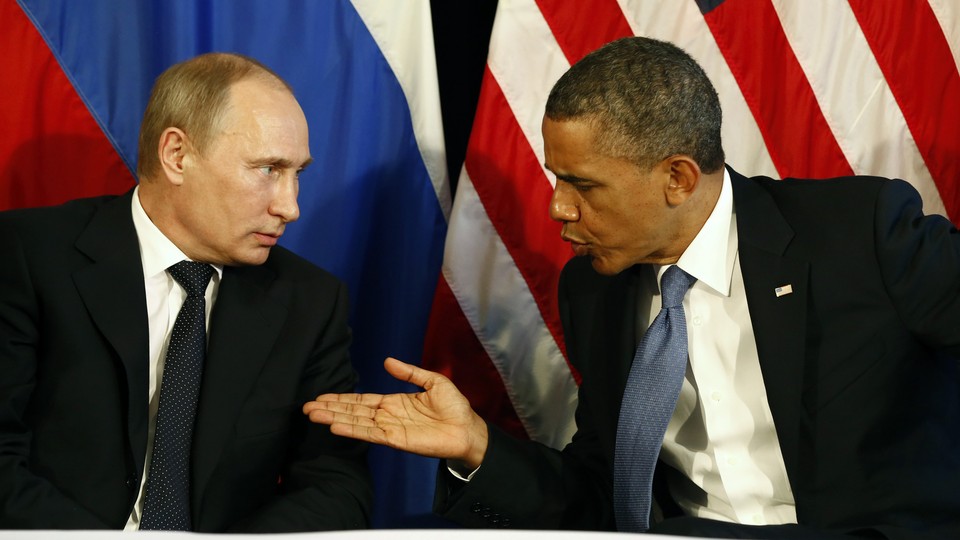 It is not uncommon for second-term presidents to turn more of their attention and focus to foreign policy. Domestic politics and policy become increasingly frustrating, as the president's partisans in Congress hunker down in preparation for a lousy midterm election, the party's ideological base becomes more belligerent, and the opposition party gets bolder. The president has had five years or more of engaging in foreign affairs and with foreign leaders. And the freedom to act without the constraints set by domestic politics and the powers of Congress, to move chess pieces on the international stage, is highly tempting.
Of course, what presidents want to do on the world stage is move those chess pieces and shape outcomes to make history through great accomplishments. That is what President Obama has in mind with the negotiations over Iran's nukes, the attempt to forge an agreement between Israel and the Palestinian Authority, and, to a lesser degree, the Syrian chemical-weapons agreement.
But the harder reality is that most of the time the president will spend on foreign policy in coming months will focus on risk mitigation—trying to avoid a catastrophe more than working to create a triumph. That is true in Afghanistan, as Hamid Karzai continues to careen out of control; in Syria, as Bashar al-Assad vies with Kim Jong Un for status as the world's most brutal butcher; in Venezuela, as Nicolás Maduro descends from authoritarian rule into sheer thuggery; in Turkey, as a thoroughly corrupt Recep Tayyip Erdogan strips his country of its hard-fought and hard-won democratic institutions and principles; in the potential for serious conflict between China and Japan over the Senkaku Islands.
Then there is Ukraine. The challenges to the president are formidable, and they start with a larger reality: Dealing with a lion's share of the other crises above—Syria and Iran, especially—requires trying to reach agreement with Russian President Vladimir Putin, either to help resolve them or at least to refrain from making them much, much worse. Putin saved the president from a huge embarrassment with the intervention to resolve Syria's chemical-weapons stockpile, just before the Senate would have voted down his request for authorization to use force to punish Assad for using the weapons repeatedly against Syrians. Russia is a key player in the delicate negotiations with Iran over its nuclear program. Moscow can make the U.S. transition out of Afghanistan more painful and disruptive, and can be a positive or negative player in negotiations between the Israelis and Palestinians.
For those who immediately began calling for the harshest sanctions we can apply against Russia after its outrageous behavior in Crimea, those considerations were nowhere evident. Of course, one can make the case—and it is a powerful one—that Putin's Russia will act in its cold, hard self-interest no matter what we do to try to appease it or cushion any reaction. But it is also likely that the harder we push, the more Russia will respond in a hard and negative way in every other area of our interest, at least in the short run. And when it comes to Russia and Syria, the short run is absolutely crucial.
Nonetheless, it is clear that Putin believes in power and power only. If there is no tough response to his takeover of Crimea, it will signal to him that there is an open field for further aggressive moves, starting with, but not likely ending with, Eastern Ukraine.
But here comes the second major challenge for the president: Serious moves against Russia begin with tough actions against the corrupt oligarchs, Putin and his cronies, who run the show, and with severe economic sanctions against Russia's weak economy. Those are doable—but only with the cooperation of our EU allies. And the Europeans have little stomach to do much at all. In London, where a booming real-estate market has been fueled by Russian billionaires buying houses and flats for up to a hundred million pounds (!), and where there is real fear that bursting the housing bubble will sink an already precarious economy, there is no chance that the Brits will crack down on travel by the oligarchs or hit them hard in other ways.
Throughout Europe, where trade with Russia is robust, economic sanctions would be painful—much more painful than they would be for the United States. Much of Europe also depends heavily on Russian oil and natural gas.
The third dilemma for the president has domestic implications. A declaration from Obama that the U.S. will begin significant exports of natural gas, along with ramping up natural-gas production, would be painful to Russia. To be sure, liquefying the gas and shipping it by container is no equivalent to the pipelines bringing the gas to European countries from Russia. But the combination of increased exports and increased production would hit Putin right in the wallet.
Formidable forces at home oppose more U.S. gas exports, however. Some fear a short-term increase in domestic prices, and others worry about the increase in fracking that would come with the policy change. And the latter group, especially the environmental activists already agitating against the possible approval of the Keystone XL pipeline and deeply opposed to any expansion of oil-and-gas exploration and drilling, are a serious thorn in the president's side.
With a new NBC News/Wall Street Journal poll showing a sharp decrease in enthusiasm among Democrats heading into the crucial midterm elections, there is a price to be paid for a presidential move on this front.
Putin running rampant, headaches around the world, headaches from allies, headaches from his own base. All of these come with the territory for a second-term president. Obama and his secretary of state, the formidable John Kerry, may well navigate through this. But first they will earn many more gray hairs and endure many more sleepless nights.