Scenes From Simferopol: The City the World Is Watching
What everyday life is like in Crimea's divided capital.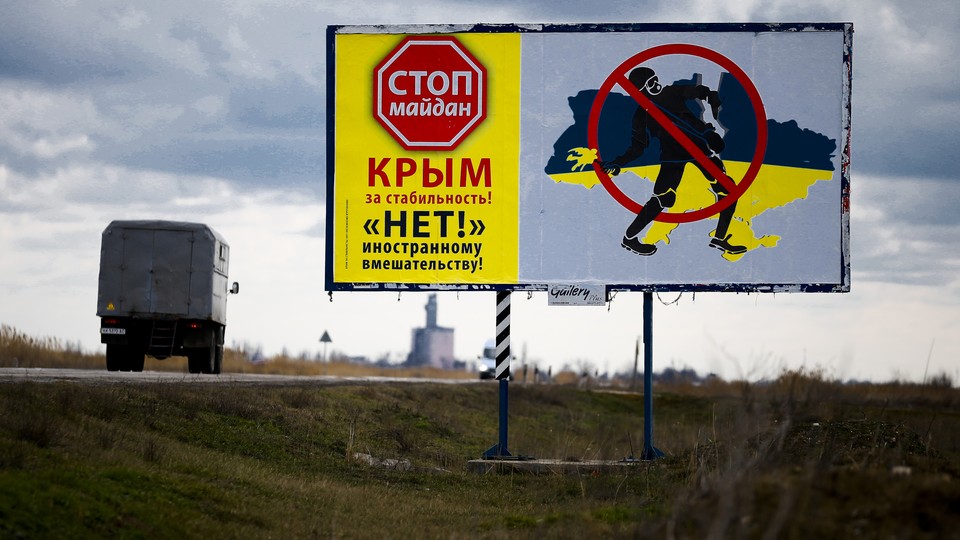 SIMFEROPOL, Ukraine—Outside the Perevalne military base in Crimea, about 20 miles outside Simferopol, a few hundred Russian troops are stationed in units and backed up by an array of hardware. The dark fur hats of a few Ukrainian soldiers peep up over the ramparts.
Perevalne is one of several strategic Crimean sites that Russian troops have encircled, effectively taking control of the Black Sea peninsula. At the base, the two sides are locked in a standoff, with Russia demanding the Ukrainian troops give up their weapons. The Ukrainians are refusing.
"We're not playing checkers here. There's been no suggestion of giving up," says a Ukrainian lieutenant colonel. "There was a proposal that we give up our weapons, but we have a military chain of command and there has been no command or instruction to give up our weapons." The fragile peace could be torn apart by a single gunshot. And yet on the ground, the situation also has the feel of theater—and more than a touch of the absurd.
Moscow is keeping up the pretense that the soldiers—deployed in Crimea without Russian military insignia—are not in fact Russian troops. And outside the base, dozens of locals waving Russian flags are reading from this script. "We don't know who these soldiers are, but we approve of them being here because they are peaceful," one local said. Russian soldiers share jokes among themselves. Their green fatigues are swollen with state-of-the-art equipment and armor. But the masked soldiers are also visibly short—suggesting they are conscripts in their teens.
A pair of young Ukrainian soldiers wave at four supporters outside. Two Tatars and two Ukrainian women were bringing food and supplies to the base. They briefly brandish signs saying "You're heroes!" and "Hang in there—we're with you!" before being heckled by a pro-Russia local. The offerings of food are spurned by the Ukrainian lieutenant colonel who says it was wrong to assume his soldiers are "demoralized" or hungry.
And yet the gravity of the situation is undeniable. Father Ivan Katkalo, a priest of the local church near the base, knows the soldiers. "They are going to stay until the end," he says. "They say that they took an oath and are going to keep it."
Nazli, a Tatar woman who came out to show support for the surrounded base, says as tensions escalate she increasingly fears for her safety. "I am afraid to go out into the street with a little Ukrainian flag. I've taken my Ukrainian flag out of the window because it scares me having it there," she says.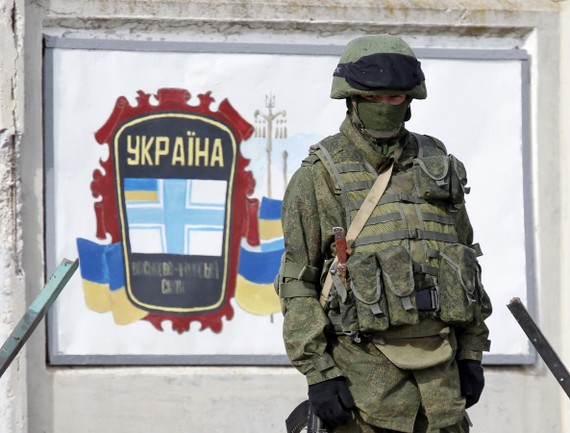 * * *
Khadije, an ethnic Tatar from Simferopol, was just four when she was loaded onto a train and deported by Joseph Stalin from Crimea to Uzbekistan. Now she's 73 and long settled back in Crimea, and is quick to recall how friends and relatives starved to death during the deportation.
And there is a reason these memories are flooding back. With Russian troops deployed across Crimean territory and with the peninsula effectively under Moscow's control, Crimea's Tatars—many of whom supported the 'Euromaidan' protests in Kiev—fear they could easily end up caught in the middle of conflict.
Khadije's voice wavers and she tears up. "Let there be peace between Ukraine and Russia—and between us. Let them take their forces out of here. They are armed with machine guns. Who are they against? Is it against me? I don't have a weapon."
Khadije was one of approximately 300 women, most of them Tatars, who gathered on March 3 for an anti-war demonstration on the outskirts of Simferopol. A few Ukrainians and ethnic-Russians stood with them on the side of the highway to Yalta. They held up signs saying "Mothers for peace" and "Tatars, Ukrainians, and Russians are brothers—No to war."
Few Crimean Tatars ever supported Ukraine's ousted pro-Moscow President Viktor Yanukovych and came out in strong support of the Euromaidan protests that overthrew him. Khadije is now fearful that the last years of relative comfort are over should the peninsula slip under Russian control. Tens of thousands of Tatars returned to Crimea after the collapse of the Soviet Union. Over the following years, a new configuration and balance between different ethnicities took shape, but it has been shaken up by recent turmoil.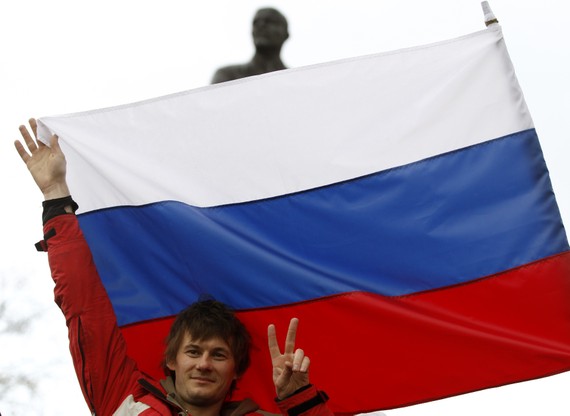 * * *
On Pushkin Street in central Simferopol, commotion erupts near Crimea's regional parliament, where pro-Russia supporters have demonstrated for the past week. Oksana Martinovich, a middle-aged Ukrainian woman from Kiev, is standing silently as a dozen local residents denounce her aggressively as a "provocateur" and shout in her face.
Martinovich traveled to Simferopol from the capital to sing songs. "I didn't think it would be like this," Martinovich said later. "I deliberately chose songs that aren't political." As an ardent supporter of Maidan, she hoped it might go a small way toward easing tensions. It didn't.
One bulky, mustached man cursed aggressively and shouted at her as she stood still: "Why are you looking at me stupidly like that? What songs are you talking about? Why are you standing here? Is there something wrong in your head?" One woman threw small change at her feet and told her to head for the train station. Others shouted "fascist!" and "Glory to Berkut!"
Seeing the rising aggression of the group, a couple of men sprung to protect Martinovich. Several other bystanders were appalled: "What aggression! It's horrible," muttered one elderly Russian woman. The group then dissipated. In front of a smaller crowd, she performed the song—which briefly took the sting out of the confrontation—before tempers ran high again. Eventually Martinovich walked off.
Leonid, an ethnic Russian pensioner in his mid-60s, laughed at the idea that "Kiev sent a woman on her own as a provocateur." But he disagrees strongly with her views and supports Russia's actions. Leonid says that "this is all happening because of language," referring to the lawmakers in Ukraine's parliament, the Verhovna Rada, who briefly annulled a law that gave official status to minority languages in the regions. The move, which touched a nerve with Russian populations, was reversed. But the damage was already done.
* * *
In Simferopol, there is a street vendor. He's a resident of Crimea, an ethnic Russian, and considers himself a loyal Ukrainian citizen. He says he was dismayed this week when pro-Russia residents came to his stand and asked: "Why don't you display a St. George's ribbon and the Russian flag on your stand?"
"What, do I have to?" he replied. A customer pays in Ukrainian hryvnia and adds, "Soon we'll be paying in rubles."
---
This post appears courtesy of Radio Free Europe/Radio Liberty.