Saudi Arabia's King of YouTube
In a country where the music scene is largely underground, Alaa Wardi broadcasts his a cappella covers to millions around the world.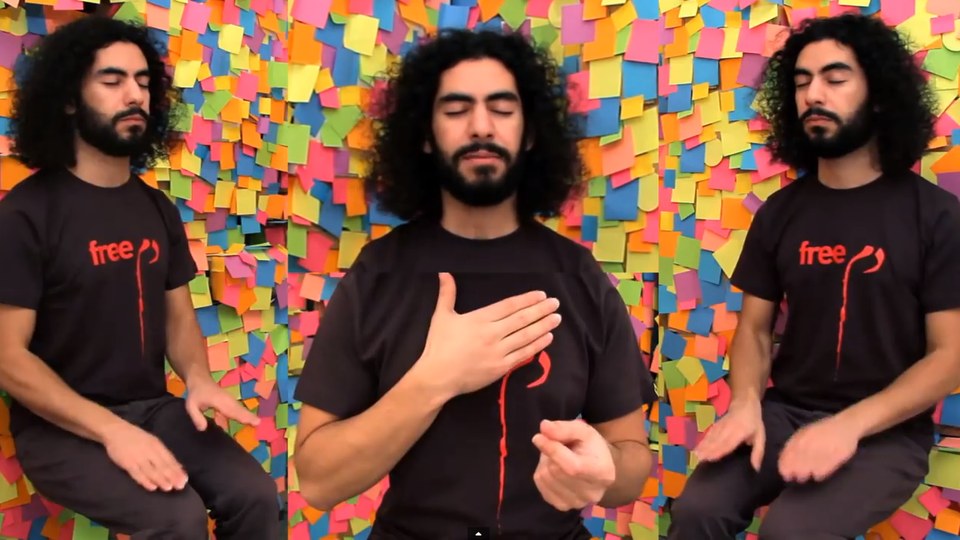 Alaa Wardi's wiggling eyebrows and bushy hair are as recognizable as the madcap backdrops to his YouTube videos: the Technicolor Post-it wall from his cover of Lorde's "Royals," the floor-to-ceiling cardboard boxes from his interpretation of Rihanna's "Stay," and the patterned mattresses from the makeshift sound room where he has paid tribute to Arab singers like Nancy Ajram, Cheb Khaled, and Amr Diab, among others.
"My studio is kind of crowded—that's what happens when you work from home," Wardi explains, grinning from behind his computer screen in Riyadh, Saudi Arabia. Over the last three years, the 27-year-old Saudi-Iranian has used this computer and microphone to become a Middle Eastern YouTube darling, garnering more than 36 million views of the 30-some songs he's produced in Arabic, English, French, Korean, and Hindi. His covers include Slumdog Millionaire's "Jai Ho," Pink Floyd's "Comfortably Numb," and the latest, a silly version of Pharrell Williams's "Happy" embellished with puppets, body percussion, and running commentary in the style of the minions from Despicable Me—only in Arabic.
Wardi may well be the only Saudi a cappella musician on YouTube, and he's certainly the only one to go viral. Born in Riyadh to an Iranian family with a furniture business, Wardi studied music at the University of Jordan, thinking he would work in audio engineering when he returned to the kingdom after graduation in 2008. But then he found YouTube.
"I discovered this platform where I could reach huge numbers of people," Wardi says. His first two semi-viral videos both took the form of YouTube a cappella, a technique where the singer records multiple voice parts and sound effects using only his body, then mashes them up in a checkerboard of videos-within-video. When these videos attracted an audience, Wardi made more, branching into Bollywood, K-pop, and original ballads. He formed an alternative rock band with Jordanian friends, played live for adoring fans in Amman's Roman amphitheater, and now makes a steady income from YouTube ad revenues and sponsors like Vimto and Nescafé.
Internet fame is a paradox for Wardi, who knows most of his fans as nameless, faceless comments and numbers, far removed from the tightly controlled, music-averse Saudi society in which he lives. "It's strange because they're all behind the screen. You don't see anyone that actually tells you they like your music in person," Wardi says. But his popularity online is "still overwhelming. And surprising, and awesome."
Saudi Arabia, where many practice a strict form of Sunni Islam, doesn't have much of a music scene. There are musicians who play in their houses, Wardi says, but their numbers are small and they often operate underground. "A lot of Saudis believe musical instruments are haram, forbidden," Wardi says. "Actually, that's why they can listen to my a cappella videos. Instruments are bad but if you're only using your voice, that's fine."
Wardi produced his only video with an explicit political message last October: a parody of Bob Marley's "No Woman, No Cry," titled "No Woman, No Drive," that racked up more than 11 million views on YouTube. The satirical song mocked the controversy surrounding October 26, a day activists had declared Saudi Women's Driving Day in defiance of prohibitions on women driving in the kingdom. Hey little sister, don't touch that wheel—no woman, no drive…. I remember when you used to sit in the family car, but backseat ... no woman, no drive, fellow Saudi Hisham Fageeh croons in the video, bopping and clapping in a traditional Gulf-style dishdasha.
"The situation was so ironic, but also tense. Police were everywhere," Wardi says, adding that he and his friends used humor to defuse the situation. "It's obvious to anyone anywhere else that a woman should drive," he explains. "For them, [the video's] ironic. People actually against women driving took it as comedy—like, 'Oh, these guys are funny,' you know?"
Wardi laughs when asked what he thinks of Western stereotypes about the Middle East. "We have stereotypes too. A lot of people here just hate anyone from Europe or America," he says. Wardi pauses, eyebrows scrunched, tilting his head to think for a moment. "I don't know, I think we're all humans, right? Everyone knows that at some point, but we choose to ignore it."
One aspect of the West does annoy Wardi: its dominance over pop music. Arab music has its own richness, he says, but the most famous singers in Saudi Arabia and Jordan are still Western. "Art should reflect our identity. It's part of who we are," Wardi notes. That's why there's an Eastern flair in many of his covers—because musicality doesn't belong to one culture: "It doesn't have to be an American singer to be really good. It doesn't have to be an American song for it to be a hit."
If there is a theme that cuts across Wardi's music, it's to have fun doing what you enjoy, regardless of circumstance. "I do all this at home. It seems so easy, anyone can do it," he says. "I'd like to think I'm inspiring people to do what they want to do."
But even if he isn't, that's OK. "It's enough that people watch and enjoy," Wardi shrugs. "What more can I ask for?"