Russia's Seizure of Crimea Is Making Former Soviet States Nervous
The crisis in Ukraine has countries formerly in Russia's orbit fearing Putin's next moves.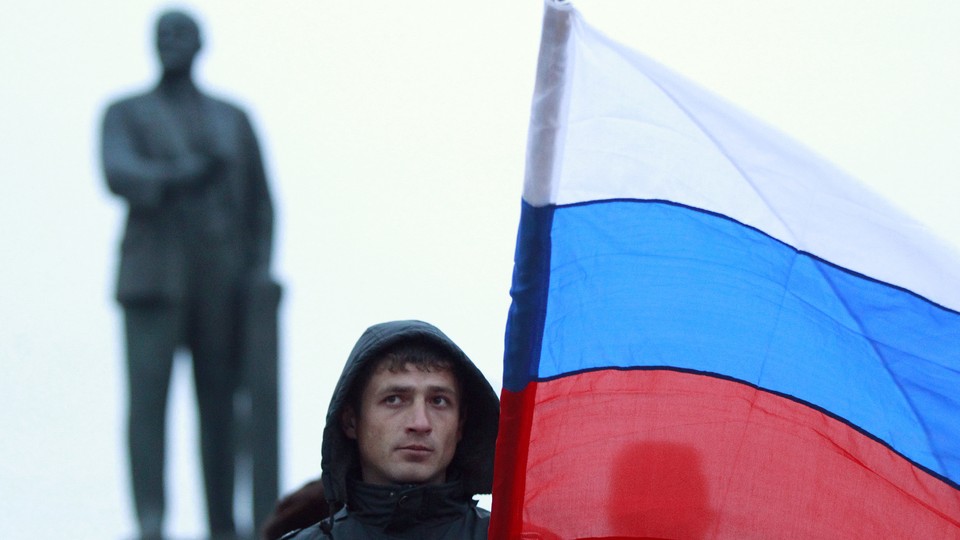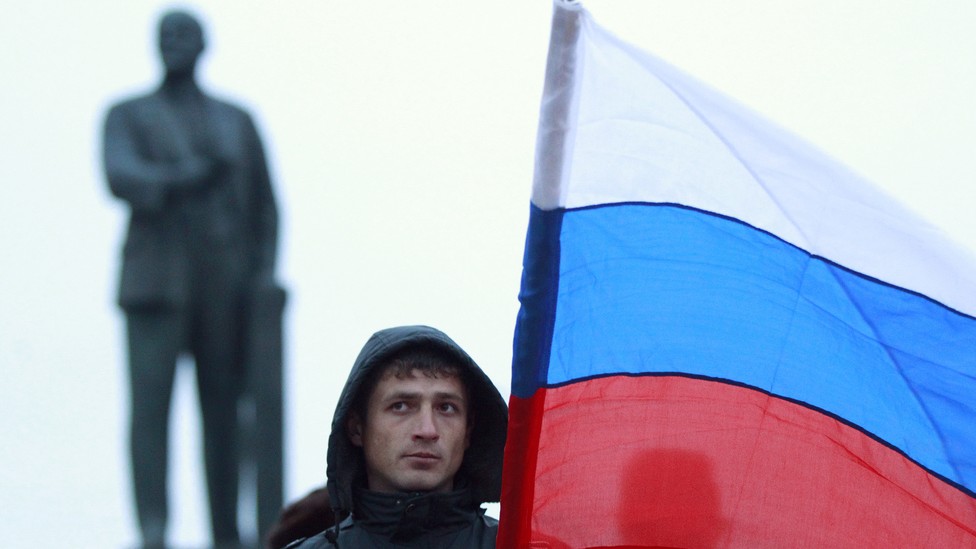 For the first time since the Soviet Union's collapse more than two decades ago, Russian military forces have moved into an Eastern European country and occupied its territory. Over 15,000 Russian soldiers are now stationed in Ukraine's autonomous republic of Crimea, according to Ukrainian officials (it's not clear how many of them were already in the region before this crisis), in a deployment ordered by Russian President Vladimir Putin to protect "Russian citizens and compatriots on Ukrainian territory." No shots have been fired, but Ukraine's acting president, Oleksandr Turchynov, has placed his country's military on its highest alert level to deter "potential aggression," as the United States condemned Russia's "invasion and occupation of Ukrainian territory" in violation of international law.
Fifteen independent countries, including Russia, emerged from the Soviet Union's disintegration. Six of them—Ukraine, Belarus, Moldova, and the three Baltic states of Estonia, Latvia, and Lithuania—are in Europe, and all of them have a complicated relationship with modern Russia. Seven other countries once belonged to the Warsaw Pact, the Soviet Union's military alliance in Eastern Europe. With the Cold War's end, none of them had faced the threat of military intervention by the communist superpower's successor state—until now. (In discussing Europe here, I'm not including Eurasian countries like Georgia, which fought a war with Russia in 2008, or the military support Russia offered Moldova's breakaway Transnistria region in the early 1990s.)
In response to the standoff in Crimea, Estonian President Toomas Hendrik Ilves announced that he would convene the National Defense Council on March 2 to discuss the crisis and called upon the Baltic states to increase their defense spending. "The events in Ukraine show that this struggle is taking place within Europe as well," he said in a speech to the Baltic Defense College last week. "This sends a clear signal to Estonia and the [other] Baltic states: we must invest more in our national defense." Estonia, along with Latvia and Lithuania, joined NATO in 2004.
"The Baltic states have been among the most vocal EU states during this crisis, urging Russia to abandon its military intervention in Ukraine and respect Ukrainian territorial integrity," Erik Brattberg, a senior fellow at the Atlantic Council, told me. "They will watch the events in Ukraine closely to see if the U.S. and NATO will stand up against Russian aggression."
Recent experiences with Russia also fuel Estonia's concerns. The removal of a Soviet-era war statue from the capital city of Tallinn in 2007 led to riots among ethnic Russians (who make up almost a quarter of Estonia's population) and diplomatic outrage from Moscow. Shortly thereafter, a concerted, three-week cyberattack crippled Estonian government agencies, banks, news outlets, and other organizations—a vital blow to what some have called "the most wired country in Europe." Estonian officials blamed the Kremlin for the cyberattacks, a claim Russian officials vociferously denied.
Linas Linkevicius, Lithuania's foreign minister, responded on Saturday by invoking Article 4 of the North Atlantic Treaty, whereby NATO member states consult one another if their territorial integrity or political independence is threatened, for only the fourth time in the alliance's history (Ukraine is not a NATO member).
Lithuania and its Baltic neighbors "are certainly very worried that what is happening to Ukraine today could happen to them tomorrow," Brattberg told me, noting that both Estonia and Latvia have "significant Russian ethnic minorities." Russian President Vladimir Putin asserted on Saturday that Russia retains the right to protect Russian-speaking populations in Crimea and eastern Ukraine. Both the NATO ambassadors and the NATO-Ukraine Commission will meet tomorrow to plan the alliance's response to the unfolding crisis.
Russia has only one remaining ally in the region: Belarus, often referred to as "the last dictatorship in Europe." Ukraine's northern neighbor has mirrored Russian rhetoric about Ukraine by condemning what it described as "radical and unlawful methods of settling domestic disputes" by pro-European Ukrainians. Alexander Lukashenko, the country's autocratic president for the last two decades, quashed a Belorussian protest movement in 2010, during his rigged presidential election, that was similar to Ukraine's. Lukashenko's ability to influence events in Ukraine is nevertheless "slim," according to Brattberg.
Other European powers see reflections of their own history in the Crimean crisis. Czech President Milos Zeman said Russia's intervention reminded him of the Soviet-led military suppression of Czechoslovakia's Prague Spring in 1968. Poland, a key EU power broker in Eastern Europe, said it stood ready to "facilitate the stabilization of the situation" in Ukraine. Iurie Leanca, Moldova's prime minister, compared Russia's actions this week to its role in the separatist region of Transnistria in his own country. Moscow uses its suzerainty over that thin, heavily industrialized strip of territory on the Moldovan-Ukrainian border, whose 500,000 residents are mostly ethnic Russians, to frustrate Moldovan efforts towards European integration.
Lithuanian President Dalia Grybauskaite also openly expressed fears that Russia's actions could ultimately lead to Crimea's annexation. "These signs are extremely worrying. They show a certain preparation and assumptions related to the occupation of [Ukrainian territory]," Grybauskaite told Lithuanian media outlets, calling the Russian deployment of troops in Ukraine "damnable." But not all of Eastern Europe's diplomatic barbs are aimed Moscow. Marko Mihkelson, who chairs the Estonian parliament's foreign policy committee, tweeted on Saturday, "If West does not wake up to Russian aggressive foreign policy, tomorrow will be too late."