Russian Sanctions Have Been Pointless, but the Next Ones Could Hurt the U.S. More
Since Russia's annexation of Crimea, the United States has been issuing a series of retaliatory sanctions, but if more restrictions come, they could be just as bad for the West as they are for Russians.
This article is from the archive of our partner
.
Since Russia's annexation of Crimea, the United States has been issuing a series of retaliatory sanctions, all against particular Russian individuals. Moscow has responded in kind, with for tit-for-tat restrictions on American lawmakers. While they serve as useful shows of diplomatic strength, they have been largely toothless. Perhaps that's because if more restrictions come, they could be just as bad for the West as they are for Russians.
The original U.S.-led sanctions were against 11 executives and politicians — specifically, Vladimir Putin's innermost circle — a development that most Russian politicians found vaguely amusing. A Russian official joked, "So what if I can't get a visa to the United States? I didn't want to go there anyway."
Amidst criticism from the EU and other nations, the U.S. Treasury has updated their sanctions list, bumping it up to twenty Russian officials. The sanctions include sixteen government officials, including Putin's chief of staff, Sergie Ivanov; the speaker of the State Duma, Sergey Naryshkin; and Viktor Ozerov, chairman of the security and defense committee of the parliament's upper house.  The Treasury has also prevented United States banks and individuals from doing business with Bank Rossiya, as the bank is associated with Putin's inner circle. Still, no actual trade sanctions were issued against the country as a whole.
The European Union also joined in, sanctioning a total 33 officials, banning visas and freezing assets. Dmitry Rogozin, Deputy Prime Minister of Russia, was unfazed:
Putin retaliated with his own sanctions. The Russian Foreign Ministry stated that "There should be no doubt: for every hostile attack, we will respond appropriately." That meant bans against Senate Majority Leader Harry Reid ("Reed"), vocal Russian critic Sen. John McCain, and Speaker of the House John Boehner, along with six others.
Like his counterparts in Moscow, McCain was amused by the sanctions, saying "I guess that means my spring break in Siberia is off, my Gazprom stock is lost, and my secret bank account in Moscow is frozen. Nonetheless, I will never cease my efforts on behalf of the freedom, independence and territorial integrity of Ukraine, including Crimea."
Banned Senator Harry Reid had this to say: 
Boehner is also wearing his ban proudly: 
It seems getting personally sanctioned isn't so much a punishment, as it is a source of bragging rights for lawmakers... on both sides of the divide.
Thus far, none of these sanctions are having any major economic implications for either side, though the fear is there that something worse could be afoot. Kremlin rules have prevented Russian officials from keeping money in overseas investments for some time, according to William Pomerantz of the Woodrow Wilson Center, and therefore they did not (technically and legally) have anything to lose by being barred from the States. The Crimea conflict has affected Russia's uber-rich — they combined to lose an estimate $6.6 billion dollars in one week, mostly due to failing stocks — but these particular sanctions do not affect their general spending or investments in the United States.
Billionaire New Jersey Nets owner Mikhail Prokhorov is one of those billionaires caught between two worlds, as his stock wealth has taken a huge hit in recent weeks, and he's been frustrated in his efforts to transfer the ownership of the team to a Russian-based company, in compliance with Putin's laws. (But in violation of NBA ownership rules.)
While Russia's wealthiest politicians are technically not allowed to keep investments overseas, a fair amount of Russian money has been invested in the United States economy. Since 2012, one billion dollars in residential real estate in the United States has been purchased by Russian buyers. As long as the sanctions are against government officials, rather than general economic sanctions, Russian money can keep flowing into the United States as usual until further notice.
However, if full blown economic sanctions are issued — and President Obama has threatened to target Russia's financial, energy, and mining industries — the pain could become very real.  
Yes, Russian's wealthiest will be locked out of their billions in real estate, along with other lucrative United States-based investments. And they might be the only ones able to wield any influence Putin's decision making. But that also cuts of a major source of funding to the American real estate market, too. Similarly, much of Europe and the United States would be affected by hits to Russian-dependent resources, mainly oil and natural gas.
Currently, Russia exports 130 billion cubic meters of gas to the EU, much of it through pipelines that run through Ukraine. A sanction against Russian natural gas would cost the country $70 billion, or roughly 3 percent of their GDP. While this would hurt Russia, it could also potentially crush the nations of the EU, as 30 percent of their energy comes from their Eastern neighbor. Some nations are more heavily dependent than others. For example, 55 percent of Greece's energy comes directly from Russia.
It isn't just Europe, either. Economic sanctions against Russia would directly impact some of America's largest companies — namely Morgan Stanley, Chevron, and the most profitable one in the nation, Exxon Mobil.
United States-based Exxon Mobil and Russia's Rosneft, two of the largest energy companies in the world, have teamed up to tackle oil drilling in the Arctic Ocean. This is a $500 billion joint venture, tracing back to 2011, that Exxon will not just be able to walk away from. Additionally, the United States (and everyone else) will be in greater need of oil if they block Russia's massive energy supply, throwing the entire global market out of whack. This leaves everyone in a giant, greasy pickle.
As Exxon's former CEO Lee Raymond once notoriously stated, "I'm not a U.S. company, and I don't make decisions based on what's good for the U.S." They are a global behemoth that doesn't take losing business lightly.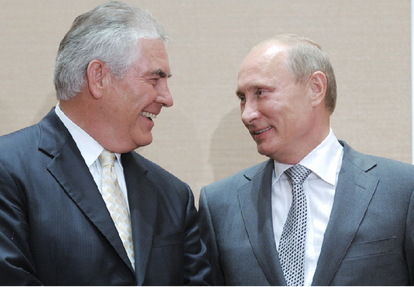 In fact, that's current Exxon CEO Rex Tillerson buddying up with Putin when he signed the Rosneft deal back in 2011. The two are partners in one of the most mutually beneficial business relationships in the history of the oil (or any) industry. Exxon drills in Siberia; Rosneft and Exxon have a joint venture to explore the Gulf of Mexico for drilling; and Rosneft was given the option to join Exxon in a Northern Alaskan natural gas stake. It hasn't been upset by the current Crimea crisis, yet, but there's no telling how a punitive sanction could impact the American oil giant.
Igor Sechin, head of Rosneft, is none too happy about potential sanctions either, and would likely agree with Raymond's mentality. While Sechin is a Putin ally, he has expressed frustration that sanctions could end up hurting Western business deals. In the meantime, Sechin has been the target of potential EU sanctions.
But Rosneft is also smart enough to know that their partners don't want sanctions either. Mikhail Leontyev, spokesman for Rosneft, believes that any sanctions against Sechin would be "stupid, petty and obvious sabotage of themselves most of all. I think it will primarily affect Rosneft's business partners in the West in an extraordinary way." Sechin himself all but threatened to take his business elsewhere (i.e., China, Japan, and other parts of Asia), continuing to sell his oil and make money while Europe suffers.
Morgan Stanley is in an equally oily pickle. The banking giant is in the process of selling their oil trading business to Rosneft. It's a deal the company desperately wants to make, but the sale to would require specific approval from the United States Committee on Foreign Investment. In the event of U.S. sanctions against Russian energy, or EU sanctions against Sechin specifically, that deal would be sunk.
If oil and natural gas weren't enough of an issue, economic sanctions would also affect space, as Russia holds a key link to the International Space Station. While McCain may not have been planning any trips to Siberia, any Americans planning on stopping by the ISS will find themselves out of luck, as Russia is "the only country to operate a space shuttle that can take astronauts to the International Space Station." Will the march of science halt in Crimea?
Thus far, none of those truly punitive economic sanctions have been issued, mostly likely because the West knows they have as much to lose their rivals. As long as Russia has such a large stake in the world's oil and natural gas market, and their pipelines continue powering the vast majority of Europe, any true economic damage will surely visit more than just Putin's inner circle. It is expected that the EU and their most Russia-connected countries, such as Germany, will have a very large say in how, and if, sanctions continue to escalate.
This article is from the archive of our partner The Wire.