Obama Breaks Out New Sanctions Against Russia
This article is from the archive of our partner
.
President Obama announced a new round of sanctions aimed at high level Russian officials today, as response to Moscow's attempt to move forward on the annexation of Crimea.
Yesterday,  a suspiciously (but not unexpectedly) high percentage of Crimeans voted to leave Ukraine and join Russia. Like, a really high percentage.
Turns out 123% of Sevastopol residents voted for joining Russia. Crimea counted more votes than the number of voters http://t.co/P6MFcyux2g

— Maxim Eristavi (@MaximEristavi) March 17, 2014
Following that vote, the region's parliament is formally applying to join Russia, and officials seem to be trying to figure out what exactly that means. Crimean officials said that the region will move their time zone to match Moscow's and start using the rouble as first steps toward joining the country, among other things:
So today Crimea has declared independence (again) with a desire to join Russia as a Republic, and announced it will shift to Moscow time

— Daniel Sandford (@BBCDanielS) March 17, 2014
Crimea is also going to move forward two hours to Moscow's eternal daylight savings time March 30. It's always sunny in Crimea

— max seddon (@maxseddon) March 17, 2014
Crimea plans to have 2 currencies until 2016: rouble and hryvna. #Ukraine

— Paul Waldie (@pwaldieGLOBE) March 17, 2014
Crimean parliament moves to create its own central bank, Bank of Crimea. #Ukraine

— Paul Waldie (@pwaldieGLOBE) March 17, 2014
But leaders in Kiev said they won't cut off the peninsula's utilities:
#Ukraine opposition leader Vitaly Klitschko says no plans to cut water, food, power supplies to Crimea.

— Paul Waldie (@pwaldieGLOBE) March 17, 2014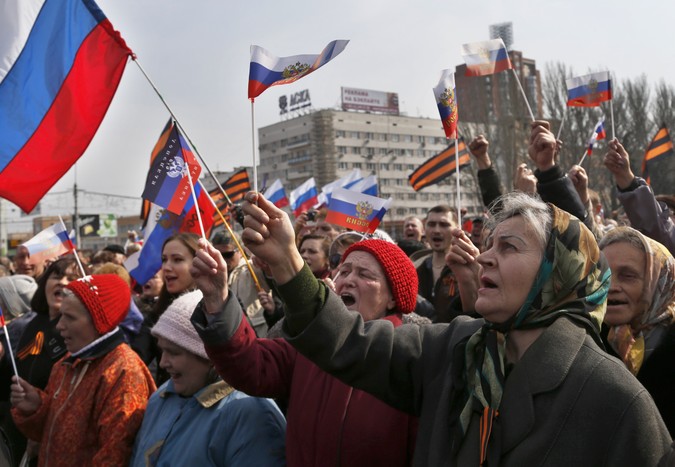 As Crimea prepares to transition to Russia, however, global leaders remain unwilling to recognize the vote. Following some debate, the EU slapped 21 Crimean officials seen as promoting the secession vote with travel bans and asset freezes. Sanctions against Russia were also considered, according to Reuters:
In Brussels EU foreign ministers were debating the size of a first list of Russian and Crimean officials to be sanctioned individually for actions that "threaten the territorial integrity, sovereignty and independence of Ukraine." Czech Foreign Minister Lubomir Zaoralek said an initial list of 120 to 130 names had been whittled down to about 20 people. EU leaders meeting on Thursday and Friday may take further measures if diplomacy has not achieved results by then, diplomats said... The U.S. administration is also preparing to identify Russians to punish with visa bans and asset freezes that Obama authorized this month. 
EU diplomat Catherine Ashton said earlier "we are trying to send the strongest possible signals to Russia, a signal trying to ensure that they understand the seriousness of the situation," adding, "I call upon Russia yet again to meet with the Ukrainian leaders and to start dialogue with them and to try to move to de-escalation as quickly as possible." All of this is pretty standard fare for the Crimea crisis, but Senator John McCain offered a more creative take when he called Russia "a gas station masquerading as a country," and a "kleptocracy."
Interim leaders in Kiev are also upset, naturally, by the referendum's success.
#Klytchko: moods of separatism in the East of #Ukraine are largely stirred by Russian citizens present there. presser/live

— Euromaidan PR (@EuromaidanPR) March 17, 2014
But Moscow doesn't appear to care all that much about Western approval. Yesterday, a Kremlin-backed Russian reporter Dmitry Kiselyov offered a friendly reminder that "Russia is the only country in the world that is realistically capable of turning the United States into radioactive ash," and lawmakers in Russia appear to be ready to accept Crimea with open arms. 
Meanwhile, both sides appear prepared for military action if the situation escalates. Tomorrow Putin will talk on the subject, in what is sure to be a totally fair, even-handed response to Kiev and the world's concerns on the questionably legal referendum vote. 
This article is from the archive of our partner The Wire.