Invisible Standoff Continues as Russia Bloodlessly Extends Control in Crimea
While many of us in the U.S. spent last night watching a star-studded selfie break Twitter, Russia continued to defy global admonishments by attempting to wrest control of Ukraine's Crimea. Here's where Ukraine stands as of this morning.
This article is from the archive of our partner
.
While many of us in the U.S. spent last night watching a star-studded selfie break Twitter, Russia continued to defy global admonishments by attempting to wrest control of Crimea away from Ukraine. Here's where the situation stands as of this morning.
Russia's military forces have effectively taken control of the Crimean peninsula, which contains a significant percentage of ethnic Russians and pro-Russia Ukrainians, over the weekend without engaging in actual battle. Russian President Vladimir Putin deployed his troops despite repeated Ukrainian and Western pleas for Russia to stay out of the Ukrainian mini-revolution, which saw a swift government overhaul after ousted president Viktor Yanukovych fled his palace a week earlier.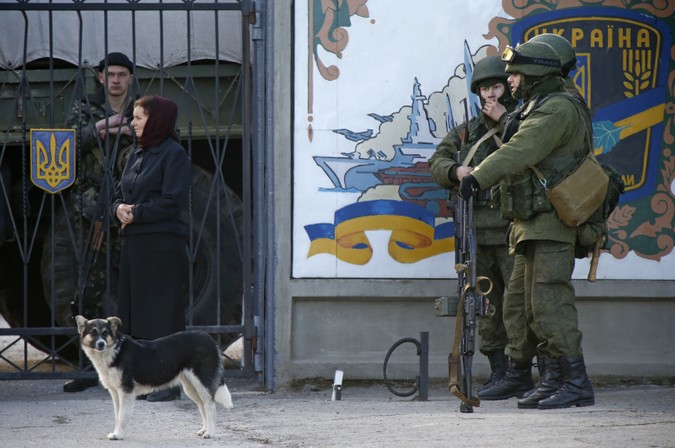 Global leaders have continued to censure Putin for his actions. Last night the seven other countries that make up the G8 that aren't Russia, condemned the invasion, and the United Nations quickly followed suit this morning:
#BREAKING Russia must 'refrain from any acts' that could escalate Ukraine crisis: UN chief

— Agence France-Presse (@AFP) March 3, 2014
British Foreign Secretary William Hague said today that this is "the biggest crisis in Europe in the 21st century," adding that diplomacy is the only solution:
There are diplomatic measures which we have started on already. There are a range of other significant costs. I don't want to anticipate at the moment what those will be, those will be discussed among my fellow E.U. foreign ministers today. They are also for discussion with the United States, Japan, Canada, other nations. But be in no doubt that there would be such costs. The world cannot just allow this to happen. The world cannot say it's O.K. in effect to violate the sovereignty of another nation in this way.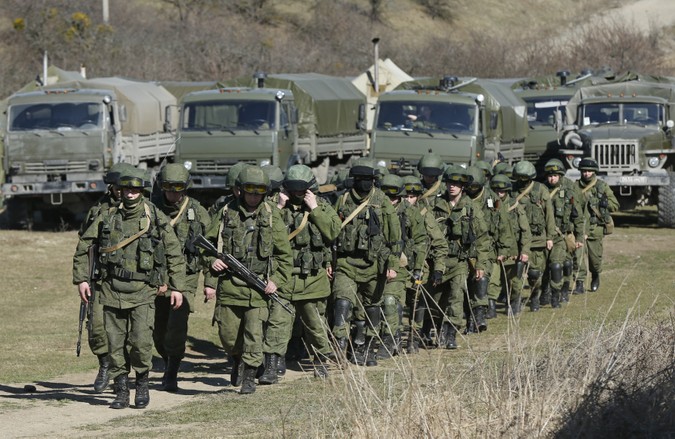 Secretary of State John Kerry will head to Kiev today to "reaffirm the United States' strong support for Ukrainian sovereignty," as President Barack Obama mulls sanctions, asset freezes and other financial punishments for Russia to express displeasure and pressure the country to back off Crimea.
Russia's economy has already been suffering thanks to Putin's aggression — Reuters reports that the Moscow stock exchange has dropped by 10 percent since the crisis began, and that shares of Russia's gas monopoly Gazprom have fallen by more than 13 percent. (Most of Russia's oil exports are transported by pipelines that run through Ukraine.) The value of the Russian ruble, as compared to the dollar and euro, is at the lowest it's ever been.
But financial woes don't appear to be stopping Russia from continuing efforts for control in Crimea. Today, pro-Russian forces took control of a ferry terminal in the Ukrainian city of Kerch, only 12 miles away from Russia by boat, which seems like the first step towards sending more troops into Crimea. The Associated Press reports:
Early on Monday, soldiers were operating the terminal, which serves as a common departure point for many Russian-bound ships. The men refused to identify themselves, but they spoke Russian and the vehicles transporting them had Russian license plates. Russia has taken effective control of the Crimean peninsula without firing a shot. Now, the fears in the Ukrainian capital and beyond are that that Russia might seek to expand its control by seizing other parts of eastern Ukraine. Senior Obama administration officials said the U.S. now believes that Russia has complete operational control of Crimea, a pro-Russian area of the country, and has more than 6,000 troops in the region.
Reporters in Crimea describe an odd scene, where armed pro-Russia troops face claim to defending citizens against an enemy that doesn't existence, and Ukrainian troops have not stepped up to resist them. Ukraine's acting prime minister called for economic and political support from Western leaders, but added that "for today, no military options [are] on the table," leaving Russian forces to stand off against nobody. Per the New York Times:
At the headquarters of a newly established pro-Russian self-defense force in the city of Sevastopol on Sunday, would-be recruits gathered beneath a Russian flag and frothed with fury at the "fascists" who they believe have seized power in Kiev and are now preparing to flood into Crimea to plunder and kill anybody who speaks Russian instead of Ukrainian."We haven't seen any of them here yet, but we have seen them on TV," said Stanislav Nagorny, an aide to the leader of the self-defense force.
So far, the strongest battle for Crimea is one of words. The Times adds that Ukrainian officials have "added to the phantasmagoria with claims of Russian troops bursting into the barracks of Ukrainian forces and, in one imaginary instance, shooting up the headquarters of Ukraine's naval command in Sevastopol." Russia is blocking websites linked to the Ukrainian protest movement, and is reporting that extremists have seized control of the country. 
Still, the situation in Crimea is tense. The region's secret service officials said today they would remain loyal to Kiev... 
... but pro-Russia demonstrators (again) storm government buildings
EU leaders will meet in an emergency meeting in Brussels later today to try to figure out a solution.
This article is from the archive of our partner The Wire.