Vladimir Putin Thinks He Has the Right to Do a Lot of Things in Ukraine
Russian President Vladimir Putin spoke about the Russia-propelled crisis in Crimea in a news conference on Tuesday, where he presented a number of opinions that are unlikely to win over the international community.
This article is from the archive of our partner
.
Russian President Vladimir Putin spoke about the Russia-propelled crisis in Crimea in a news conference on Tuesday, where he presented a number of opinions that are unlikely to win over the international community.
Putin started out by saying that the changing of the guard in the Ukraine — from ousted president Viktor Yanukovych to an interim government holding down the political fort until December elections — was the result of an "unconstitutional coup and armed seizure of power." Yesterday, Russian officials presented a document purportedly penned by Yanukovych asking Moscow to send troops into Crimea "to establish legitimacy, peace, law and order, stability and defending the people of Ukraine." But last week, Yanukovych said during a press conference in Russia that "any military action in this situation is unacceptable," though Russia could not ignore the situation unfolding in Crimea.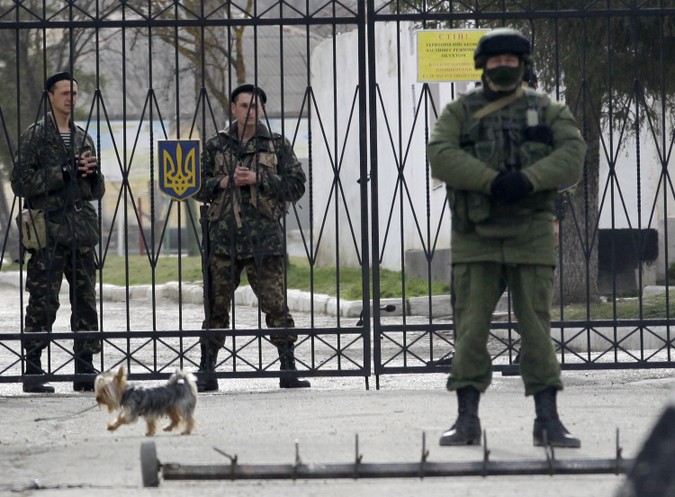 After affirming his opinion about Yanukovych's ouster, Putin went on to assure reporters that Russia won't send troops into Ukraine. Probably. Unless he wants to, in which case he will, and it will be totally legal because Yanukovych asked him for help. Per the BBC:
Russian President Vladimir Putin says there is no need yet to send Russian troops into Ukraine, but he has not ruled out doing so. Russia reserves the right to use "all means" to protect citizens in Ukraine, he told a news conference....  If Russian-speaking people in eastern Ukraine asked for Russia's help then Moscow would respond, he said. In Crimea pro-Russian armed men and civilians are surrounding Ukrainian military bases - not Russian soldiers, he said.
Never mind that there already 16,000 armed soldiers on the ground in Crimea, and no one believes that they are just concerned locals. It also didn't help that Putin not only asserted the right to put troops in Crimea, but in all of Eastern Ukraine, if necessary.
Putin had a lot of other thoughts on the situation (translated quotes per the Washington Post):
On why it's unreasonable to assume that uniformed soldiers in Crimea are Russian: "Look at former Soviet republics... You can go to a store and buy a uniform. Were these Russian soldiers? No, they're very well-trained self-defense forces." 
On why he's right in thinking that Yanukovych's ouster was a coup: "

My assessment is that it's an unconstitutional overthrow and an armed seizure of power. No one has challenged that. Who is saying it's not true?"

On why the U.S. is wrong to issue opinions on post-Soviet politics: "

They sit there across the pond as if in a lab running all kinds of experiments on the rats. Why would they do it? No one can explain it."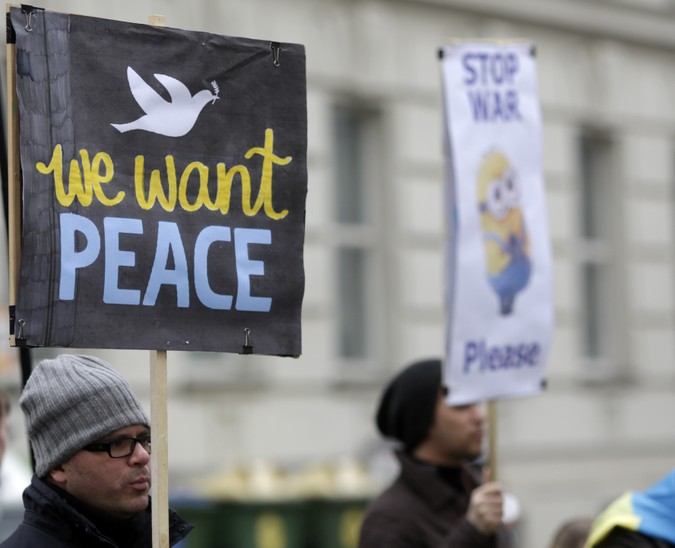 After days of what amounted to a military he-said she-said — with Ukraine accusing Russia of issuing a Crimea ultimatum and preparing for war and Russia denying the charges — Putin called off military exercises in Western Russia in an apparent effort to pacify critics. Russian forces are still on the ground in Crimea, mind you, but the perceived threat of any actual battle has been eased for now.
Putin also used the press conference to explain why he took the ousted president in, saying it was a "humanitarian" effort. He explained that he thinks there are only three legitimate ways to get rid of a president — death, resignation or impeachment — which sounds more like the Putin we know. He said if he did not allow Yanukovych to enter the country the Ukrainian leader would "have just been killed," musing that "I don't think he has a political future."
Though most outlets focused on Putin's thoughts on military actions in Ukraine, the less-than-objective state-run RT network was sure to highlight Putin's feelings on the upcoming Paralympic Games in Sochi. The U.S. said it will boycott the event as a diplomatic show of displeasure over how Russia is dealing with Ukraine, a decision starry-eyed Putin called 'cynical.'
RT also reported on some of Putin's allegedly sympathetic feelings towards Ukrainian activists:
And how the president, known for throwing all manner of activists into prison camps or exile, feels about the law:
For now, tensions simmer in the proto-Cold War environment. According to CNN, Crimea is placid in a calm-before-the-storm type of way:
In the town of Simferopol, a helmeted Russian soldier in combat gear patrolled a line of storefront shops — field rifle at the ready. Shoppers continue about their business as if nothing is out of the ordinary. The Russian soldiers seem to be trying to keep it as low-key as possible. Their uniforms bear no Russian Army insignias which might inflame tensions among anti-Russian Ukrainians. Tuesday morning, more than 100 Ukrainian soldiers tried to return to Belbek Air Base, near Sevastopol. As they approached, Russian forces fired shots in the air. The two sides then negotiated and 15 Ukrainian soldiers were given access to the base.
Naturally, it's in everybody's interests to settle the situation without bloodshed. And Ukraine especially would benefit from peaceful resolution — according to the BBC, Ukrainian troops are clearly outmatched by Russian ones:
On the face of things, if Russia were to move into eastern Ukraine, then the Ukrainian forces should be able to put up a better performance than tiny Georgia's armed forces did when the Russians moved onto the offensive in 2008. But in reality, Ukraine's military is dispersed; it lacks readiness, and much of its equipment is in storage.
Russia has four times as many active troops and twice as many tanks as Ukraine, the BBC adds. But economically, peace is in Moscow's interest. The Russian stock market has mostly recovered following yesterday's plunge as the diplomatic situation appears to have stabilized. On the other hand, the U.S. offered Ukraine $1 billion in energy aid to battle Russia's threat of increasing gas prices. Plus, Ukraine's economy was already a mess when this whole started, that's part of what led to Yanukovych downfall in the first place — so they've got less to lose by fighting back.. 
This article is from the archive of our partner The Wire.