Britons Unnerved by New and Improved £1 Coin
The British population received quite a shock on Wednesday after the announcement that a shiny new £1 coin is on the way. The U.K.'s Royal Mint said the new £1 coin "will be the most secure coin operating in the world."
This article is from the archive of our partner
.
The British population received quite a shock on Wednesday after a shiny new £1 coin was unveiled. The U.K.'s Royal Mint said the new £1 coin "will be the most secure coin operating in the world," and that the current, but old, coin is too vulnerable to counterfeiting for a currency of its value.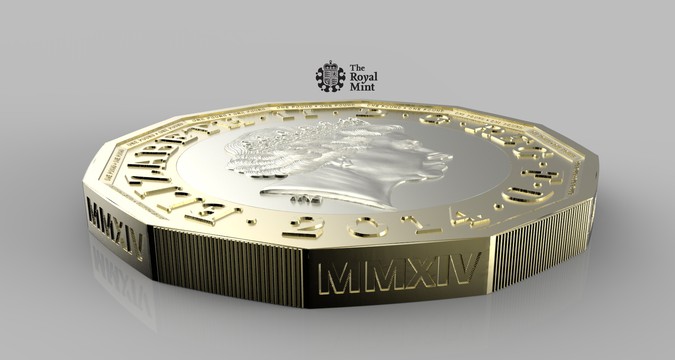 The 12-sided coin is based on the historic three pence piece, otherwise known as the threepenny bit, which was the first coin to include the profile of Queen Elizabeth II. The U.K. Treasury says the pound coin has a three percent forgery rate, which amounts to around 45 million £1 coins being fakes, reports the Guardian.
The new pound coin will be considerably more difficult to forge than its familiar counterpart. Like the larger £2 coin, it will be "bimetallic," with gold on the outer edge and silver on the inner circle. It will also feature "banknote-strength security" from the Royal Mint, known as Project iSIS (Integrated Secure Identification Systems), the first time it's been embedded into coins.
The new dodecagon design will replace the current £1 coin, which is now over thirty years old. The decision was announced by the U.K. Treasury Wednesday, hours before Chancellor of the Exchequer George Osborne delivered the annual budget. Osborne tweeted about the coin, which elicited some highly inappropriate, but nevertheless highly amusing, responses to a politician who isn't exactly liked (or apparently respected as a human being) by many in the U.K.
The new pound won't come into circulation until 2017, but at least it will be roughly the same size as its current iteration. Some of the initial public concern seems to be focused on how the new pound coins will fit into the round holes that unlock supermarket shopping carts and lockers across the nation.
While the "heads" side of the coin will feature Queen Elizabeth II, a public competition will be held to determine what will grace the "tails" side, Nicholas Winning at The Wall Street Journal reports. We'd like to humbly suggest a portrait of Elton John eating a Marmite-slathered crumpet with one hand and holding a steaming cup of tea in the other.
As you ponder your own design entry, enjoy the silence and hypnotic spinning of the new pound coin in this video from the Royal Mint.
This article is from the archive of our partner The Wire.