Bill Gates: 'The Idea That Innovation Is Slowing Down Is ... Stupid'
New ideas are coming at "a scarily fast pace," he says.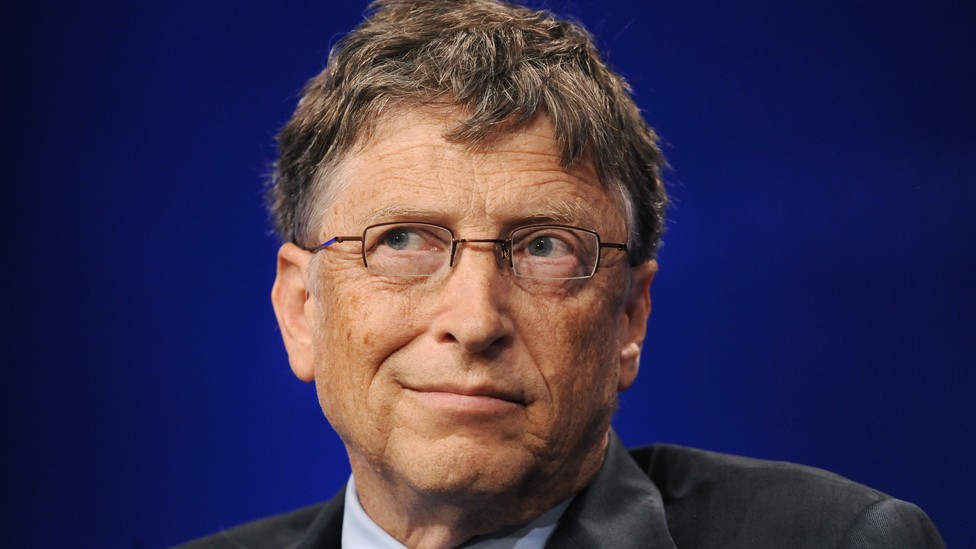 Bill Gates is aware that there's a lot of gridlock in Washington. He's just not sure it matters all that much for innovation.
"There's a lot of innovation that isn't dependent on Washington doing anything," the billionaire philanthropist and Microsoft co-founder said in a conversation with Atlantic Editor-in-Chief James Bennet on Wednesday evening. "It'd be great to fund basic research in energy more than we do. It'd be great to keep the [National Institutes of Health] budget going up. It would be great to have government at large doing more research into how to do education in a better way. But a lot of the things that will really improve the world fortunately aren't dependent on Washington doing something different."
"It's easy to say, 'Wow, this is different,"' he added, in reference to the fierce debates in the nation's capital over the size of government. "And I wonder if, for the first time, American democracy won't deliver the right set of decisions. Then again, it's supposed to be a self-correcting mechanism."
Speaking at an Atlantic event at the Watergate in Washington, D.C., Gates marveled at the low opinion Americans have of their elected officials.
"One of the statistics that always amazes me is the approval of the Chinese government, not elected, is over 80 percent. The approval of the U.S. government, fully elected, is 19 percent," he said. "Well, we elected these people and they didn't elect those people. Isn't it supposed to be different? Aren't we supposed to like the people that we elected? It's almost like a paradox of democracy."
"Maybe we just have better polling," Bennet responded. "No, this is honest polling!" Gates insisted.
Gates also disagreed forcefully with economists and analysts who say the pace of technological innovation is slowing, and no longer driving productivity and economic growth. "I think the idea that innovation is slowing down is one of the stupidest things anybody ever said," he said. "Innovation is moving at a scarily fast pace."
"Take the potential of how we generate energy, the potential of how we design materials, the potential of how we create medicines, the potential of how we educate people, the way we use virtual reality to make it so you don't have to travel as much or you get fun experiences," he noted. Innovation doesn't always work the way we think it might, he pointed out. For example, when innovation is happening fast enough, it sometimes shrinks GDP by disrupting industries (e.g. the damage the Internet has had on the newspaper industry) or increasing costs (e.g. the proliferation of medical technology).
"I want to meet this guy who sees a pause in innovation and ask them where have they been," he said.
And while Russia's military intervention in Ukraine has renewed claims that the U.S., in an age of austerity and war-weariness, is retreating from the world stage, Gates doesn't see it that way.
"If buying military equipment is the measure, we're really good, there's nobody even close," he said.  "We are engaged in the world. They know we're here."
Gates noted that U.S. foreign aid hit a low point at the end of the Clinton administration, when foreign assistance dropped to 0.1 percent of U.S. GDP. George W. Bush nearly doubled the foreign aid budget, with a particular focus on combating AIDS in Africa, and it has further increased, though less dramatically, under Obama. The U.S. now spends $30 billion, or just over 0.2 percent of GDP, on foreign assistance. That makes it the world's largest dispenser of aid in absolute terms, but still puts it far behind the world leaders in this category, Sweden and Norway, who spend about 1 percent of GDP on aid.
"We would have dreamed that it would have doubled again" under Obama, Gates said, but the 2008 economic crisis dashed that dream. Still, he said, "the way that money's being spent has gotten more intelligent every year" since 2000. As the practice of buying friends in foreign capitals with development aid has faded with the end of the Cold War, he argued, the impact per dollar of assistance has become easier to track. And almost 40 percent of U.S. aid, he said, now goes to the most measurable categories: health and agriculture.
Gates also addressed the debate over the Common Core education standards that 46 states have now adopted. "We're very unusual: There's two other countries that don't have a national standard for what you should know at various levels of your education," he explained. Textbooks in Asian countries are often less than half the size of U.S. textbooks, he said, "and they're far more focused on teaching you to do a few things very well than teaching you many things every year. And look, they're just getting way, way better results with their system."
"States may choose to deviate, but they should make sure first that they have high standards and quality standards, and that they have a really good reason not to share the same analysis and tools that are being created because of the scale advantage that lets innovators come in, do a piece of work once, and have it applied to a very large number of students," he said.
He admitted that the promise of massive open online courses, or MOOCs, has yet to be realized, and said the critical step is making the technology scalable for millions of people, rather than simply making MOOCs available online.
"Give us another eight years, and this will have changed the balance," he predicted. "It will have brought a factor of two of efficiency to most of higher education."
You can watch a full video of the conversation here.