As Though Iraq Never Happened
The short memory of Condoleezza Rice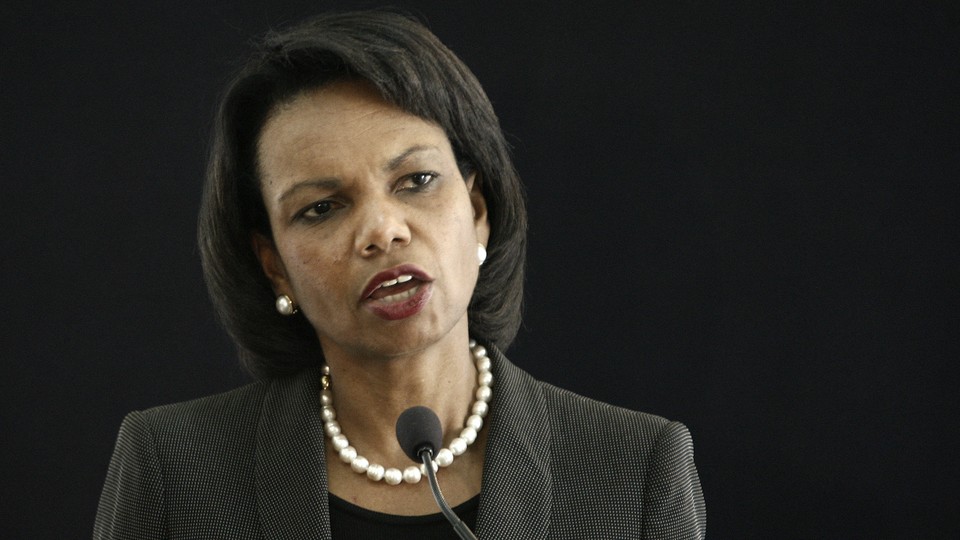 I don't really understand how any editorial by Condoleezza Rice on conflict in Ukraine can fail to directly address the failures of the Iraq War. But here is Rice arguing for American godhead:
The notion that the United States could step back, lower its voice about democracy and human rights and let others lead assumed that the space we abandoned would be filled by democratic allies, friendly states and the amorphous "norms of the international community." Instead, we have seen the vacuum being filled by extremists such as al-Qaeda reborn in Iraq and Syria; by dictators like Bashar al-Assad, who, with the support of Iran and Russia, murders his own people; by nationalist rhetoric and actions by Beijing that have prompted nationalist responses from our ally Japan; and by the likes of Vladimir Putin, who understands that hard power still matters.

These global developments have not happened in response to a muscular U.S. foreign policy: Countries are not trying to "balance" American power. They have come due to signals that we are exhausted and disinterested. The events in Ukraine should be a wake-up call to those on both sides of the aisle who believe that the United States should eschew the responsibilities of leadership. If it is not heeded, dictators and extremists across the globe will be emboldened. And we will pay a price as our interests and our values are trampled in their wake.
Condoleezza Rice was an important member of an administration that launched a war on false pretense and willingly embraced torture. This was done in the name of the American people. It takes a particular historical blindness to claim that such actions should have no effect on all our crowing over "democracy and human rights." 
War-mongering is self-justifying. If you bungle a war in Iraq, it does not mean you need to sit back and reflect on the bungling. It means you should make more war, lest Iraq become a base for your enemies. If Vladimir Putin violates Ukrainian sovereignty, it is evidence for a more muscular approach. If he doesn't, than it is evidence that he fears American power. If there are no terrorist attacks on American soil, then drones must be right and our security state must be effective. If there are attacks, then our security state must increase its surveillance, and more bombs should be dropped. Violence begets violence. Peace begets violence. The circle continues.
Though maybe not. Conor Friedersdorf, in his rebuttal to David Brooks, points out that the appeal of war-mongering is diminishing. In which case the people perceive something that evades some of their leaders—even America is not God. Or perhaps more simply, we have problems of our own. This sense is likely as much a product of virtue as cynicism. This is the last, most unfortunate, legacy of the Iraq War. It was (and is) fuel for such cynicism. For those people actually concerned about democracy, human rights, and global peace, the Iraq War was a disaster. To say nothing of the innocent dead.