Why Russians Aren't Smiling at You in Sochi
The first rule about smiling at Russians is you do not smile at Russians.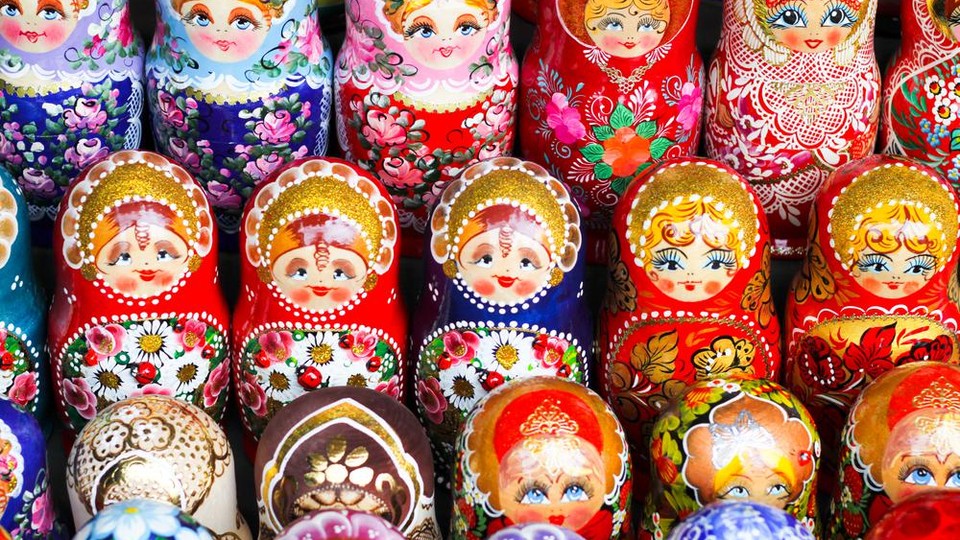 When Ed Leigh arrived in Sochi to cover the Winter Olympics, something struck him as odd: None of the Russians there returned his smiles.
When Leigh asked a native why that was, the man told him, "In Russia only two types of people smile: idiots and rich people — and rich people don't walk on the street."
For Russians, a smile in public is not the polite expression that Americans reflexively offer strangers on the street. A smiling person must have a good reason for doing it, and it should be obvious what that reason is. When people smile without hesitation — for no reason — Russians find those grins artificial or insincere. And they think those people have a few screws loose.
Americans, on the other hand, seem to smile for any reason at all. The "American smile" has a long-standing bad reputation in Russia, explained Michael Bohm, the opinion-page editor of The Moscow Times, in an in-depth 2011 story on the matter.
National distrust of the Westernized grin dates back to the early Soviet era, when anti-U.S. propaganda abounded. Later, in the 1980s, Soviet media regularly blasted reports called "Their Customs," explaining that Americans, a power-hungry people, smiled to deceive others. Behind that smile was an "imperialist wolf revealing its ferocious teeth." One prime example of that, Bohm writes, came in 1990, when then-Secretary of State James Baker used his "charming, cunning Texas smile" to trick former Soviet leader Mikhail Gorbachev into agreeing to a unified Germany in exchange for the U.S. halting NATO's eastward expansion.
"There's so much to be happy about here!" the Soviet government told its people — guaranteed jobs and housing, free education, a nuclear war chest to protect the empire. The people, frowning as they waited in line to buy bread or milk, respectfully disagreed.
Russia's poker face "has little to do with Dostoevsky or the cold climate," Bohm says, and much more to do with centuries of government oppression and corruption. The very form of government can dictate how its people control their expression of emotions, according to David Matsumoto, an expert on micro-expressions, gesture, and nonverbal behavior. In collectivist nations, like Russia and China, people tend to neutralize happy expressions, blending in with the rest of the population. In contrast, members of individualist societies, like the United States, crack smiles freely and often, reflecting the openness of their political climate. The 2008 World Values Survey found that freedom of choice strongly affects people's happiness.
Everyday life for Russian people has historically been grueling, a fight for existence. Their hardships were reflected in their expressiveness, and deep concern, along with a tangle of worry lines, became entrenched on their faces. Russia ranked 167th out of 178 countries on a "World Map of Happiness," a 2007 survey of 80,000 people worldwide that measured a nation's level of happiness by factors most closely associated with the emotions, such as health, wealth, and education.
All this research makes it sound like Russians are perpetually unhappy people, doomed for depressing lives. They're not. Take it from this native Russian reporter.
Russians smile for genuine happiness — fair health, a pleasant mood, prosperity. All good reasons.
When two Americans make eye contact in a crowded restaurant, they smile out of habit. Russians look away instead, since smiling at strangers is a cultural taboo. The Russian cashier ringing you up at the grocery store won't offer a smile because he doesn't know you, and he won't mimic your pleasant expression.
That cashier is also working, and Russians stay especially tight-lipped while on the job. Work, simply put, should not be fun or taken lightly. Russian President Vladimir Putin may look markedly sullen while standing next to his American counterpart, but it's usually not because he is angry or upset — he's just doing his job.
When Russians do crack a smile in public, it's usually directed at someone they know. Still, they tend to smile only with their lips, revealing only a hint of the upper row of their teeth if the grin widens. Any more, and that smile comes off as unpleasant or even vulgar.
The biggest and most natural smiles come out at home, where Russians laugh and joke like any American would, with close friends and family members. But when someone brings out a camera, the corners of their mouths turn down again. The permanence of photographs makes the images somehow less personal and more public; they reflect how Russians appear to everybody else, including strangers on the street. Entire family photo albums capture not one smile. My Russian parents appear stone-faced in black-and-photos from their young adulthood, during beach trips and barbecues, at weddings and parties. They are not the same people who today, after 16 years in the United States, smile widely, flashing their white teeth, in front of the camera.
Russian culture is full of quirks many Americans would find strange, from making long and complicated toasts to never, ever throwing away a plastic bag. In 2011, singer Alina Simone offered a terrific explanation for why Russians hate ice cubes. This week, BuzzFeed's Ellie Hall documented their love of dill.
So, smiling in Sochi is a surefire way to reveal you're an outsider — and probably annoy a native Russian — but, in modern times, it's relatively harmless. Whatever you do, don't play the "got your nose" game with a Russian. That hand gesture, a fist with a thumb between the middle and index fingers, is a lot less playful and a lot more offensive over there.
This article was originally published at NationalJournal.com.