Video: The Russian Daredevils Who Climbed a 2,073-Foot Tower in China
The photographers travel around the world in search of tall buildings to secretly scale.
Vadim Makhorov and Vitaliy Raskalov, the masked Russian daredevils who have taunted authorities from Egypt to the Czech Republic by illegally climbing some of the most towering structures on the planet, have done it again. This time the target was the world's second-tallest building: the 2,073-foot-high, still-under-construction Shanghai Tower in China.
The result are breathtaking. Watch the men clamber in the clouds without ropes or other safety equipment, and peer down on one of the biggest cities on the globe from a tangle of metal grating and red scaffolding.
The Chinese authorities, needless to say, aren't impressed. The Global Times reports that police are investigating the case and advising "construction sites to strengthen their security" against "trespassers."
"Aware of the strict Chinese law, we prepared carefully and picked an appropriate date, the Chinese New Year day," Raskalov wrote on his LiveJournal page. "At that time the security was less watchful, workers were on vacations, and cranes did not work. We got to the crane at around midnight. It took us almost two hours to get on the 120th floor by foot. And also, we spend almost 18 hours on top of the building, sleeping and waiting for better weather." Here's a screenshot of one of their nighttime views.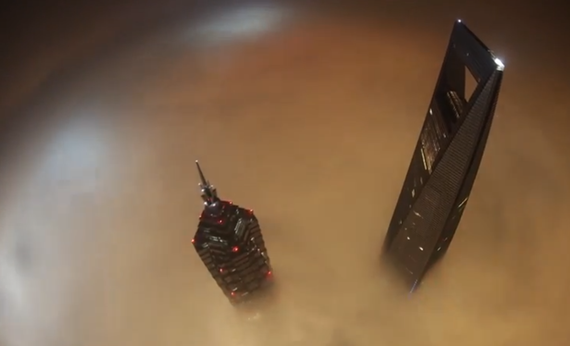 Makhorov and Raskalov, who are both in their 20s, have run into trouble with the law before; last year, Makhorov apologized for climbing pyramids and snapping pictures in Giza, Egypt. That same year, the pair briefly got arrested by Czech police for ascending to the top of the St. Vitus Cathedral in Prague (they've also scaled some of the world's most iconic tourist destinations, including Barcelona's Sagrada Familia and Paris's Eiffel Tower). Here's how Makhorov recounted the experience—the "main fail" of the trip—on his LiveJournal page:
Then came a huge man [to the police station] with a suitcase to make sure that [we] weren't terrorists and didn't want to blow anything up. The suitcase contained some tricky device which, according to what the policemen said, was the only one in Europe and this guy was its only owner. The device spitted out some sheet of paper, with which we had to wipe our hands and backpacks. Then the paper was shoved back into where it came from. I was scared, trying to remember if I touched any TNT recently. But no, all was ok, the suitcase beeped and turned green. The policemen smiled and decided it was time for us to go to Germany.
How exactly does one get into roof-climbing? Raskalov told RIA Novosti in 2012 that he started a few years earlier by heading to the top of ordinary apartment buildings, but soon got bored and moved on to skyscrapers and power stations in Moscow. Makhorov says he became interested in "extreme photography" by hanging out with rope-jumpers at a bridge in his native Novosibirsk.
Two mini-documentaries by the Dutch sneaker company HUB Footwear depict the incredibly dangerous pursuit as more than an extreme sport. "Roofers' are a new generation of Russian photographers who have an unexpected way of looking at a city," one of the clips explains.
Below, a film crew tags along with Makhorov and Raskalov during their escapades in Siberia and Moscow.
Here, we go to Berlin:
It's not all about the dizzying heights, though; roofs are only part of the pair's repertoire, according to Makhorov. "My genre is locations of all kinds. Heights, the underground," he tells HUB. "We look for unusual places."