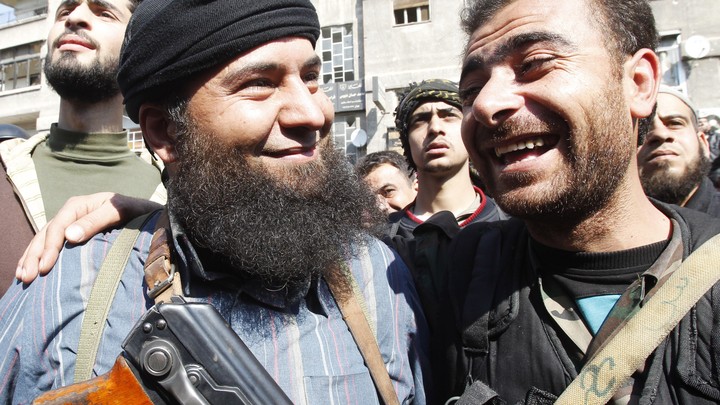 Even the most brutal wars feature flickers of common humanity. Late last year, I wrote about World War I's famous "Christmas Truce," when tens of thousands of soldiers on the Western Front marked the holiday by ditching their weapons, emerging from the trenches, and fraternizing in No Man's Land. On Monday, Syria may have had its own Christmas Truce moment—with the emphasis on may.
Reuters has released photos from the bombed-out, long-besieged, rebel-held town of Babila, just six miles south of Damascus, where a local ceasefire came into effect this week. The striking pictures show pro-government and opposition forces, who are currently locked in a three-year-old conflict that has left more than 130,000 people dead, mingling, embracing, and laughing together.
But even here, the bitter civil war has intruded on the heartwarming scene. The images were taken during a guided tour for journalists by the Syrian military. And Reuters reports that pro- and anti-government figures have expressed outrage about the show of goodwill, with some opposition fighters in the Damascus suburbs arguing that the pictures were staged and that the rebels depicted "were actually pro-Assad militias dressed to look like opposition fighters. Others claim the interactions were authentic. "[T]here was no way to confirm the identity of those photographed," the news agency notes.
AFP reporter Rim Haddad, meanwhile, has written an account of her trip to Babila:
Some rebels got onto the bus. They told us they hadn't laid down their arms, but had agreed to a truce. They wouldn't answer our questions, telling us they'd been told not to speak to reporters but that they might make a statement after 48 hours.

Once we'd gotten off the bus, we spoke to other rebels. They were young, bearded men, some of them sporting black keffiyeh traditional headwear. They said they were Islamists and were not affiliated with Al-Qaeda. The soldiers accompanying us said they were "former terrorists."…

We stayed in Babbila for nearly an hour, and we didn't hear a single gunshot. Close to us, dozens of people shouted: "One, one, one! The Syrian people are one!" The Damascus provincial governor, Hussein Makhlouf, told the crowd that all the town's destroyed public services would be rebuilt.  
Whether or not the Assad regime staged the photo-op, there are several other reasons to temper your enthusiasm about the truce. The ceasefires currently taking shape around the capital are incredibly fragile. The Syrian government is behind schedule in destroying its chemical weapons. Internationally brokered peace talks have collapsed, and while they were taking place the country experienced its "most concentrated period of killing in the entire duration of the conflict," according to Samantha Power, the U.S. ambassador to the UN. For every Babila moment in Syria, there are countless others that suggest the devastating civil war is getting worse, not better.
We want to hear what you think about this article. Submit a letter to the editor or write to letters@theatlantic.com.