The Geopolitics of Winter Olympic Medal Counts
Can Russia reclaim its former Olympic glory?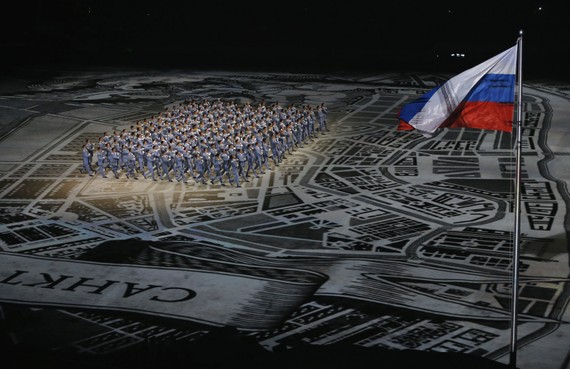 If you ask the International Olympic Committee, the Games are a competition "between athletes in individual or team events"—not between countries. But we know better: The outcome of the Olympics has always had implications for national prestige. And no country understands this better than Russia, whose Olympic success has risen and fallen in step with its changing geopolitical fortunes.
Will the Winter Games in Sochi allow Russia to reclaim its Cold War-era Olympic supremacy? Here's a look at six trends that have shaped national performance in the Olympics in recent decades.
1. Host countries often shine—but not always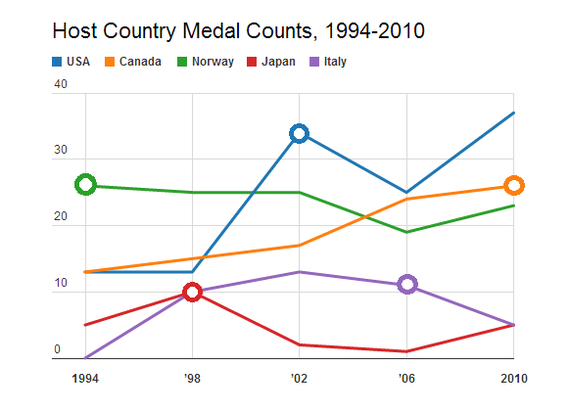 Is there such a thing as home-field advantage in the Olympics, and does that translate into future success for host countries? The results are mixed. Japan, for instance, won 10 medals in Nagano in 1998, but its athletes failed to win that many in the subsequent three Winter Games combined. Norway scored its most medals in recent years in Lillehammer in 1994, but not by much—its medal counts have held pretty steady over time. Italy, on the other hand, performed worse in Turin than it did four years earlier in Salt Lake City. The United States more than doubled its previous medal count when it hosted the 2002 Winter Games in Utah. Then, after a dip in Turin, Team USA rebounded in Vancouver four years later.
The prophecy also might be self-fulfilling: After failing to win gold when it hosted the 1976 Summer Games in Montreal and the 1988 Winter Games in Calgary, Canada invested $117 million in its five-year "Own the Podium" program as it prepared to host the 2010 Winter Games. Team Canada didn't just win a gold medal in Vancouver; it won 14 of them, becoming the first host nation since Norway in 1952 to lead the overall medal table.
2. Russia could use the home-field advantage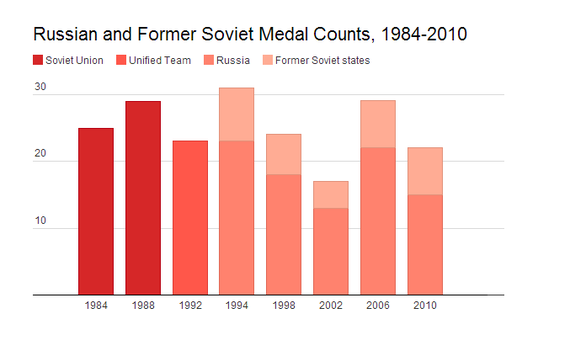 Russia has had a rocky post-communist Olympic path. The Soviet Union, which first competed in the Winter Olympics in 1956, brought home the most medals of any country in seven of the nine Games it competed in, and the second-most in the other two. But Russia's performance has suffered since the collapse of the Soviet Union in 1991. In 2010, when Russia posted its worst performance at the Winter Olympics in nearly a century, then-President Dmitry Medvedev demanded the resignations of the country's top Olympic officials. "Unprecedented investments are being made in sports in Russia, but money is not everything," he lamented.
3. More countries are competing in the Winter Olympics than ever, but the number of countries that medal hasn't kept pace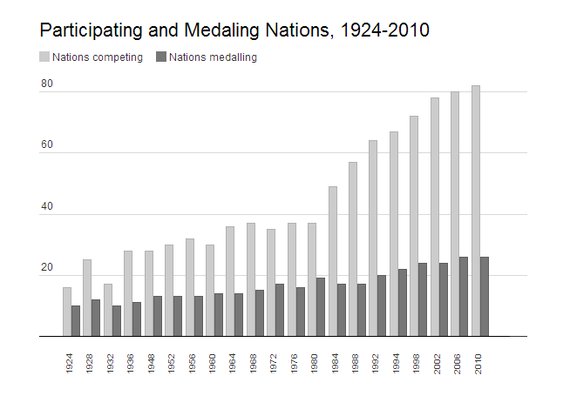 More nations competed in more events than ever before during the 2010 Winter Games in Vancouver. But the number of national teams whose athletes bring home a medal hasn't grown at the same rate. Almost two-thirds of nations at the first Winter Games in 1924 won a gold, silver, or bronze medal; in 2010, almost two-thirds didn't. (During the most recent Summer Olympics, in 2012, nearly 40 percent of of the 204 participating nations won at least one medal.) The number of Olympic events has also increased dramatically, from 16 events across six sports in 1924 to 98 events across seven sports this year (12 new winter events alone are debuting in Sochi).
4. Germany is an Olympic juggernaut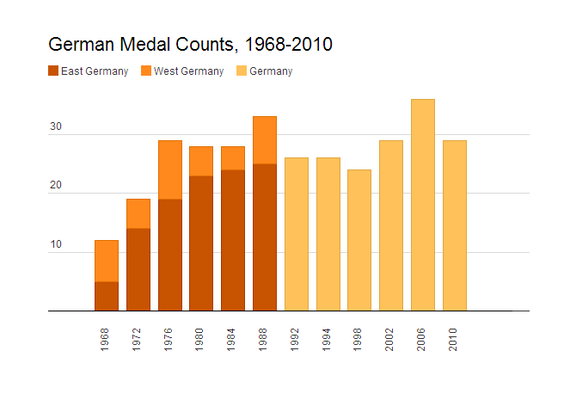 If any country's Olympic performance benefited from the Cold War's end, it's Germany's. East and West Germany briefly competed as a united team until 1968, after which West Germany's modest medal hauls consistently paled in comparison to those of its eastern counterpart. East Germany and its communist suzerain, the Soviet Union, took either first or second place in the overall medal count at each Winter Games between 1972 and 1988.
Then the Berlin Wall fell. Despite a strong challenge from the "United Team" of splintered ex-Soviet republics, Germany's first post-reunification Winter Olympic team took first place in the medal count at Albertville in 1992. Former East German Olympians won nine of the 10 gold medals that Germany brought home from those Games. Germany topped the medal count again in two out of the five Winter Olympics that followed.
5. Norway, Canada, and the U.S. are also formidable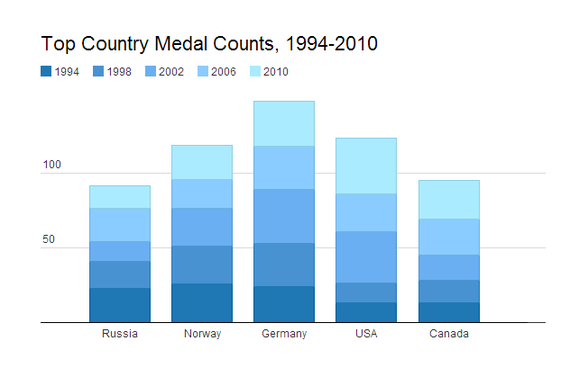 Now reunified, Germany has dominated the Winter Olympics in recent years (German athletes, interestingly enough, reign supreme at luge). But several other countries aren't far behind. The U.S. barely broke into the double digits in terms of medal counts until the Cold War ended, bit its tally has since skyrocketed. Norway, like other Scandinavian countries, has performed particularly well in skiing and skating events, while Canada has found success in less traditional events like curling, bobsleigh and skeleton, and short track speed skating. Russia, meanwhile, remains a strong competitor across the board (though its dominance in pairs figure-skating has received particular attention)—but not as strong as it used to be.
6. China and South Korea are rising stars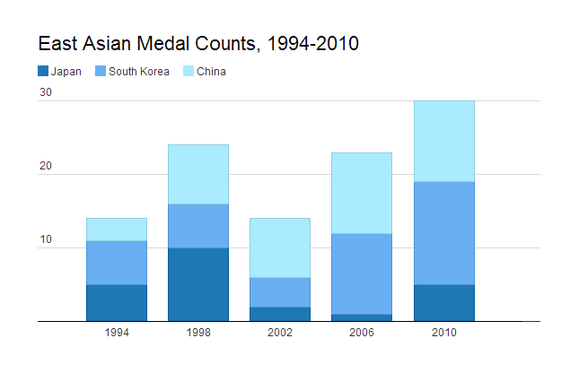 Hosting the 1998 Winter Games in Nagano gave Japan a boost in its medal count, but the success didn't last. Japan plummeted from seventh place in the medal count in 1998 to 21st, 18th, and 20th in Salt Lake City, Turin, and Vancouver, respectively.
Japan's Olympic decline contrasts sharply with the rise of its East Asian neighbors, China and South Korea, both of which have steadily become Winter Olympics contenders over the past three decades. Chinese Olympic officials are hoping for two or three gold medals in Sochi, and figure skating could be their best opportunity. In Vancouver, Shen Xue and Zhao Hongbo became the first non-Russian gold medalists in the pairs figure-skating competition since 1960. China hopes a higher profile at Sochi could bolster Beijing and Zhangjiakou's bid for the 2022 Winter Games.
South Korean athletes are also gaining ground. Only Team USA can rival the speed-skating dominance that has given South Korea most of its medals, while South Korean curlers also aspire for gold this year.
Seoul's Olympic team has another incentive to make a splash in Sochi: Their resort city of Pyeongchang is hosting the next Winter Olympics in 2018.