Taking A Closer Look at LGBT Discrimination in Russia
Russia is selective about what kind of attention it wants as the Sochi Winter Olympics begin.
This article is from the archive of our partner
.
Russia is selective about what kind of attention it wants as the Sochi Winter Olympics begin this week. Towards the top of the "do not want" list, to be sure, is the country's deteriorating record on LGBT rights. Thankfully, a number of deep dives into the subject have popped up in recent days to give an incredibly detailed look at what exactly is going in the country. It's not a pretty picture.
LGBT people are being physically hurt and killed.
For GQ, Jeff Sharlet went to Russia to report on the discrimination against LGBT individuals and activists there, the end result of what he describes as a symptom of a larger crackdown on anything in the country that doesn't quite fit a certain notion of "traditional," Christian Russia. A cursory read-up on Russia's LGBT crackdown will tell you all about the country's "propaganda law," which makes nearly any public expression of same-sex relationships or LGBT identity a criminal offense. You hear less about the recent violence. It includes at least three killings, countless beatings, and many incidents of all different kinds of cruelty. Like this one described by Sharlet, at a kiss-in LGBT rights protest, the day the propaganda laws passed in the summer of 2013:
On the day of the last kiss-in, the mob tried something new. They brought their children. Action art. A mockery. A lesson. Not rocks; the children were their weapon. Who would hit a child? Adolescent boys, 12, 13, moved in packs from activist to activist, one by one, throwing fists, kicking. It was a day of beatings.

It takes me a moment. "Their kids?"

Elena smiles. "Yeah."

"We couldn't fight them," says Zhenya, finishing his translation. He moans and starts to shake. And that's it; now he's broken. Because everybody knows 12-year-old boys can be real shits, these are the same fights they have with one another in the schoolyard, but the hope is that they'll grow up, that their parents will teach them. The hope is always that it will get better.
Human Rights Watch released a report this week on LGBT violence in Russia, noting that there's not really enough reliable data to make a comparison between 2013's spate of attacks and those of previous years. But human rights and LGBT groups in the country report that they have observed an escalation in those attacks, thanks to the coupling of the country's strict new anti-gay laws and a homophobic campaign across much of the state-run media there. 
Anti-gay vigilante groups are behind some of the worst attacks.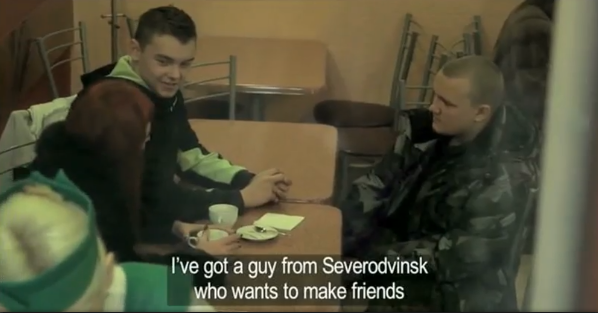 Occupy Pedophilia is one of the largest anti-gay groups working in Russia. Britain's Channel 4 (which changed its logo to rainbow colors for the Olympics) managed to film the planning process of Occupy Pedophilia for its documentary on LGBT discrimination and violence in the country. The full documentary aired last night in the UK, but it isn't available in the States. Gawker has an excerpt here. (Warning: it's difficult to watch).
Occupy Pedophilia, as its name implies, sees no distinction between LGBT individuals (especially gay men) and pedophiles. So they target gay individuals in Russia through social media, lure them to an apartment or other private place by posing as another LGBT individual, and physically hurt and publicly humiliate their targets — vigilante groups often upload videos of their work to social media.  Some favorite targets of these groups are teachers in the country — vigilante organizations lobby the employers of LGBT teachers to get them fired.
The violence and harassment is only exacerbated by the lax enforcement of the law against these groups. In other words, they're getting away with it.
It's not just Russia's "propaganda" law that's the problem
The infamous propaganda law that passed last June was not the start of discrimination against Russia's LGBT community. It's more the end result of a long-running campaign to legally and socially marginalize (and, frankly, demonize) the country's LGBT population. St. Petersburg-based law professor and attorney Dmitry Bartenev explained to ESPN that "As [Putin] moves toward a more and more authoritarian government, he relies on traditional, orthodox values and attacks any non-orthodox views of any minority." Gays and lesbians are the most convenient target, he added. Although there are a lot of moving parts, the anti-gay crackdown looks more and more like scapegoat formation: Russians need someone to blame for the country's increasing economic woes, and for the government's deteriorating record on civil rights overall.
No one's really sure how the Russian government will enforce their laws in Sochi
So far, Russia would like to pretend that the escalating violence and discrimination won't affect the Games. That could continue, but few seem to be able to say for sure. Sochi's mayor (falsely) told the BBC that his city has no gay bars or gay-friendly clubs, indicating that Russian officials would like to pretend the "problem" simply doesn't exist. But Putin told reporters that gay people would be safe at Sochi, as long as they they "leave children alone." Defenders of the country's sprawling anti-gay "propaganda" laws claim that the measures are intended to protect the country's children, so this is a common refrain used to justify discrimination.
But not every athlete attending the Games will keep quiet about the country's anti-LGBT record, and gay rights activists have planned protests. Three corporate sponsors of the U.S. Olympic team have criticized the country's record on LGBT rights so far. It's extremely unlikely that Russian officials will grab protesting athletes off of the podium for signs of support, but the same might not go for those protesting on the margins of the high-profile event.
This article is from the archive of our partner The Wire.