Sochi Could Be Britain's Last Olympics as a United Country
If this year's independence referendum succeeds, Scottish nationalists want their own Olympic team at the Rio Games in 2016.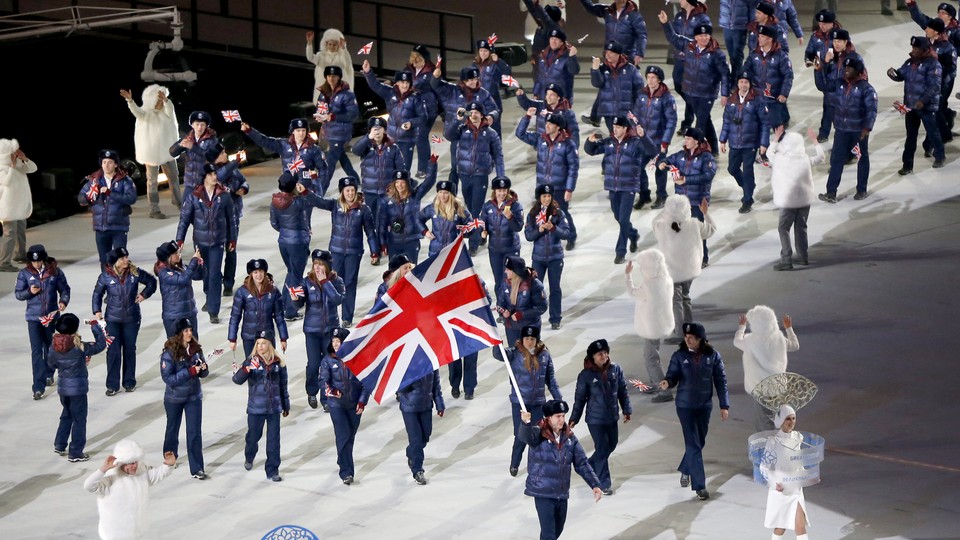 Great Britain's women's curling team defeated Japan overwhelmingly during qualifiers at the Sochi Olympics on Friday, scoring 12 points to Japan's three. The win comes one day after a thorough shellacking of Team USA, which may knock the Americans out of medal contention and move Team GB into striking distance of current leaders Canada and Sweden. It's an important boost for British women's curling after a disappointing loss in Vancouver four years ago.
But at the 2018 Winter Games in South Korea, skip Eve Muirhead and her all-Scottish team could be competing against the British squad rather than for it.
On September 18, Scotland will hold a referendum on whether or not to seek independence from the United Kingdom, with which it has been united since 1707. If the referendum succeeds and Scotland becomes an independent country, its leaders "are comfortable and assured Scotland will have its own Olympic and Paralympic team," Scottish Sports Minister Shona Robison said last year. The Scottish government's white paper on independence devotes a section to sport, in which its working group foresees a Scottish Olympic team in time for the next Olympic Games:
Based on the Group's work and the recent experience of newly independent states, the Government does not envisage any significant barriers to Scotland achieving Olympic and Paralympic accreditation and being able to participate at Rio 2016. For example, Montenegro and the Balkan States received recognition within one year of independence, while Croatia and Slovenia were accredited before securing UN membership. 
National teams aren't as foreign to Scotland as one might think. Scotland has long competed internationally with its own teams in soccer, rugby, cricket, and other major world sports. Eve Muirhead's team represented Scotland, not Britain or England, when they won the World Women's Curling Championship last year. But sending a national team under an independent Scottish flag would have far greater symbolism and political significance in the Olympics than in perhaps any other sporting event.
A key issue in the referendum debate is whether an independent Scotland could rapidly join international organizations like NATO and the European Union, as Scottish First Minister Alex Salmond claims (and as British and EU officials dispute). Olympics participation would be more straightforward: Assuming all of its basic criteria are met, the International Olympic Committee only requires that new countries be recognized as independent by the international community. In practical terms, this usually means membership in the United Nations.
Could an independent Scotland achieve Olympic glory? Scottish Summer Olympians brought home 13 Olympic medals, including seven gold medals, when Britain hosted the 2012 Games in London. And while Scots only comprise one-twelfth of Britain's population, 18 Scots qualified for the 2014 Winter Olympics in Sochi, meaning they constitute roughly one-third of Team GB's 48 overall athletes.  But Scottish cyclist Chris Hoy, a six-time gold medalist considered to be Britain's most successful Olympian ever, warned that Team GB's Scots might not fare as well on their own.
"You look at the results of the Scottish athletes over the years and we have had some fantastic athletes and some fantastic results," said Hoy in 2012. "But it would not be quite as simple as just saying, 'there is a Scottish athlete, they have won a gold medal, therefore that's a medal for Scotland.'"
Scottish Olympians' greatest challenge would be the loss of British sports infrastructure. "Most of the athletes have had to move to facilities which are often outwith Scotland," Hoy noted. "I had to move down to Manchester because there was not an indoor [cycling] facility in Scotland.... The first thing you have to do if you're really serious about it is you have to provide the facilities and the [coaches]."
Another complicating factor would be determining the flags under which Scottish athletes would compete. Olympic athletes compete for the countries where they hold citizenship; if they have dual citizenship, they choose one or the other. But the British government has warned Scots that they could be denied dual citizenship if the referendum succeeds. A British national team without Scottish athletes would be hard-pressed to maintain its Olympic standing.
So will the Scottish referendum succeed, and will a new Olympic team join the Parade of Nations at Rio 2016's opening ceremonies? Recent polls show that "No" voters hold a comfortable lead, but that the pro-independence movement is slowly catching up. The British government isn't staying complacent, though. Last week British Prime Minister David Cameron gave an impassioned speech in London defending British unity under the banner of "stronger together." Perhaps it's fitting that he delivered the speech at, of all places, the Olympic Park.