Norway, Slovenia, and Latvia Are Owning the Sochi Olympics
The overall medal count obscures how these small countries are outperforming their rivals in 2014.
Judging by the overall tally at the Sochi Olympics, the Netherlands is currently ahead of all other nations with 17 total medals. The United States and Russia are tied for a close second with 16 medals each.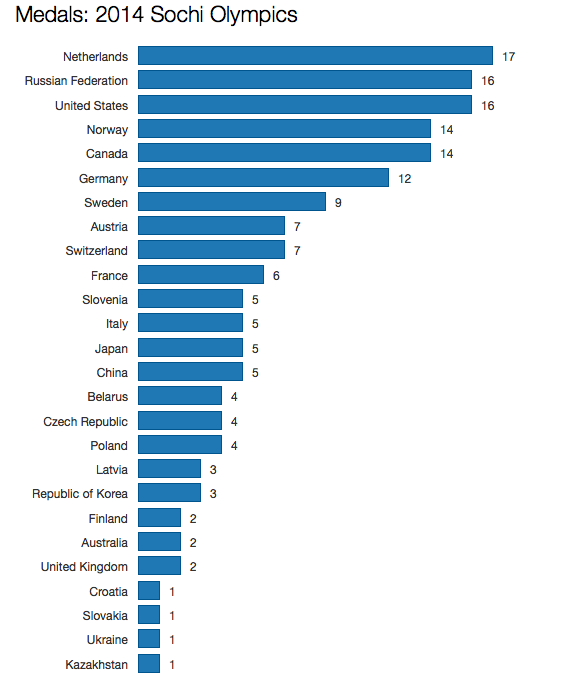 But medals counts don't reflect population size or the financial resources countries have at their disposal. In terms of population, for example, the U.S., is nearly four times bigger than Germany, almost 10 times the size of Canada, and more than 60 times larger than Norway. Which countries are winning in Sochi relative to their size and wealth?
With the help of my colleagues Charlotta Mellander and Zara Matheson at the Martin Prosperity Institute, I decided to find out. We ranked medal performance by the size of each country's population and by its economic output, or GDP. (Our data covers medals won through Sunday.)
When you look at Olympic results by these metrics, the list changes a lot.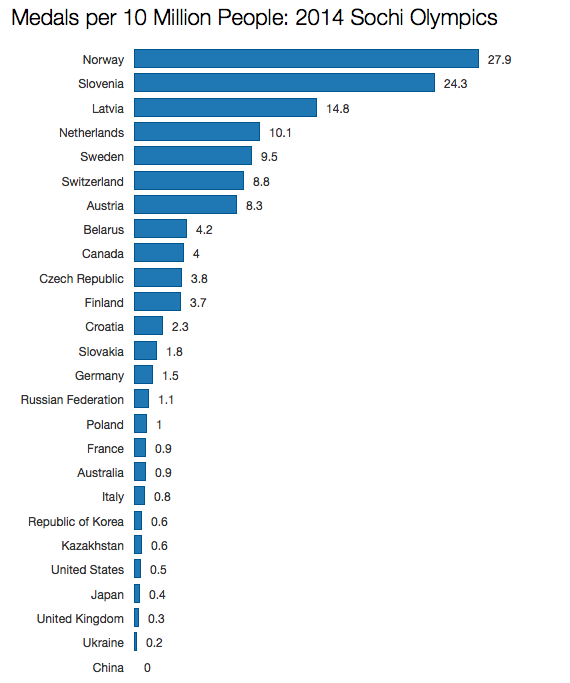 The first chart above shows medals per 10 million people. Norway tops the list with 27.9 medals, followed by Slovenia with 24.3 and Latvia with 14.8 (these numbers are higher than the countries' actual medal counts because their populations are lower than 10 million). The Netherlands takes fourth place (10.1) with Sweden in fifth (9.5). Switzerland, Austria, Belarus, Canada, and the Czech Republic round out the top ten.
The United States (0.5) falls all the way down to 22nd place. Germany is 14th (1.5) and Russia 15th (1.1).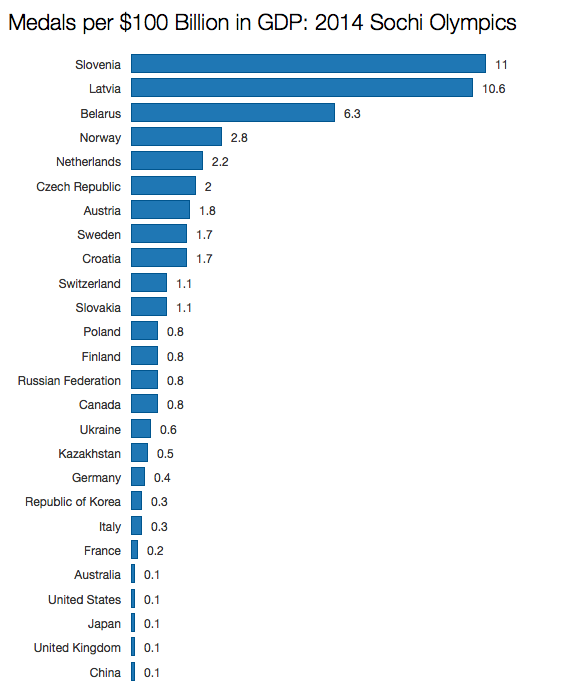 The second chart above shows medals per $100 billion of GDP. Now tiny Slovenia tops the list with 11 medals followed closely by Latvia with 10.5, then Belarus (6.3), Norway (2.8), and the Netherlands (2.2). The Czech Republic, Austria, Sweden, Croatia, and Switzerland round out the top ten.
The United States now falls to 23rd place (0.1) with Russia 14th (0.79), Canada 15th (0.77), and Germany 18th (0.35).
The top performers, after adjusting for the size of each country's population and economy, turn out to be smaller countries in colder climates. These countries tend to specialize in winter sports, and their Olympic programs lack the competition from big-time professional sports leagues that siphon off top athletic talent.