North Korea's Horrors, as Shown by One Defector's Drawings
The graphic sketches depict atrocities committed by Kim Jong Un's regime.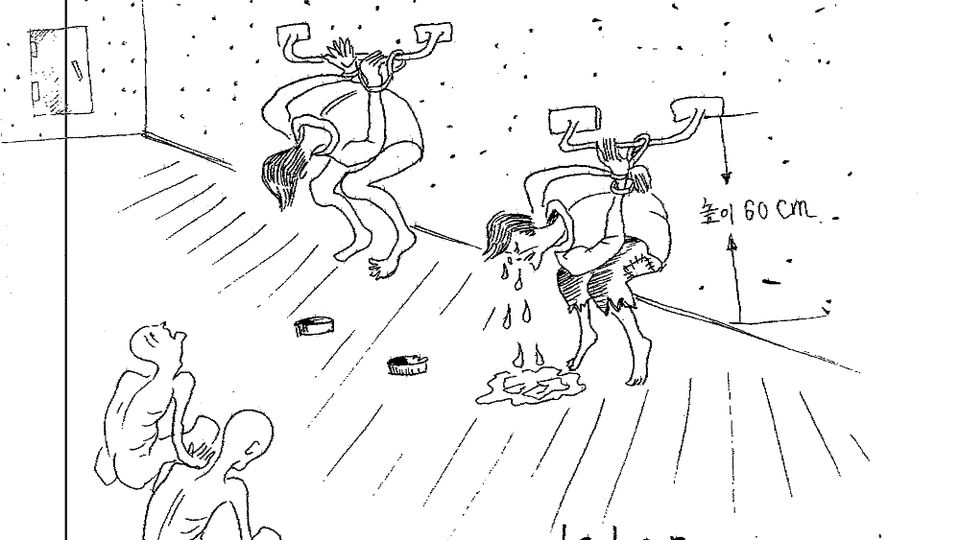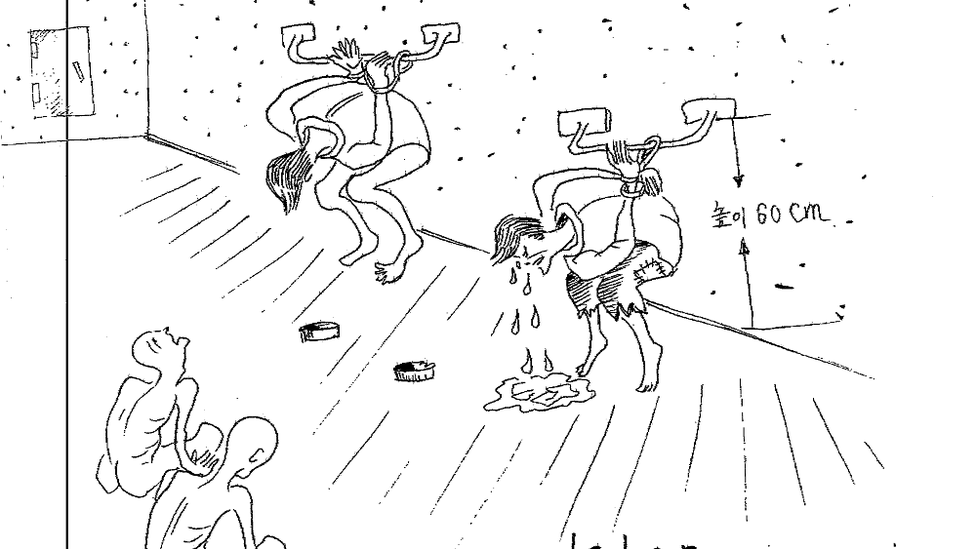 On Monday, the United Nations' Commission of Inquiry on Human Rights in the Democratic People's Republic of Korea published a wide-ranging report on what it described as "systematic, widespread and gross human rights violations [that] have been and are being committed by [North Korea], its institutions and officials." The panel recommended that North Korea and its leader, 31-year-old Kim Jong Un, be referred to the International Criminal Court by the UN Security Council. Michael Kirby, the panel's chairman, said that the atrocities taking place in North Korea were "strikingly similar" to the crimes of Nazi Germany during World War II.
Among the 300 North Koreans who testified about regime abuses was Kim Kwang-Il, a 48-year-old defector who spent almost three years in a North Korean gulag for smuggling pine nuts across the border. After escaping to South Korea, Kim published a book about his experiences that included professional illustrations of the crimes he witnessed. The drawings provide a rare look into a vast constellation of prisons and concentration camps in which more than 200,000 North Koreans languish, according to Amnesty International.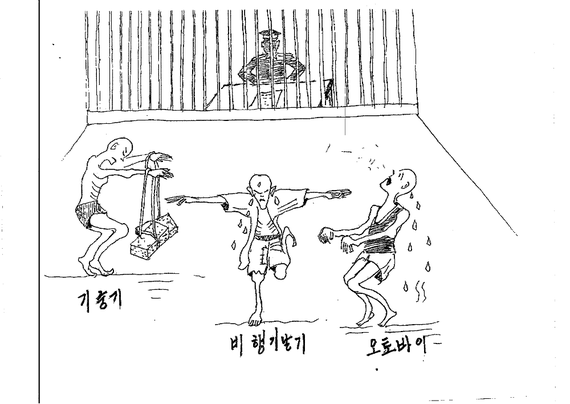 The above sketch shows various positions in which prisoners would be forced to stand for long periods of time. Those who move are severely beaten, according to Kim's testimony to the panel:
We are supposed to think there's an imaginary motorcycle and we are supposed to be in this position as if we are riding the motorcycle. And for this, we pose as if we are airplanes ourselves. We are flying. And if we stand like this there's no way that you can hold that position for a long time. You are bound to fall forward. Everybody in the detention centre goes through this kind of this torture.
According to Kim, prisoners are forced to hold themselves in these positions until they sweat enough to fill a glass beneath them.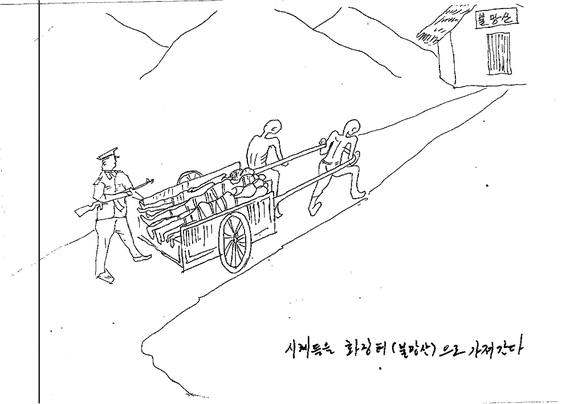 Kim is not the only defector to have visualized his experiences in the camps. In 2012, graphic drawings surfaced on Reddit, apparently from Korean-language websites, depicting similar atrocities that also allegedly took place in North Korean gulags.
The rest of Kim's drawings, many of which are graphic and all of which are disturbing, can be found here. Transcripts of Kim's testimony, and the testimony of other North Korean defectors and witnesses, can be read here, and a video of Kim's two-hour public testimony is below.