Map: The Countries That Feel the Most Love in the World
Where is the love? The Philippines, apparently.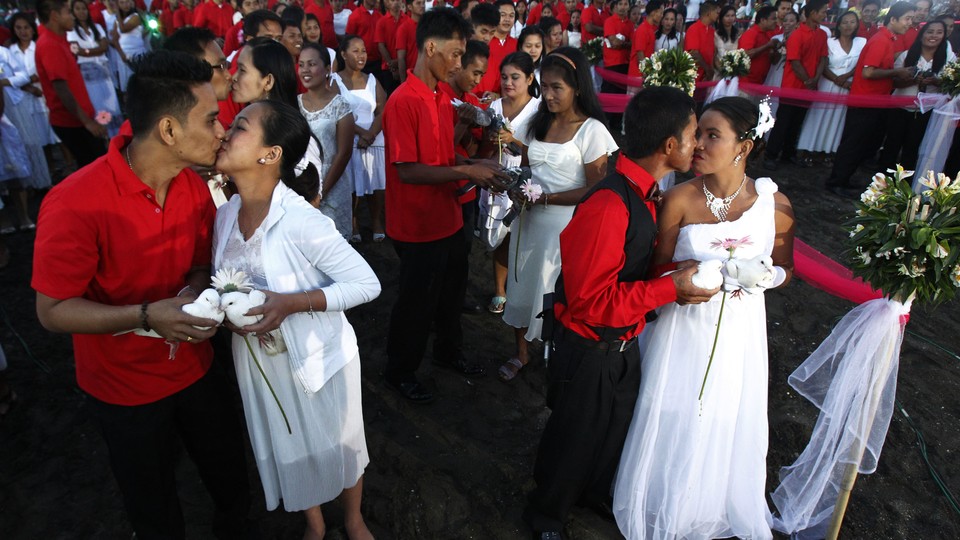 This week, in honor of Valentine's Day, the Philippine government sponsored mass-wedding ceremonies for hundreds of couples. It seemed fitting for a country that marked Valentine's Day 10 years ago by setting a world record for the number of couples simultaneously kissing for 10 seconds (the final tally: 5,122). And it's also appropriate for a country where a whopping 93 percent of people report feeling loved.
That last stat comes from what the economist Justin Wolfers has described as "the most comprehensive global index of love ever constructed." In 2006 and 2007, Gallup asked people in 136 countries whether they had experienced love the previous day. The researchers found that on a typical day, roughly 70 percent of the world's population reports feeling love. The world leader in love turned out to be the Philippines, where more than 90 percent said they had experienced love, and the world's laggard Armenia, where only 29 percent of respondents did. In the United States, 81 percent replied in the affirmative. (Click on the map to expand it.)
The map offers some broad lessons. Love appears to be flourishing in the Americas, achieving mixed results in Africa, and languishing in Eastern Europe and Central Asia. But Wolfers cautions against reading too much into the data. "[D]ifferences between countries may be due to how cultures define 'love' and not in actual day-to-day experiences," he writes. "For example, in some countries, the idea of 'love' is restricted to a romantic partner, while in others it extends to one's family members and friends."
Wolfers and his wife, the economist Betsey Stevenson, crunched the global data and arrived at some fascinating conclusions, including that feeling loved peaks when people are in their mid-30s or mid-40s, and that unmarried couples who live together report getting more love than married spouses. But perhaps their most interesting findings involved the complex relationship between money and love:
What's perhaps more striking is how little money matters on a global level. True, the populations of richer countries are, on average, slightly more likely to feel loved than those of poorer countries. But love is still abundant in the poorer countries: People in Rwanda and the Philippines enjoyed the highest love ratios, with more than 9 in 10 people providing positive responses. Armenia, Uzbekistan, Mongolia and Kyrgyzstan, with economic output per person in the middle of the range, all had love ratios of less than 4 in 10.
Still, the truly remarkable stage of the research came when a commenter looked at their effort to plot the love data against GDP per capita to see whether there was a relationship between feeling loved and economic development. The reader pointed out that the data points clustered together to form a heart shape.
OK, so it's a bit of a stretch. But a year later, Wolfers is still marveling at the Valentine's Day miracle:
Wondering how your country performed? The full results of Gallup's poll are below.
| | | |
| --- | --- | --- |
| Rank | Country | Percent Feeling Love |
| 1 | Philippines  | 93% |
| 2 | Rwanda  | 92% |
| 3 | Puerto Rico | 90% |
| 4 | Hungary | 89% |
| 5 | Cyprus | 88% |
| 6 | Trinidad and Tobago | 88% |
| 7 | Paraguay | 87% |
| 8 | Lebanon | 86% |
| 9 | Costa Rica | 85% |
| 10 | Cambodia  | 85% |
| 11 | Nigeria | 84% |
| 12 | Guyana | 83% |
| 13 | Spain | 83% |
| 14 | Mexico | 82% |
| 15 | Tanzania | 82% |
| 16 | Ecuador | 82% |
| 17 | Jamaica | 82% |
| 18 | Venezuela | 82% |
| 19 | Cuba | 82% |
| 20 | Brazil | 82% |
| 21 | Laos | 81% |
| 22 | Argentina | 81% |
| 23 | Belgium | 81% |
| 24 | Canada | 81% |
| 25 | Greece | 81% |
| 26 | United States | 81% |
| 27 | Denmark | 80% |
| 28 | Portugal | 80% |
| 29 | Netherlands | 80% |
| 30 | Vietnam | 79% |
| 31 | New Zealand | 79% |
| 32 | Italy | 79% |
| 33 | Colombia | 79% |
| 34 | Madagascar | 78% |
| 35 | Uruguay | 78% |
| 36 | Turkey | 78% |
| 37 | Dominican Republic | 78% |
| 38 | United Arab Emirates | 77% |
| 39 | Saudi Arabia | 77% |
| 40 | Chile | 76% |
| 41 | Malawi | 76% |
| 42 | Ghana | 76% |
| 43 | South Africa | 76% |
| 44 | Australia | 76% |
| 45 | Panama | 75% |
| 46 | Zambia | 74% |
| 47 | Kenya | 74% |
| 48 | Namibia | 74% |
| 49 | Nicaragua | 74% |
| 50 | Germany | 74% |
| 51 | Ireland | 74% |
| 52 | Sweden | 74% |
| 53 | United Kingdom | 74% |
| 54 | Switzerland | 74% |
| 55 | Montenegro | 74% |
| 56 | Austria | 73% |
| 57 | France | 73% |
| 58 | Kuwait | 73% |
| 59 | Finland | 73% |
| 60 | El Salvador | 73% |
| 61 | Pakistan | 73% |
| 62 | Zimbabwe | 72% |
| 63 | Honduras | 72% |
| 64 | Peru | 72% |
| 65 | Egypt | 72% |
| 66 | Serbia | 72% |
| 67 | Bosnia and Herzegovina | 72% |
| 68 | Sierra Leone | 71% |
| 69 | India | 71% |
| 70 | Taiwan | 71% |
| 71 | Bangladesh | 70% |
| 72 | Belize | 70% |
| 73 | Croatia | 69% |
| 74 | Macedonia | 69% |
| 75 | Mozambique | 69% |
| 76 | Bolivia | 69% |
| 77 | Liberia | 68% |
| 78 | Iran | 68% |
| 79 | China | 68% |
| 80 | Slovenia | 68% |
| 81 | Haiti | 68% |
| 82 | Norway | 67% |
| 83 | Sri Lanka | 67% |
| 84 | Poland | 67% |
| 85 | Guatemala | 67% |
| 86 | Uganda | 66% |
| 87 | Sudan | 66% |
| 88 | Israel | 66% |
| 89 | Kosovo | 65% |
| 90 | Thailand | 65% |
| 91 | Jordan | 65% |
| 92 | Albania | 64% |
| 93 | Guinea | 62% |
| 94 | Botswana | 62% |
| 95 | Angola | 62% |
| 96 | Burkina Faso | 62% |
| 97 | Malaysia | 61% |
| 98 | Mali | 61% |
| 99 | Niger | 61% |
| 100 | Palestinian Territories | 61% |
| 101 | Romania | 61% |
| 102 | Senegal | 61% |
| 103 | Indonesia | 61% |
| 104 | Afghanistan | 60% |
| 105 | Hong Kong | 60% |
| 106 | Cameroon | 59% |
| 107 | Japan | 59% |
| 108 | Nepal | 59% |
| 109 | Bulgaria | 59% |
| 110 | Slovakia | 58% |
| 111 | Singapore | 58% |
| 112 | Czech Republic | 58% |
| 113 | Mauritania | 57% |
| 114 | Benin | 56% |
| 115 | South Korea | 56% |
| 116 | Myanmar | 55% |
| 117 | Latvia | 54% |
| 118 | Togo | 54% |
| 119 | Estonia | 53% |
| 120 | Lithuania | 50% |
| 121 | Russia | 50% |
| 122 | Chad | 49% |
| 123 | Yemen | 48% |
| 124 | Ukraine | 48% |
| 125 | Ethiopia | 48% |
| 126 | Azerbaijan | 47% |
| 127 | Tajikistan | 47% |
| 128 | Moldova | 46% |
| 129 | Kazakhstan | 45% |
| 130 | Morocco | 43% |
| 131 | Belarus | 43% |
| 132 | Georgia | 43% |
| 133 | Kyrgyzstan | 34% |
| 134 | Mongolia | 32% |
| 135 | Uzbekistan | 32% |
| 136 | Armenia | 29% |