Drugs: The Overlooked Issue in Nuclear Talks With Iran
Better relations between Tehran and the West could put a major dent in the global opium trade.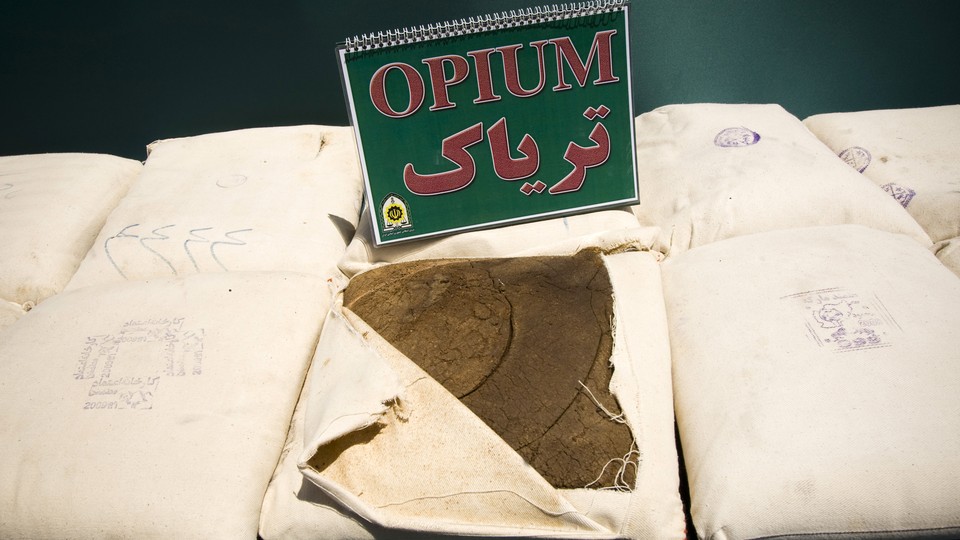 Efforts between world powers and Iran to reach a comprehensive deal on the country's nuclear program may now be back in the news, but a related issue with global ramifications is receiving far less attention: Iran's war on drugs.
Earlier this month, Iranian media reported that law-enforcement officers had captured more than a ton of illicit drugs on the eastern border, prompting Iran's anti-narcotics police chief to boast of his success in reproducing "breeds of drug-sniffing dogs" despite the "(anti-Iran) sanctions" arrayed against the country. In a more dramatic incident in November, Iranian security personnel killed eight smugglers with RPGs, grenades, and over a ton of narcotics in the country's often-volatile southeastern region.
This was far from the first time that Iranian forces had faced off against heavily armed drug smugglers. Since the 1979 revolution, Iran has lost 4,000 security personnel in its efforts to combat drug trafficking, and the drug war's toll on civilians has been even higher. With 1.2 million drug addicts, or just over 2 percent of the population aged 15-64, Iran has one of the highest addiction rates in the world. This is a product not only of Iran's mismanaged and sanctions-laden economy, but also of its 560-mile border with an opium factory (read: Afghanistan) that produces 90 percent of the world's opium. Out of its eastern neighbor's 380 metric tons of annual heroin production, roughly 105 flow into Iran.
And what flows into Iran also flows out. Of the 106 metric tons of heroin that reach Europe each year from Afghanistan, 92 pass through Iran. The United Nations Office on Drugs and Crime, in fact, has pointed to northwestern Europe—home to two world powers, France and the U.K., that are deeply involved in nuclear talks with Iran—as one of Europe's heroin hotspots. Hence the link between negotiations with Iran and the drug trade. Lifting sanctions against Iran, which is responsible for 80 percent of the world's opium seizures and 30 percent of the world's heroin seizures, could go a long way in stemming the flow of these drugs to Europe and elsewhere in the world. It would remove barriers to international cooperation on anti-drug trafficking efforts.
The maps below indicate just how significant a hub Iran is in the world's heroin trade:
Global Heroin Flows of Asian Origins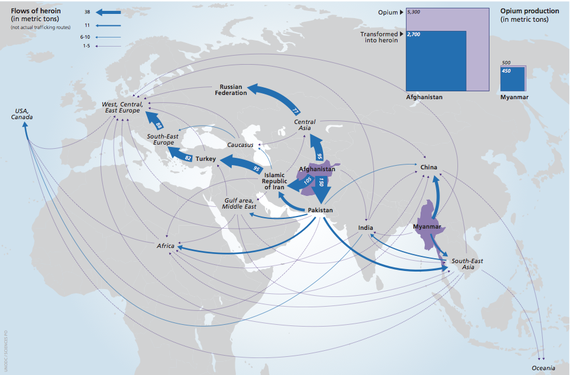 Major Drug-Trafficking Routes in Iran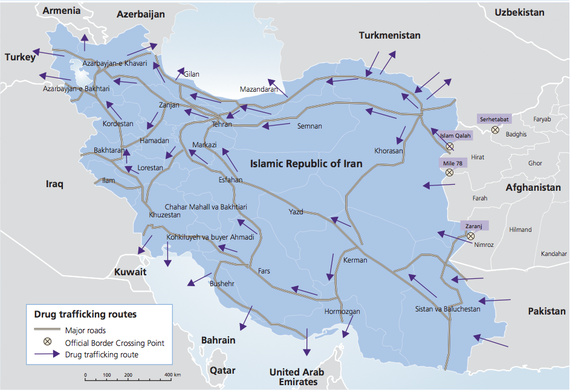 Since the fall of the Taliban, the United States has invested $10 billion in fighting the Afghan drug trade, to little avail. Iran, meanwhile, is reportedly pouring $1 billion a year into prosecuting its drug war, in the face of steep inflation and a current account deficit that has taken shape as sanctions eat into Iranian oil sales. As an Italian diplomat told The New York Times last year, the Iranians "are fighting their version of the Colombian war on drugs, but they are not funded with billions of U.S. dollars and are battling against drugs coming from another country."
The absence of diplomatic relations between Iran and the U.S. means the two countries can't collaborate on addressing drug smuggling, and that U.S. officials watch helplessly as Iranian drug cartels expand into new markets and product lines, including methamphetamine production. In June, the Iranian security official Ahmad Reza Radan noted that sanctions were preventing Iran from importing equipment like drug-detection devices, adding, sarcastically, "Sanctions might be the share [Western countries] have contributed to the war on drugs."
In the face of these challenges, Iran has used executions to intimidate would-be drug smugglers—a practice that has drawn protests from Human Rights Watch. Foreign assistance could offer an alternative means of halting drug trafficking. This approach wouldn't just slow the flow of drugs to Europe and Iran. It could bridge the trust gap plaguing nuclear negotiations with Tehran—and even improve Iran's human-rights record in the process.
---
This post is part of a collaboration between The Atlantic and the Johns Hopkins School of Advanced International Studies.