Ukraine's Acting President Tells Russia to Stop 'Provocations' in Crimea
This article is from the archive of our partner
.
5:15 p.m. The influx of Russian military into Crimes continues, according to NBC News:
The people travelling in the Russian aircraft refused to identify themselves to the Associated Press and to Al-Jazeera. Russia admitted moving some military personnel into Ukraine to "protect Black Sea Fleet's positions," according to some officials.
Catch up on the President's remarks here.
Update, 5:00 p.m. Reports surfaced within the last hour alleging 10 Russian Mi-24 Hind helicopters have now entered Ukraine near Sevastopol, too. This video has surfaced which appears to show the helicopters sweeping across the Ukrainian countryside. President Obama is scheduled to speak within the next few minutes.
Update, 3:46 p.m. Things in Crimea seem to be stirring, and not in a good way. Acting president Oleksander Turchinov urged Russia to stop the "provocations" against Ukraine, and drew immediate comparisons to the armed conflict in Georgia, during remarks on Ukrainian television. "Russia has sent forces into Crimea," Oleksander said, adding later that "[Russian troops] are working on scenarios which are fully analogous with Abkhazia, when having initiated a military conflict, they started to annex the territory." We still don't know to whom the troops who have occupied two airports in Crimea remain loyal. There are unconfirmed reports that nearly 2,000 Russian troops landed at an airbase near Sevastopol, which is roughly an hour from Crimea.
Special representative to Crimea: thirteen Russian aircraft land at base near Sevastopol with 150 people on each

— Sky News Newsdesk (@SkyNewsBreak) February 28, 2014
In addition, all air traffic over Ukraine has effectively ended. Flights are avoiding the country completely:
Update #1: In case there was any doubt, Yanukovych made it clear in his Friday press conference that he absolutely believes he is still the legitimate president of Ukraine. The conference opened with a statement from the ousted leader, where he said that "no one has deposed me," and called those who now control Ukraine's government "nationalists" and "pro-fascist youth mobs." Here's how Russia Today translated the beginning of that:
It's high time for me to announce my decision to fight for the future of Ukraine against those who use fear and terror to take power. I've decided to go public about it. No one has deposed me. I was forced to leave Ukraine because of the threat to my life and the lives of my relatives. As you know, the power in Ukraine was seized by nationalists, pro-fascist youth mobs who represent a minority of the Ukrainian population."
Yanukovych added that he wanted all parties to abide by an earlier agreement intended to solve the crisis in Kiev, and for early elections in December of this year. Yanukovych also asked "all of the armed gunmen" to leave the streets of Kiev.
Yanukovych, who says that he is still the "legitimate President of Ukraine," also pledged to not participate in the May presidential elections planned by the new government in Kiev. However, two prominent opposition leaders have confirmed that they will run:
Original: A large group of unknown, but heavily armed gunmen took over two Crimean airports overnight, prompting Ukrainian leaders to point fingers at the Russian army as tensions in the region escalate.
Crimea is home to many pro-Russia Ukrainians who have been protesting the removal of president Viktor Yanukovych, who fled his palace over the weekend and is now sheltering in Russia. (Yanukovych is delivering a press conference from there right now. See the video below.)
Russia's recent military exercises near the Crimean border have officials worried that it plans to interfere in Ukrainian affairs, and possibly attempt to pull Crimea away from Ukraine, an option global leaders warned could be disastrous. Reuters reports:
Interior Minister Arsen Avakov accused Russian naval forces of taking over a military airport near the port of Sevastopol, where the Black Sea fleet has its base, and other Russian forces of seizing Simferopol's civilian international airport. "I consider what has happened to be an armed invasion and occupation in violation of all international agreements and norms," Avakov said on his Facebook page, describing it as a "provocation" and calling for talks.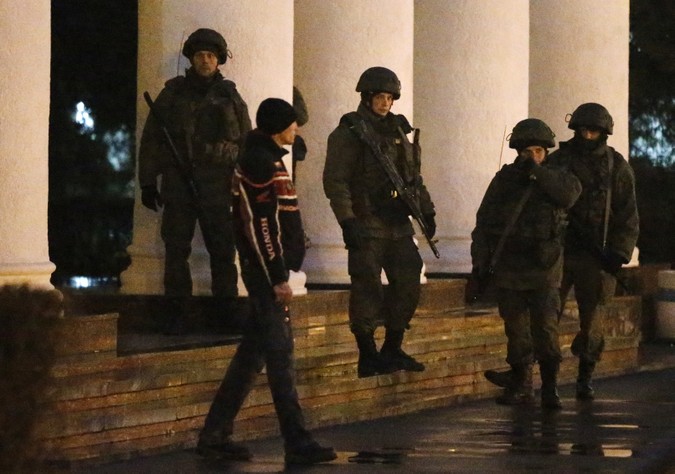 Russia's Black Sea fleet, however, denied involvement in the airport siege. One Reuters journalist spoke to a man helping who appeared to confirm Russia's absence, saying "I'm with the People's Militia of Crimea. We're simple people, volunteers... We're here at the airport to maintain order. We'll meet the planes with a nice smile - the airport is working as normal." But the situation remains cagey: 
BREAKING: Ukraine's State Border Guard says coast guard base surrounded by about 30 Russian marines.

— The Associated Press (@AP) February 28, 2014
Still, it seems some semblance of normalcy has remained in the region. An Al Jazeera reporter said the airport has indeed been operating as usual, all things considered:
Inside the terminal building, passengers are queuing up to go to Moscow and Istanbul and all sorts of places, and that is completely normal, but in the outside, it is entirely abnormal... Throughout the morning we have seen these large groups of green camouflaged helmeted men, some are masked and others are not, in control and are coming out of the VIP block here and changing shifts. 
And yesterday, in spite of the occupation by activists of government buildings, the Crimean Parliament was able to meet and vote on a referendum on the region's "sovereignty," to be held on May 25. Ukraine's interim government will hold early presidential elections on the same date.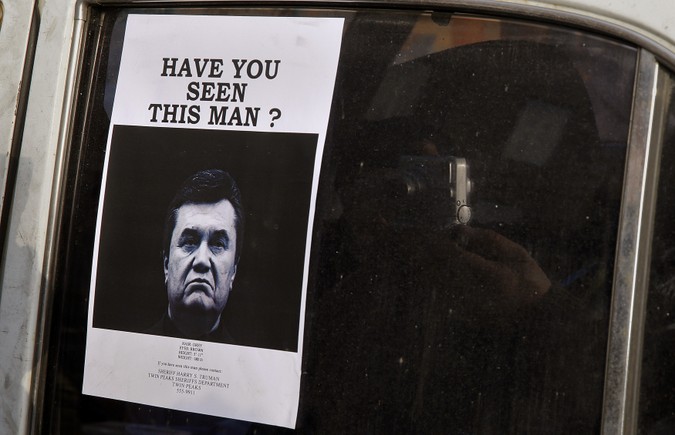 The ex-president, for his part, has said that he doesn't recognize the new government — but will have a difficult time convincing Ukrainians of his presidential worthiness. His funds have been frozen by Switzerland and Swiss police on Thursday raided a Yanukovych-owned firm in Geneva as part of a probe into "aggravated money laundering." (Austria has also frozen his assets.) Reporters sifting through documents left at his resident have discovered details of lavish spending, and Arseniy Yatsenyuk reported yesterday that Yanukovych had stolen $70 billion from the country's treasury over three years.
Yanukovych will speak publicly for the first time since Saturday during a news conference in Russia later today. You can watch the press conference live below. In an opening statement, he denied that he has been overthrown and insist he will continue to fight "for Ukraine."
This article is from the archive of our partner The Wire.