Will the World Grow More Authoritarian in 2014?
More people will vote in elections this year than ever before. But the evidence suggests democracy is retreating, not advancing.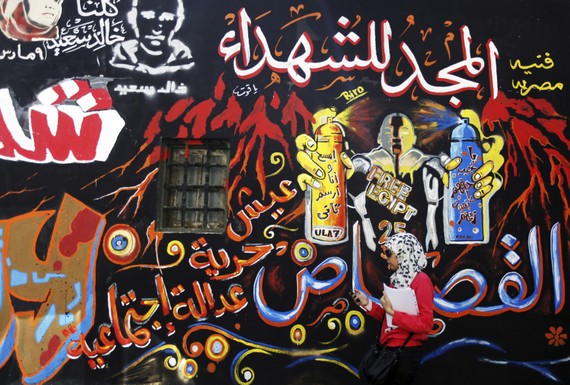 Judging by 2014's crowded election calendar, this will be a landmark year for democracy. The Economist estimates that an unprecedented 40 percent of the world's population will have a chance to vote in national polls in 2014. We'll see races in populous countries such as Brazil, Indonesia, the United States, and, most notably, India, where 700 million people are expected to cast ballots in what Fareed Zakaria has called the "largest democratic process in human history."
But here's the catch: The "biggest year for democracy ever," as The Economist is billing it, follows a year that in many ways was characterized by the ascent of authoritarianism. In Syria, Bashar al-Assad, with the help of Iran, Russia, and Hezbollah, gained the upper hand in the country's devastating civil war. In Egypt, the crucible of the Arab Spring, the Egyptian military overthrew the democratically elected Mohammed Morsi and launched a heavy-handed crackdown on the Muslim Brotherhood and other pockets of opposition. In Turkey, Recep Tayyip Erdogan silenced political opponents and stifled freedom of expression—at least, that is, until a corruption scandal and plans to redevelop a park sparked a backlash against his increasingly authoritarian governing style.
The phenomenon extended beyond the Middle East. Russian President Vladimir Putin consolidated his control at home and abroad, playing an essential role in Syrian diplomacy, purchasing Ukraine's loyalty for $15 billion, and detaining and releasing adversaries on a whim. In China, Xi Jinping emerged as the country's most powerful leader in decades. Freedom House reported a worldwide decline in Internet freedom, noting, amid Edward Snowden's revelations about U.S. spying, that "an uptick in surveillance was the year's most significant trend." On several occasions—Russia granting asylum to Snowden, China establishing an Air Defense Identification Zone in the East China Sea—authoritarian governments deliberately taunted their democratic rivals … and got away with it.
These trends may have accelerated in 2013, but they've been apparent for some time now. In its 2013 "Freedom in the World" report, Freedom House noted that more countries registered declines in freedom than gains in 2012—for the seventh year in a row (this despite the fact that the number of electoral democracies in the world increased slightly in 2012). Two years earlier, the organization asserted that "freedom's forward march" had actually peaked at the turn of the 21st century.
Below is the percentage of countries that Freedom House has labeled as "free," "partly free," and "not free" in its reports from 1989 to 2012. You can see how the breakdown between the three categories begins to flatline around the year 2000. The world settles into stasis at roughly 45 percent free, 25 percent not free.
Joshua Kurlantzick, a fellow at the Council on Foreign Relations, attributes democracy's retreat, in part, to the world's growing middle class choosing stability over democracy, turning to "the military as a bulwark against popular democracy" (see Egypt) or seeking to oust elected leaders through street protests rather than elections (see Thailand). As Shadi Hamid of the Brookings Institution recently remarked on NPR, "the real challenge in the Middle East is what happens when the people you don't like win elections and they keep on winning elections. Then democracy becomes very real, and it becomes existential because you're worried the other group is going to destroy you."
Granted, there are plenty of important storylines to follow in 2014—the North American energy boom, the regional spillover of Syria's civil war, the nuclear negotiations with Iran, the furtive economic recovery in the U.S. and Europe, the prospect of mass atrocities in Sub-Saharan Africa—but this tension between democracy and authoritarianism will be at the heart of many of them. We'll see it during Syrian peace talks in January, the Sochi Olympics in February (keep an eye on what happens once the show's over and the world turns away from Russia), Afghanistan's presidential election in April (and the withdrawal of U.S. troops from the country by the end of the year), and Egypt's general elections over the summer. It will manifest itself in how Iraqi Prime Minister Nouri al-Maliki responds to swelling sectarian violence and the extent to which countries wall off their Internet infrastructure after Snowden's NSA leaks.
Still, tracking the interplay between democracy and authoritarianism won't be easy, in part because defining the terms themselves is difficult. Where there are elections, is there democracy? What constitutes an authoritarian government in the 21st century? The British journalist Peter Pomerantsev, for instance, has argued that Putin is running a "postmodern dictatorship" by taking "a liquid, shape-shifting approach to power" and using "techniques of democracy for distinctly undemocratic ends." Hence dressing up a propaganda vehicle like RT with all the trappings of a modern news outlet, or co-opting rather than suppressing the messages of activists like Alexei Navalny "until there is no more space for an opposition to exist in." Kurt Weyland, a Latin America expert, has similarly warned that populist, Hugo Chavez-inspired "soft" and "competitive" authoritarianism with an "attractive face" is taking root in the region (Bolivian President Evo Morales, one of the attractive faces cited by Weyland, is up for reelection in October).
"Over the past decade at least, we've seen a modest improvement in the quality of elections around the world, even as we've seen declines in freedom of the press, rule of law, and freedom of association," Arch Puddington, vice president for research at Freedom House, told me. "What is happening today is that authoritarians are taking a 24/7, 53-weeks-a-year attitude towards the challenge of maintaining political control. What they want to do is undermine the institutions of pluralism so that on election day it will not be necessary to engage in the kind of overt rigging practices that invariably heap opprobrium on the regime and can trigger the kinds of demonstrations you saw in December of 2011 in Moscow."
"And I see no reason to predict a change in that because it's working," he added, "and because in China and Russia in particular, and even in Venezuela and countries like Kazakhstan and Azerbaijan, if anything these regimes are fine-tuning their methods, not liberalizing them."
That suggests 2014 won't be the year democracy stages a comeback—however many elections are on the horizon.