Why Nobody Outside the U.S. Watches the Super Bowl
No, not even for the commercials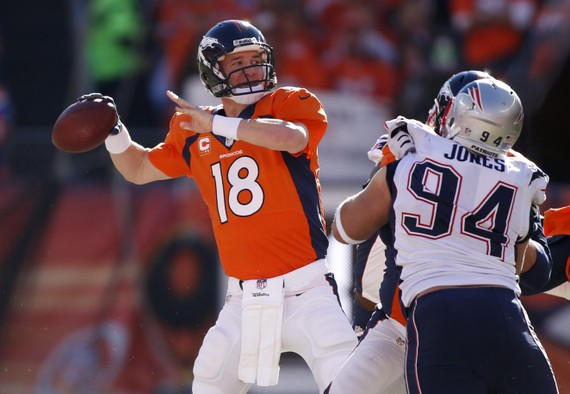 On Super Bowl Sunday, the U.S. might as well be on a different planet. American football's annual crescendo is typically the country's most-watched TV show of the year, usually by a considerable margin. Last year's edition was, by some measures, the third-most-viewed show in American broadcast history.
But on the global stage, it's a very different story. In 2010, the National Football League's grand finale was for the first time usurped in viewing numbers by European club soccer's rough equivalent, the UEFA Champions League final. This year, with international soccer's quadrennial centerpiece, the World Cup final, and the Winter Olympics in Sochi both on the schedule, America's favorite sporting event could be relegated to fourth place in terms of global viewers.

The above chart is based on projections provided to Quartz by Kevin Alvay, the managing director of Futures Sport + Entertainment, a consultancy that has been tracking global audiences since 1988. These forecasts contain caveats: Super Bowl ratings are typically consistent, regardless of which teams are involved, while Champions League audiences can fluctuate more based on whether popular teams like Manchester United and Barcelona are involved.
But a lot of the difference in viewership between the Super Bowl and other tournaments will be due to logistics. In 2010, European soccer's governing body moved the Champions League final from its traditional Wednesday night time slot to Saturday night. That makes it much easier for audiences in populous and soccer-obsessed South America and Asia to tune in, Alvay says. "People in Asia have got a greater capacity to be up at the middle of the night when it's on a weekend and they don't have to work the next day," he says.
Similarly, the World Cup final on July 13 will be staged at 4 pm local time in Rio de Janeiro, which is prime time in Europe and Africa, and lunchtime on the east coast of the U.S. "It's ideal [timing], from the perspective of maximizing TV audiences for soccer," Alvay says. It will be in the early hours of the morning in Asia, but audiences there are used to having to get up early to watch their favorite sport. "In places like Indonesia, a whole culture has developed around watching soccer at that time of night," Alvay explains.
Contrast this with the Super Bowl, which is scheduled to maximize U.S. viewership; audiences peak during the showbiz-heavy halftime show. That makes it problematic for international audiences outside the Americas. It allows for daytime viewing in Asia, but this is where American football has its smallest following. In Europe, where the league has been focusing its recent international expansion efforts (the NFL has hosted a game in London annually since 2007), the timing couldn't be worse: Kickoff is at 6:30 pm in New York, which is 11:30 pm in London and 12:30 am in Western Europe. And games typically last for three hours.