When Chinese TV Rips Off The Colbert Report
Will the country ever have a satirical talk show of its own?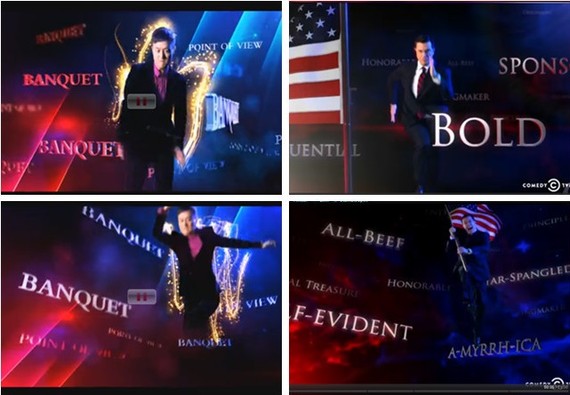 BEIJING — He may be an award-winning satirist in the United States, but in China, even Stephen Colbert is not beyond parody: A provincial TV channel in the country has produced a show that borrows rather liberally from the popular American program.
The Banquet, broadcast on Ningxia Satellite TV, lifted the entire opening credits and other graphics from The Colbert Report. Everything from the host's entrance—flying down the screen as English words buzz past—to the star-spangled background is mimicked, and even the show's theme music, the guitar riff from "Baby Mumbles" by Cheap Trick, is reproduced note for note.
Online, Chinese were quick to criticize the rebranded show—once known by the staid name Guandian Zhisheng (Comment Matters)— which debuted this January.
"This is down-right plagiarism: Absolutely shameless. I hate this kind of thing," remarked a young woman on Weibo, China's Twitter. "Coolgirl1982" was concerned that the show could embarrass China. "With the great popularity of The Colbert Report, don't you know how easily Colbert can make a laughingstock out of China, and ensure the whole world knows about it?" she asked.
The Banquet isn't the first Chinese show to be accused of copycatting. In 2012, the American talk-show host Conan O'Brien discovered, with amusement, that the opening credits to his show Conan had been replicated by Dapeng Debade, a cheaply made program on the web portal Sohu. Conan's good-natured response—and a sincere apology from host Dong Chengpeng, who calls himself Dapeng Dong—did away with any hard feelings. The next year, an advertisement for the luxury liquor brand Jian Nan Chun lifted the entire opening sequence, without acknowledgement, from the popular HBO show Game of Thrones. And to prove that such imitations are not exclusive to China's mainland, TVB, a popular Hong Kong channel owned by the late tycoon Run Run Shaw, last year planted the CBS series Person of Interest's opening into its detective show Tian Yan (Sky Watch).

The casual reaction of Americans to these infringements—Conan O'Brien even offered Dapeng a professionally designed replacement intro—may have emboldened TVZone, the state-owned production company responsible for The Banquet.
"[The Colbert Report] can go ahead and sue us!" company spokesman 'Mr. Tan' (who refused to disclose his first name) told me on the phone, adding, "We haven't received any complaints from their lawyers." But within hours of these remarks, the next edition of The Banquet had replaced some of its opening sequence with hand-filmed footage apparently shot in the company's office. (The background's Colbert-esque graphics still remained, though).
In China, interest in foreign television is still modest, owing in part to language barriers. According to ttmeiju.com, a popular Chinese-language website for downloading foreign shows, The Colbert Report has a regular audience of about 460 (free and illegal) downloads per week; Comedy Central's The Daily Show averages about 800, while HBO's Real Time with Bill Maher attracts around 1,200. However, versions with Chinese-language subtitles garner tens of thousands of downloads, and chatter about the shows on microblogs has exploded. Fan sites such as thedailyshowcn.com, which has around 40,000 followers on Weibo, update as often as their American counterparts. And it's not just satire, either: The Ellen DeGeneres Show and Saturday Night Live have proven so popular that Sohu (the portal that hosts Dapeng Debade) recently signed a deal to broadcast them legitimately.
Domestic producers have taken note of the phenomenon. "Thanks to the Internet, [Chinese] people get to know what happens everyday much more quickly than before," Dong Chengpeng, presenter of Dapeng Debade, told Blog Weekly magazine. But just watching is no longer enough. "Now the public wants to know what we think about these events."
Dong's show adopts a more critical approach to the news than most Chinese shows, suggesting that the country's notorious censors are less strict with light online entertainment. His approach is popular—and has spawned imitators.
In 2012, the celebrity music producer Gao Xiaosong (think a Chinese Simon Cowell) launched his own talk show, Morning Call, on Youku, the country's most popular video-streaming website. It received 140 million views in its first year. And when Luo Zhenyu, a former state TV producer, broadcast his own 'webisodes' of the social-issues talk show Luoji Siwei (Logical Thinking), he earned 1.6 million yuan ($265,000) in subscriptions from an audience of 5,500.
Today, almost all China's major video sites have their own chat shows. However, most avoid cutting satire. In a 2013 Blog Weekly article about online comedy, one TV presenter suggested, "Most people still view talk shows as simply entertainment, and overlook their critical nature." China's state-run newspapers, meanwhile, are notoriously gullible when it comes to satire, falling for fake news stories from the likes of The Onion and Andy Borowitz. But sharp, acerbic parodies are still popular in the country.
"Satire is quite common in many traditional performance art in China, such as 'crosstalk' [a form of stand-up comedy involving one or multiple performers and salty wordplay]," said Gu Dabaihua, a translator who practically introduced American late-night talk shows to China in 2011 after he began subtitling them on Chinese torrent sites (his witty Sina Weibo feed now boasts 1.4 million followers). And Mark Rowswell, a Canadian performer whose 'Dashan' character has made him China's best-known foreigner, told me, "The stand-up comedy that is gradually being introduced into China [is] a much more flexible format [than crosstalk] that is catching on with younger audiences."
But those looking for high-quality Chinese equivalents to Colbert's biting satire will likely be disappointed. Though The Banquet's producer claimed in January that the show would be "sharp, humorous, and thoughtful with a lighthearted, offbeat style," in reality, the writing relies on tired conventions of Chinese entertainment.
In a typical Banquet gag, the host claims he is exhausted because he has so many women to support. But the females in question aren't mistresses. Instead, he quips that they're "my mother, my wife, my daughter." (The joke isn't any funnier in Chinese.) Elsewhere, viewers suffer through laugh tracks, clownish sound effects ("boink!"), and excruciating 'joke cues' that spoon-feed humor to the audience. Producers feel safe deviating from this formula only when relying on a different, proven format—hence Ningxia Satellite's ill-fated plagiarism of Colbert.
"The original [American] shows are usually highly creative and exciting," observed Wang Jun, an attorney with the Intellectual Property Rights Committee of the All China Lawyers Association. "By replicating them with only minor changes, the copycats can achieve fairly good ratings. Domestic producers sometimes have little sense of copyright or the law and can easily be tempted by commercial interests."
Producers are not the only ones to blame, of course. As Gu Dabaihua points out, the political environment in China is at least as important.
"Mocking national leaders and government policies simply won't be allowed," he said. "So you can probably never expect to see proper American-style talk shows."