The UN Invited Iran to the Syria Peace Talks and Now Everyone Is Upset
If Iran goes, the United States and the Syrian National Coalition are staying home.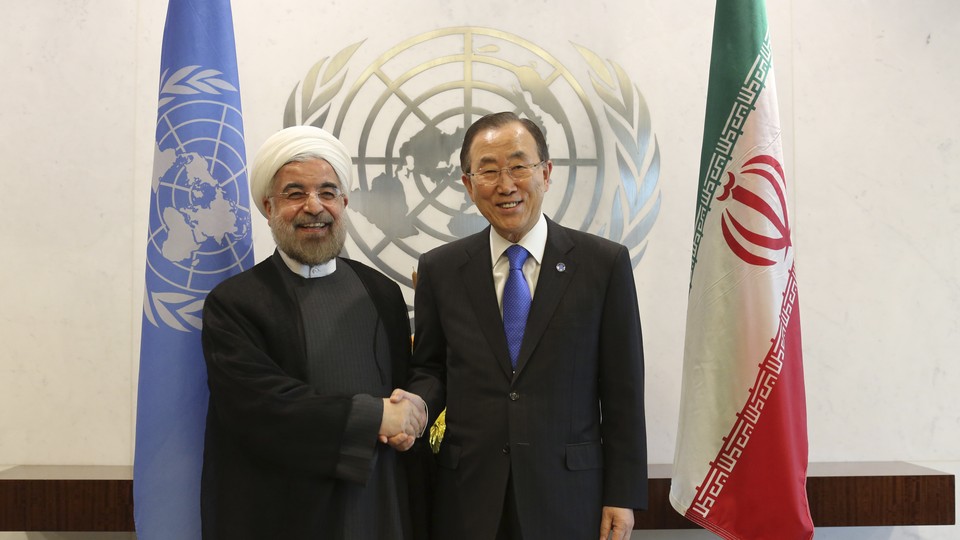 This article is from the archive of our partner
.
United Nations secretary general and one-time Christmas caroler Ban Ki-Moon announced today that Iran would be invited to the upcoming Syrian peace talks, set to begin January 22 in Switzerland.
The news came as an unwelcome surprise to the United States, which did not want Iran, a longtime ally of Syrian president Bashar al-Assad, to participate. At the heart of the issue is the fact that Iran has not yet endorsed the Geneva communiqué, a six-point plan that the UN hopes will bring peace to the civil war-torn country. It would also call for Assad to step down, a condition to which Assad has never agreed.
"We also remain deeply concerned about Iran's contributions to the Assad regime's brutal campaign against its own people, which has contributed to the growth of extremism and instability in the region," said State Department spokeswoman Jen Psaki. "If Iran does not fully and publicly accept the Geneva communiqué, the invitation must be rescinded."
According to the New York Times, Iran will do this on Monday.
Iran -- and foreign ministers representing several other countries -- will only be present for a meeting on Wednesday. They will not be at the actual peace talks between Assad's government and rebel groups on Friday.
It remains to be seen if the rebel groups will even show up, however. The Syrian National Coalition, which agreed on Saturday to participate in the peace talks, is now saying (according to a non-verified Twitter account -- the BBC is reporting it as real, but pinch of salt ...) that it will not attend unless Iran's invitation is retracted. Al Jazeera spoke with a senior Coalition member who confirmed the news. The SNC has agreed and then un-agreed to attend these peace talks before.
Another rebel group, the National Coordination Committee, decided last week not to attend the peace talks. The Islamic Front also will not be participating.
At this rate, Iran's foreign minister might be the only person there.
This article is from the archive of our partner The Wire.