The Wedding That a U.S. Drone Strike Turned Into a Funeral
A human-rights activist who interviewed witnesses said women and children in a nearby village are still too fearful to sleep through the night.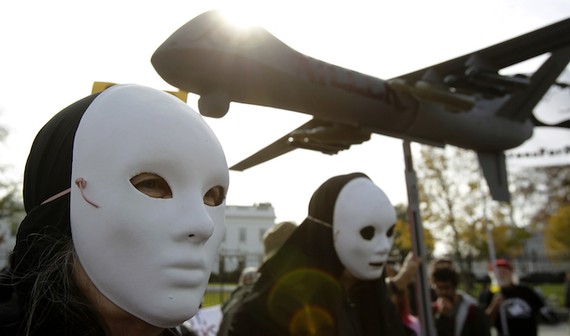 The world learned in December that a U.S. drone strike in Yemen killed numerous wedding-goers as they made their way to a young couple's celebration.
Obama Administration officials are now investigating the strike, Michael Isikoff reports. His article goes on to cite new details gathered by a Yemeni journalist, who complained that the Obama Administration "turned a wedding into a funeral," and human-rights activist Baraa Shiban, who spoke to locals two days after the attack.
The locals told him that 60 people in cars and trucks were traveling from the groom's home to a neighboring village where the bride lived. A 70-year-old man is quoted describing the death of his son, who is survived by a heartbreaking seven children. "We heard a loud explosion coming from down in the valley," the man said, adding that when he arrived on the scene, "there were bodies scattered all over the place," and the women of the village were gathered together crying and screaming.
Another local's words remind us that the dead and the people who lost family members aren't the only victims, and that the horror wrought by this drone strike goes on: "We live in fear day and night," he said. "Our children and women cannot sleep." His words echo the findings of a report on drones by the law clinics at NYU and Stanford, which discovered communities living in terror of U.S. strikes.
Standing by a row of corpses burned in this latest attack, some villagers held up a sign that said, "America Spills the Blood." It's hard to argue with them. This drone strike comes months after President Obama announced a change in U.S. drone policy, promising that before a drone strike was executed "there must be near-certainty that no civilians will be killed or injured—the highest standard we can set."
Plainly, the promise was bogus, not just because of these wedding guests who wound up dead, but because it is impossible to fire a drone on a convoy of five dozen people or so with "near certainty" that no innocents will be killed. A White House national-security staff spokesperson nevertheless told Isikoff this week that "before we take any counterterrorism strike outside areas of active hostilities, there must be near-certainty that no civilians will be killed or injured—the highest standard we can set." What these people say has little connection with reality. But the deference the press accords the presidency prevents this sort of official nonsense from being called out as obvious, self-serving dishonesty.
A mistake of this magnitude cries out for an independent investigation by people who won't have any blood on their hands regardless of the outcome. But that sort of oversight won't happen because Congress is too deferential to the executive branch on drone policy, and the Obama Administration is ever determined to keep conducting drone strikes under a cloak of substantial secrecy, directly contradicting the unprecedented transparency its head once promised voters. That promise was appealing in part because, without it, what happens are things like a horrific wedding massacre in which no one is held accountable.